Ok so technically I wouldn't be skiing, but Forrest would have. I would have been reading a book by the fire--I'm not much of an outdoor in the cold kind of gal.
Yes, we were supposed to be in Colorado for a ski trip right now, but Mother Nature had different ideas on the subject. As you know Forrest was snowed in Atlanta during Snowpocalypse 2014 and I was at home. We had a flight to Denver on Thursday night and we were lucky that Forrest could just take Marta to the airport, but I had to drive over. We heard the roads were much better and they were, but I literally crawled to Atlanta. I probably could have walked faster. The roads on the East bound side were in the shade so there was still ice and snow. It was SO scary. I skid of the road at one point but was fine--scared but fine! When I finally got to the airport exit, they canceled my flight...nothing else was leaving to Denver because they were having a snow storm. Snow really ruined my week, obviously. Forrest tried his best to find us something else but the only flights that were "going to Denver" were flights with connections, and the airlines told him that more than likely, we would be stuck in the connecting city. Not an option, if you ask me, so I just turned right around and drove home. It normally takes us 2 hours to get to the airport, but that day, I was in the car for 7 hours straight. Granted, not the 24 that lots of people were trapped in their cars 2 days before, but man, it was no fun. Luckily we both made it home with no trouble and we can reschedule our flight for later in the year. We also made the most out of the hiccups and ended up having a splendid weekend. Here is what we did instead of ski:
On Friday night we had a little date night at the Thai restaurant in town. Holy Moly was it delish!!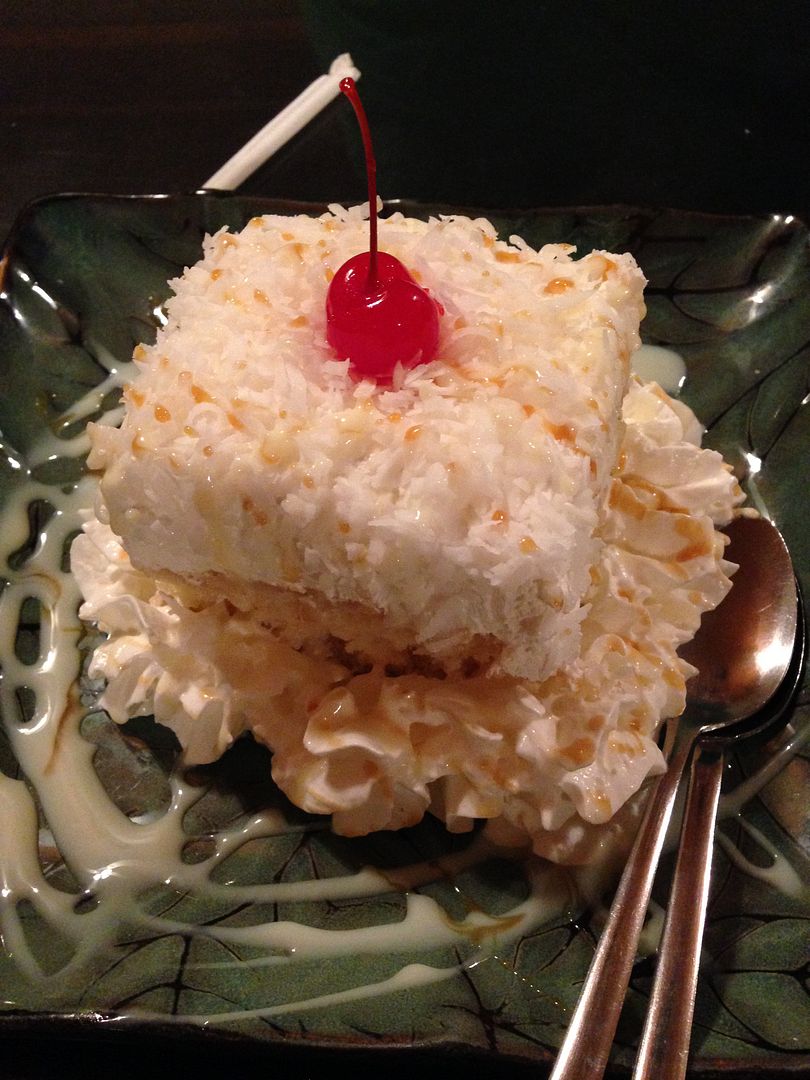 The coconut cake--ah-maze-ing!
Forrest made up a day of work on Saturday and so I took a page out of his book and was productive as well. I mean, I spent the whole afternoon finishing this season of Downton Abbey! That's productive, right?
That night we had a blast with Jonathan and Denise at the local Art Auction. A little too much wine and not enough food means I took no pics--sorry guys!!
On Sunday we had a great lunch in Birmingham celebrating my Mimi's 80th birthday!! She doesn't look 80 if you ask me, and I'm glad I favor her, so maybe I won't look 80 either, should I make it that long, God willing!!
To wind up the evening, we watched the Super Bowl at my parents' house with a few people. I hate to say it was boring, but it really was. Sonny agreed.
We ended the night watching Sherlock--Forrest hadn't seen last weekend's episode so we watched that and then started on the new one. WHOA. We aren't finished so don't tell me what happened, but I'm majorly stressing!!!
Hope you all had a fab weekend!!