One of my
Gadsden Style
articles was about how to successfully plan and organize a party. Lots of people want to host parties, but to do one right, you really have to plan. It's one thing to invite friends over on the fly for a glass of wine or to watch the game but it's quite another to host a party or event. This may sound pretentious or over the top, but actually you probably already do most of the planning I'm talking about in your head. Even if you are just having dinner for your closet friends, who won't judge you if the wheels fall off of your event, you always want to show them how important they are to you by the effort you put in and the attention you give to the event itself. It doesn't take much, but a little organization will go a long way. Here is my timeline for my Mexican fiesta for supper club this past weekend.
One month before the party at minimum, I nail down my guests (easy, our supper club), date, time, and theme.
Event date: Saturday, April 26
Time: 7pm
Theme: Mexican fiesta
* You don't have to have a theme and quite frankly I don't personally like anything to cheesy and themey, but a general theme gives you something to work around and helps narrow down choices. For example, when asking yourself "Self, what kind of drinks should I serve?", you have endless options. BUT, when you nail the theme down to Mexican, you have fewer choices, and fewer choices means it takes less time to choose one.
At least one week before the party, I choose my menu. This time I created a Pinterest board to keep all of my ideas together in one place. You can check it out
HERE
. I like to serve a mixture of crowd pleasers and new recipes and I try to pick things that all work together and have similar ingredients. This just makes things easier. You also need to think about how much time you are going to have to cook everything. I like to choose things that I can make ahead so I'm less stressed on the day of the party.
Menu:
Appetizers:
Taco Layer dip
assorted salsas and chips
Drinks:
Strawberry Margaritas (I wanted a drink I could serve out of dispensers--that makes things easier)
Infused Water (again with the dispensers)
Assorted Beer
Wine if anyone wants to open any
Main course:
Chicken Enchiladas
Watermelon/cucumber/avocado salad
Wednesday:
Make grocery list
Thursday:
Shop for party
(As a rule, I do my grocery shopping on Sundays but I didn't want my food sitting that long in the fridge so I made an extra trip)
Friday:
Grab last minute party necessities on the way home
Have husband get beer and liquor (this is something I like for him to do so he gets whatever he wants specifically)
Make Enchiladas--made them up to the point on pouring on the sauce and baking them.
Put together taco dip
Prepare corn (I got it to the point of baking and the put it in the fridge)
Pull out all other serving pieces and set up serving areas
get out koozies, tubs for drinks, bottle openers, etc
Put salsas/dips into bowls, prepare dessert tray (you may think this doesn't take time but it really does so do it ahead of time)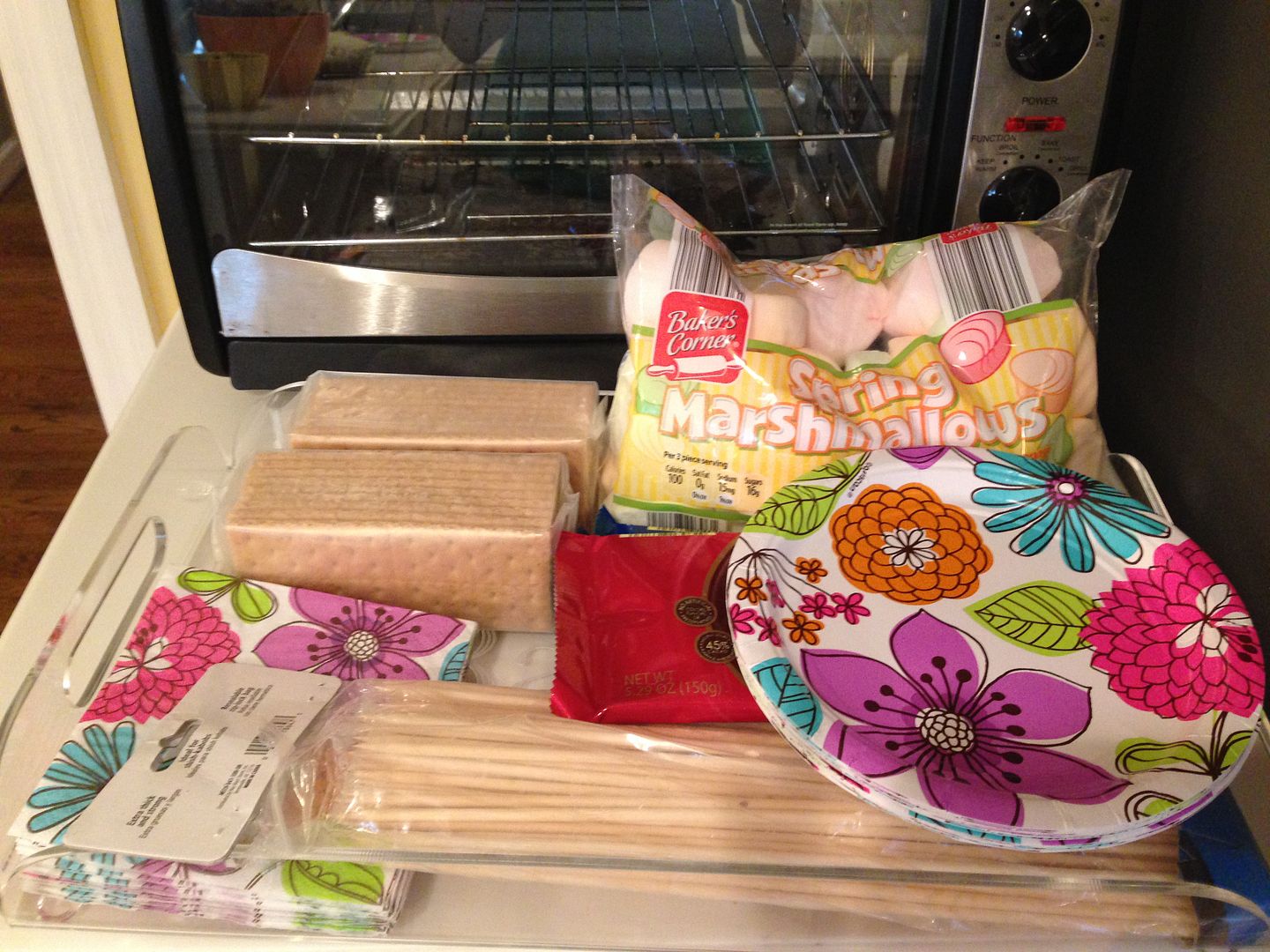 I had everything, down to the plates and napkins, ready to go for our s'mores (turns out the firewood was the one thing I didn't nail down---boo)
Set up bar area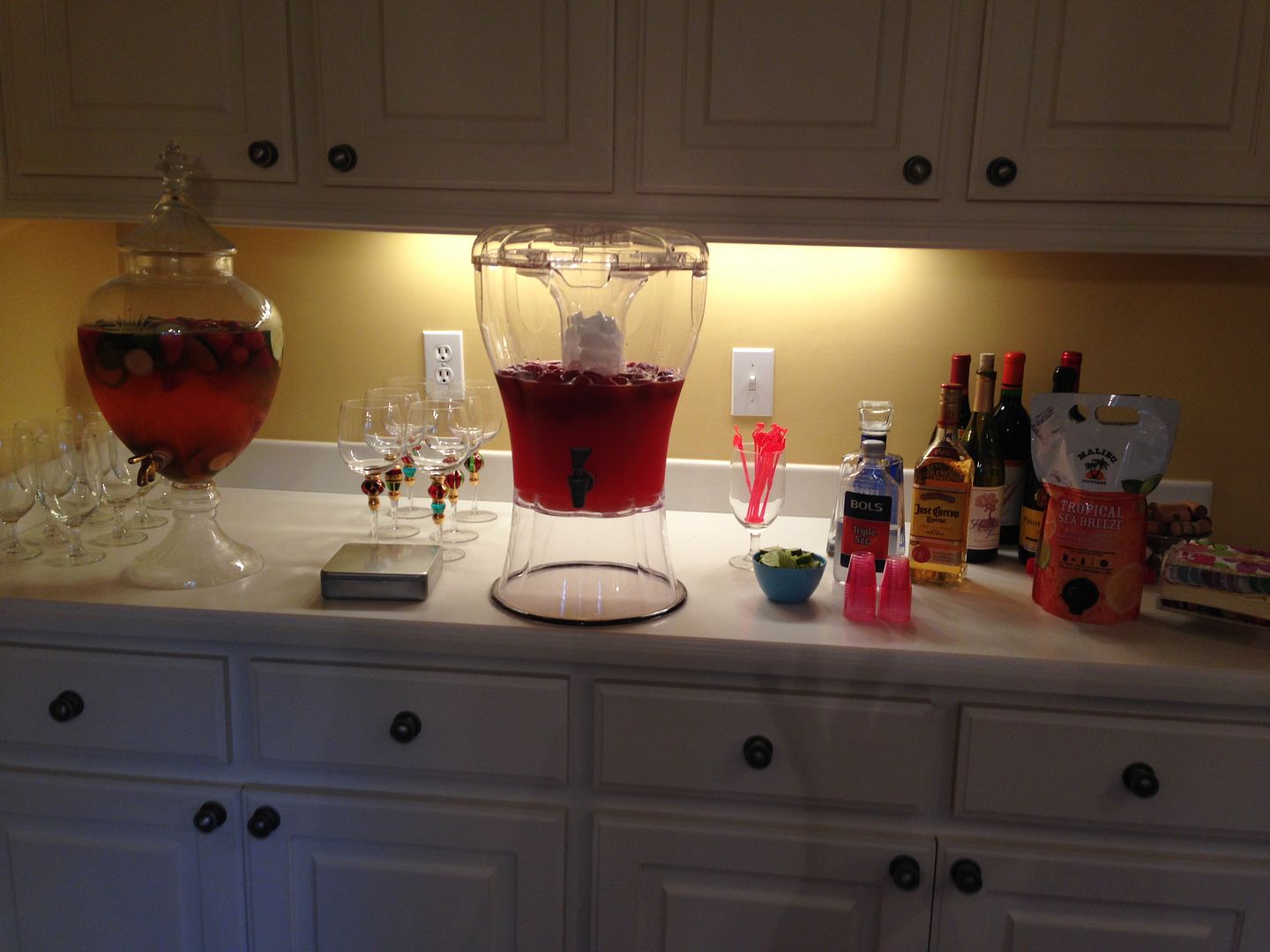 I had the bar area completely ready, minus the drinks of course.
Saturday:
8:30 am: Clean (usually my housekeeper comes and cleans every other Friday but she was dealing with a family emergency so I was on my own. I really relied on my Roomba to vacuum while I was doing other things)
10:00 am--Set table (dishes, centerpieces, flowers, chair covers, etc)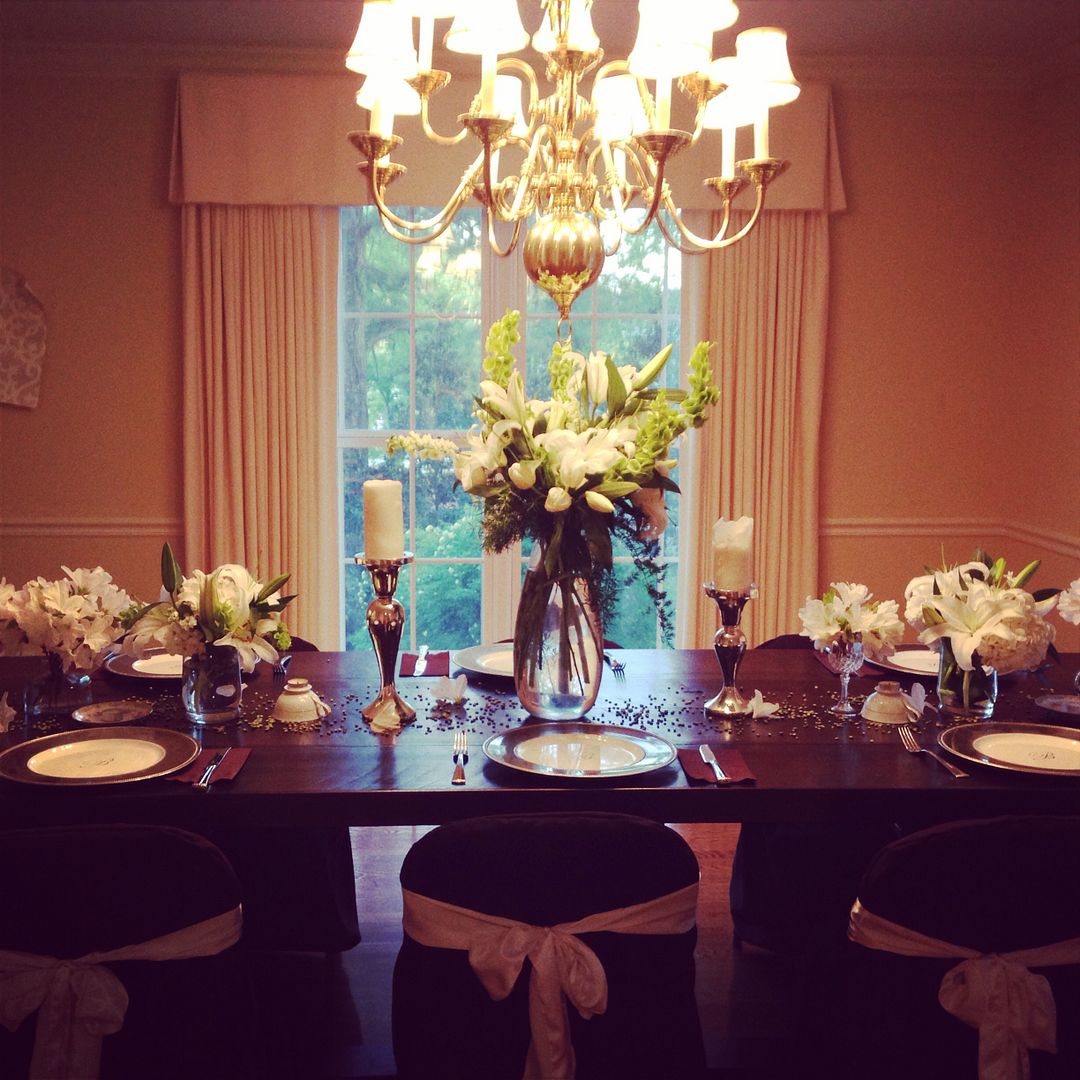 The table was ready all except the small vases of flowers on the sides. They were there, just minus the flowers.
11:00 am-- Get dressed--I usually get dressed last but I had a birthday party to attend. In an effort to save time, I only get ready one time if possible so I was dressed with hair and make up done for supper club early that morning! Remember to wear an apron if you are gong to do this!
11:30 am-- Birthday party for Hudson (eat lunch there--score)
12:30 pm--slice ingredients for the watermelon salad, drinks, etc--compile salad, get water made and in the fridge to chill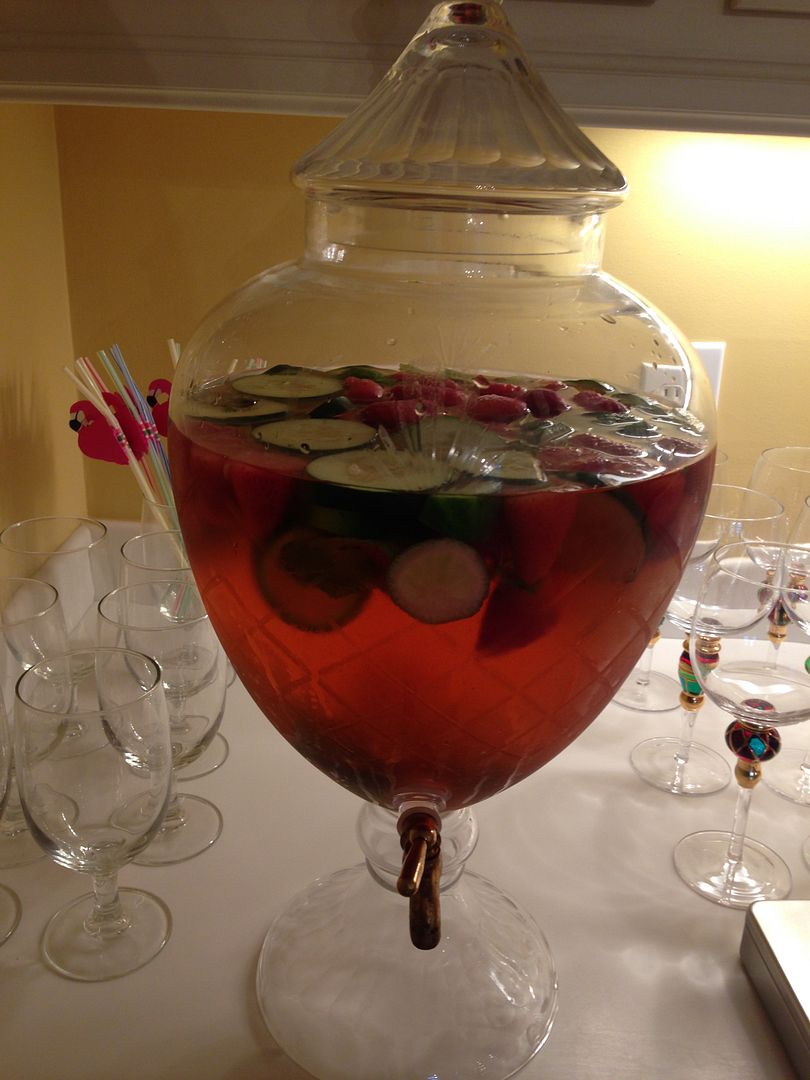 This pic is kind of dark but it shows the infused water I served. See all of those fruits and veggies? They don't just chop themselves! Do this ahead of time!
2:00 pm--Final clean of the kitchen now that all foods have been prepared
4:00 pm-- Mass
5:30 pm--get the outside area set up--put out drink buckets, etc that were prepared the night before as well as outdoor decor
6:00 pm: Turn on all lights, open curtains, last minute check around the house (this is my favorite part!)
6:30 pm--Farrah arrives, set out remaining flowers, make margaritas, pull out all appetizers, take pictures of everything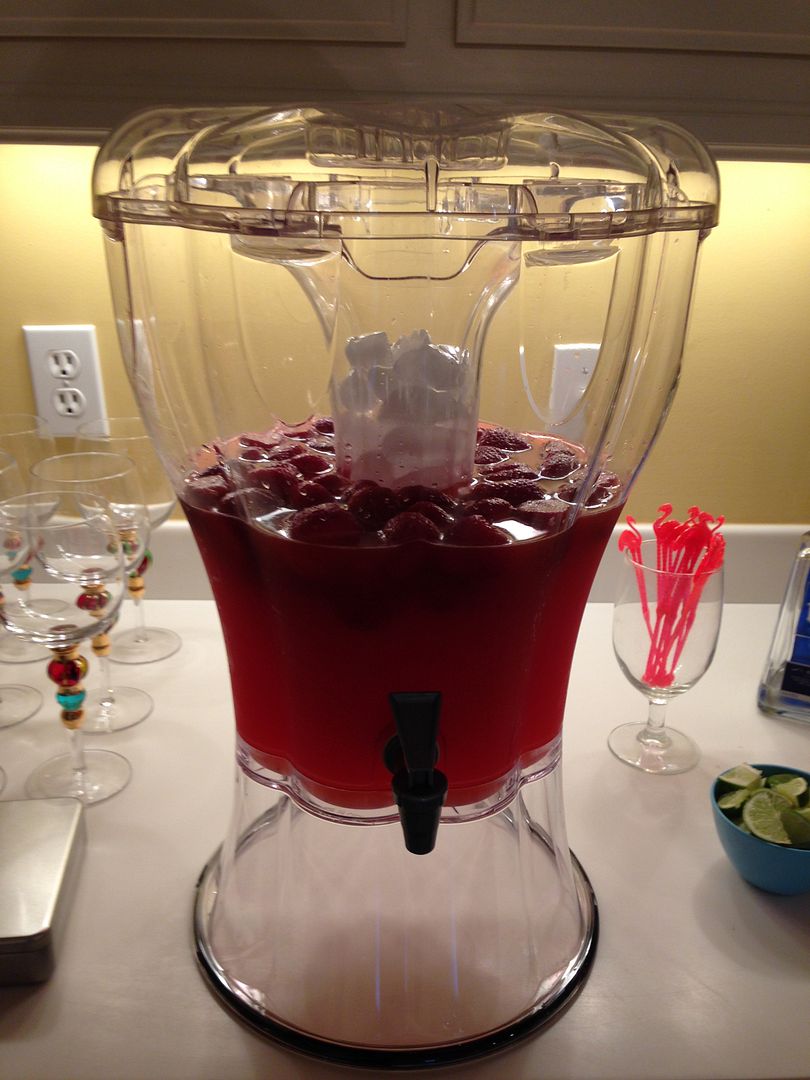 All of the margarita ingredients were waiting patiently in the fridge or freezer so they were chilled thoroughly when it was time to mix them. This batch included a strawberry soda so it didn't need to sit out too long beforehand.
7:00 pm--Guests scheduled to arrive! Put enchiladas and corn in the oven to bake
Then, as guests arrive, we got them drinks and appetizers and showed them around and caught up while the food was cooking. You never want to serve cold food and you never want your guests to go hungry, so make sure you are aware of how long it takes for your food to cook. The enchiladas and corn took about 45 minutes to cook so I put them in right as guests arrived. That gave us the perfect amount of time to to eat, drink, and socialize. We were all sitting around the table to eat the main course by 8:00 pm. Then once everyone was finished, we started making the s'mores.
If you are feeling scattered every time you have to host, please consider making a timeline! It might seem slightly neurotic but once you have a plan in place that you can actually stick to, your party prep will go from frustrating to satisfying! Your guests will be much more comfortable with a calm host rather than an exasperated one, and you will look that the entertaining goddess that you are!! Happy planning!
What are your party saving tips?? What do you do to keep your party on track??