Hi there friends! I know I have been MIA lately. It seems that after Peru, things have yet to slow down enough for me to catch my breath and blog. I have a long list of posts to do, I just need the time to actually write them! However, we do have some news that I'm loving this week--we are moving tomorrow! Well, sort of I guess. We are moving the bare necessities tomorrow so we will be living at the new house tomorrow night. However, we won't be completely moved out of the old house because we haven't sold it yet and I want it to look full and fluffed! I've been pretty lazy about packing because of that because I just don't see the point of knocking myself out because I know whatever I don't get done by tomorrow, I can just run up and do it later next week! I'm not even emotional at all about moving because it doesn't seem exactly real since we really aren't moving all the way. I know I'll be back in the house many many times so I haven't had to get all sentimental....yet. It is our first house, so I know I'll be sad, plus I am really sad to leave the Hayes. I don't know what I'll do without them right down the street! Ok, maybe I am emotional about it. Let's have a laugh, shall we? Ok. So we showed the old house Tuesday and since I had to load up the cats I decided they were just going to go and start living at the new house It is such a hassle to pack them up and I thought they might like to get the feel for their new house by themselves. When we moved them into our old house, they freaked out and hid for days and I thought I might alleviate that problem by closing them up with all of their favorite things in the laundry room, where their food and liter will be when we move. Well, I was wrong. They were terrified. They refused to get out of the carrier and when I forced them, they hid in the liter box. I have checked on them literally 4 times a day since Tuesday and I'm happy to report they are getting better each time. I thought that they might be feeling cooped up and that they might like to explore so while I was over there yesterday, I let them explore. I found Stella like this.....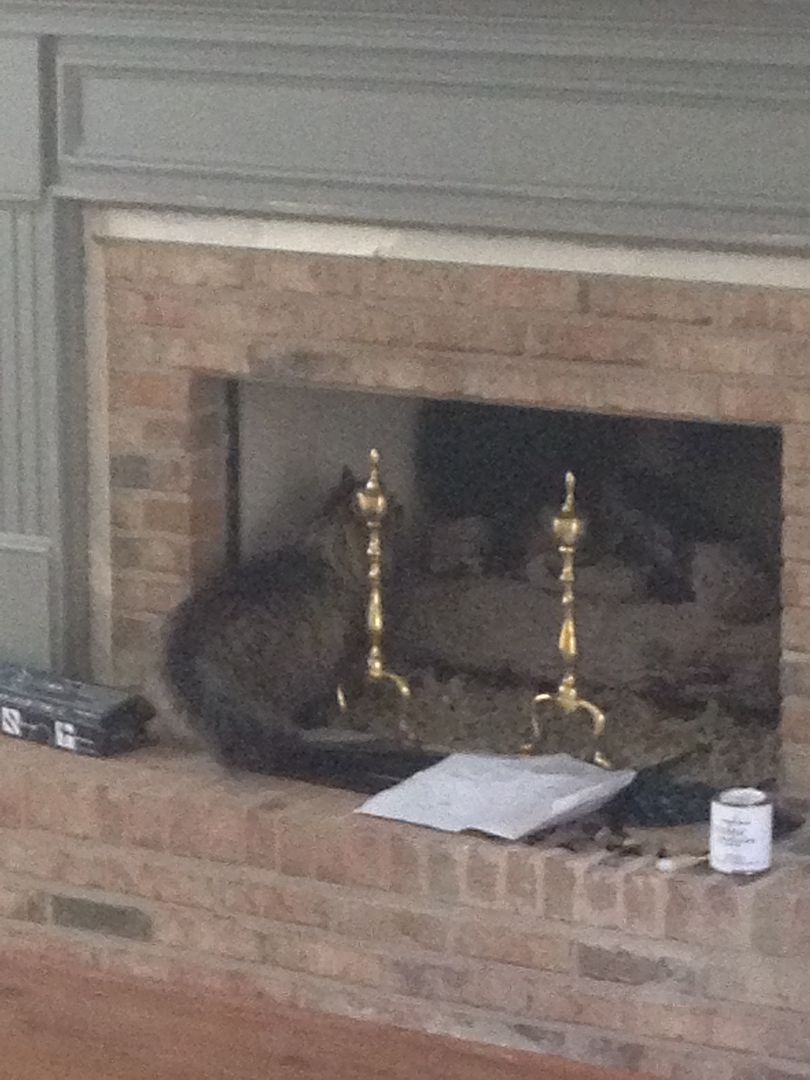 When we are there full time, we are going to keep the cats in the back of the house, so they won't be able to get near the fire place, but he seemed very curious about it so I let him be adventurous.
Later that night Forrest and I were hard at work in the house with the cats roaming the halls. Forrest left to go to Lowes and after a while, I realized I hadn't seen Stella in some time. I searched everywhere and couldn't find him. There really aren't that many hiding spots, as there is no furniture in the house, so I was panicked. When Forrest got back, I had him climb in the attic access and dig through the insulation to look for him, but nothing. I was running around outside like a crazy person when Forrest said we needed to be calm and think. And that's when he remembered the above picture. I ran to the fire place, looked up, and heard the most pitiful meow that has ever been uttered. However, the meow was coming from below, not above. Poor scared kitty had hidden underneath the gas logs and refused to budge!
Forrest had to take them out one by one until we could reach Stella. He was covered in soot and trembling with fear. Looking back it was pretty funny but I was so worried about the little guy. I'm hoping that he will get more comfortable when we arrive with the dogs tomorrow. Wish us luck!!