Last week was jam packed and so was the weekend! I had a dinner on Tuesday, plans with friends Wednesday, another dinner for our AOII alumni on Thursday PLUS a "spray tan party". Oh yes and of course there was work and unpacking at the new house--how could one forget? Friday night was the Regency black and white ball. I LOVE this dance because I, at least, like to get creative with my black and white. On top of that, the members were tiaras. That sounds a little silly when you say it out loud but it's all good fun, and let's be honest, who doesn't love wearing a tiara! The icing on the Regency cake is that instead of dinner or appetizers, they serve breakfast at about 10pm! Love it!!!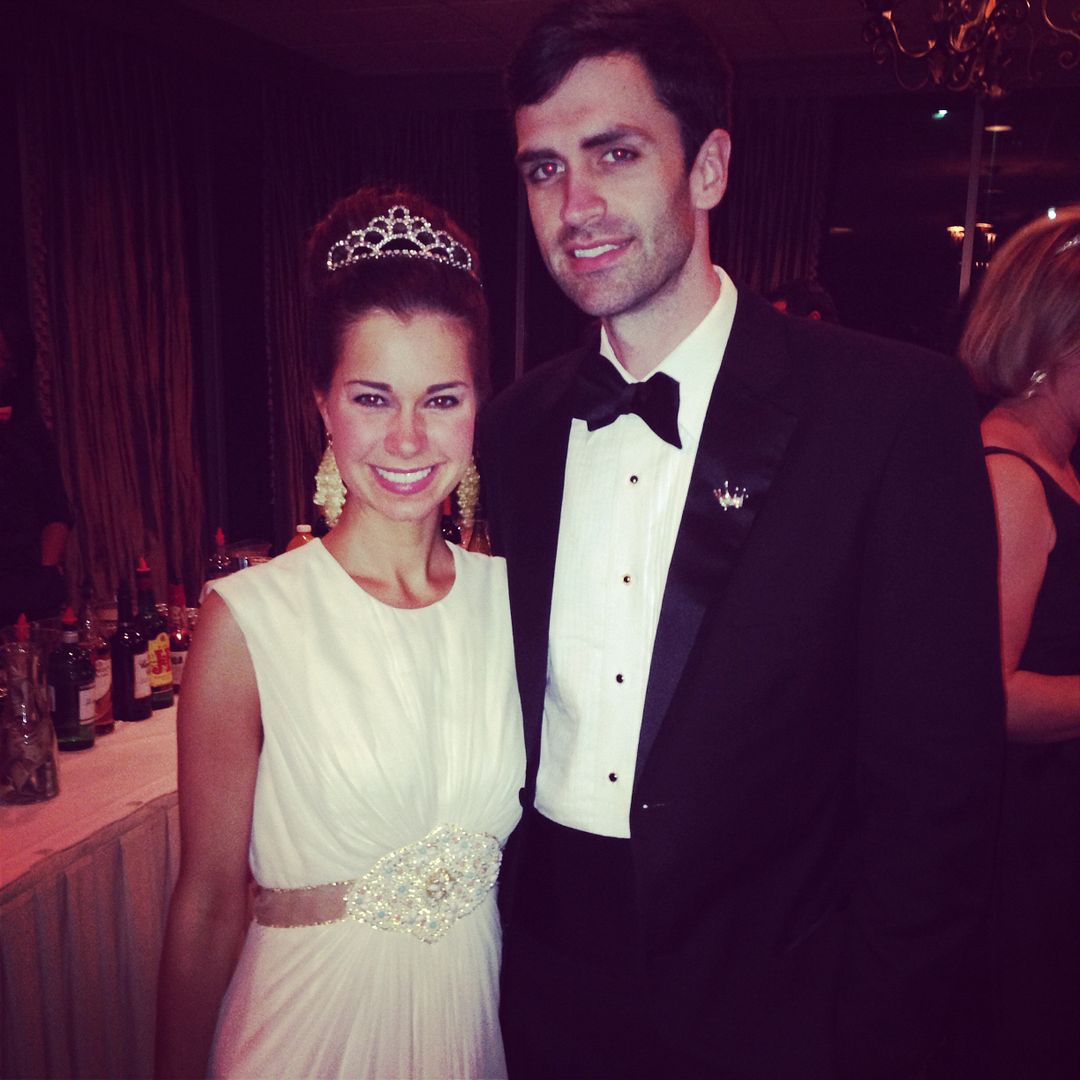 A night on the town with my husband! Looking good too!!
I found my dress at our Service Guild rummage sale 2 years ago. It was in a dry cleaning bag that still had the receipt on it from the 1970's! I love anything vintage so I snagged it, had it cleaned and fitted, and voila!
My assistant Rachel did my hair--she can never leave me. I mean what would the job description say? "WANTED"--Legal Assistant with experience in criminal, civil, probate, immigration. Must be able to talk to clients and do perfect sock buns on occasion. Also should be available to give shoe advice.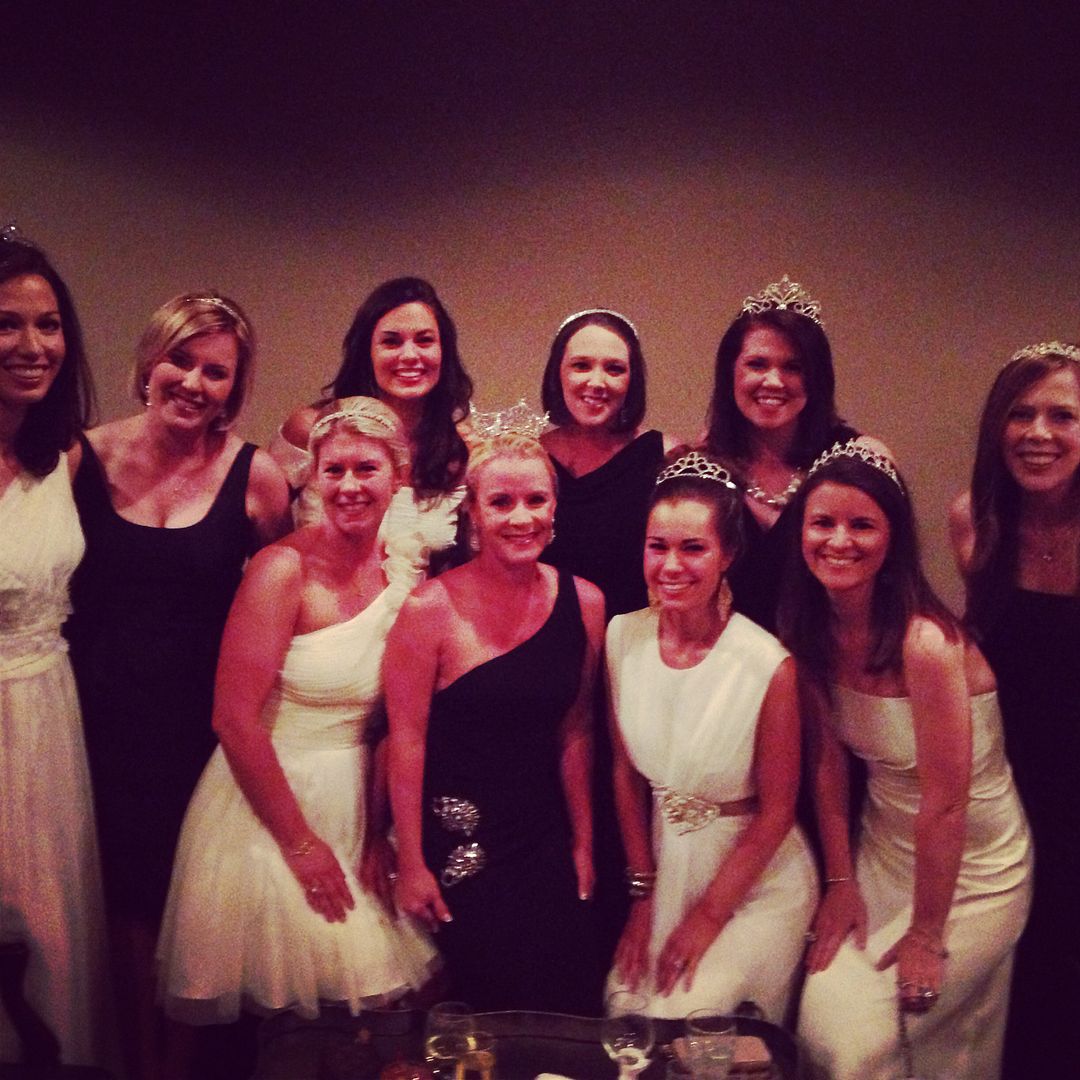 Just a few of my girlfriends at the ball!
Kate, Holly, Jenny, Kelli, Farrah, Alie
Amy, Kelly, Me, Kendall
Saturday I woke up at 7:45 on my own. If it was a work day, that would never happen. However, I was anxious to get a start to my day because we were hosting supper club! Yes, I made plans to entertain, in my new house, that is half painted and full of boxes. I'm just crazy, I guess. There was much to be done, even though I got a head start on Friday night. We also had to squeeze in a little time for a birthday party for little Hudson!!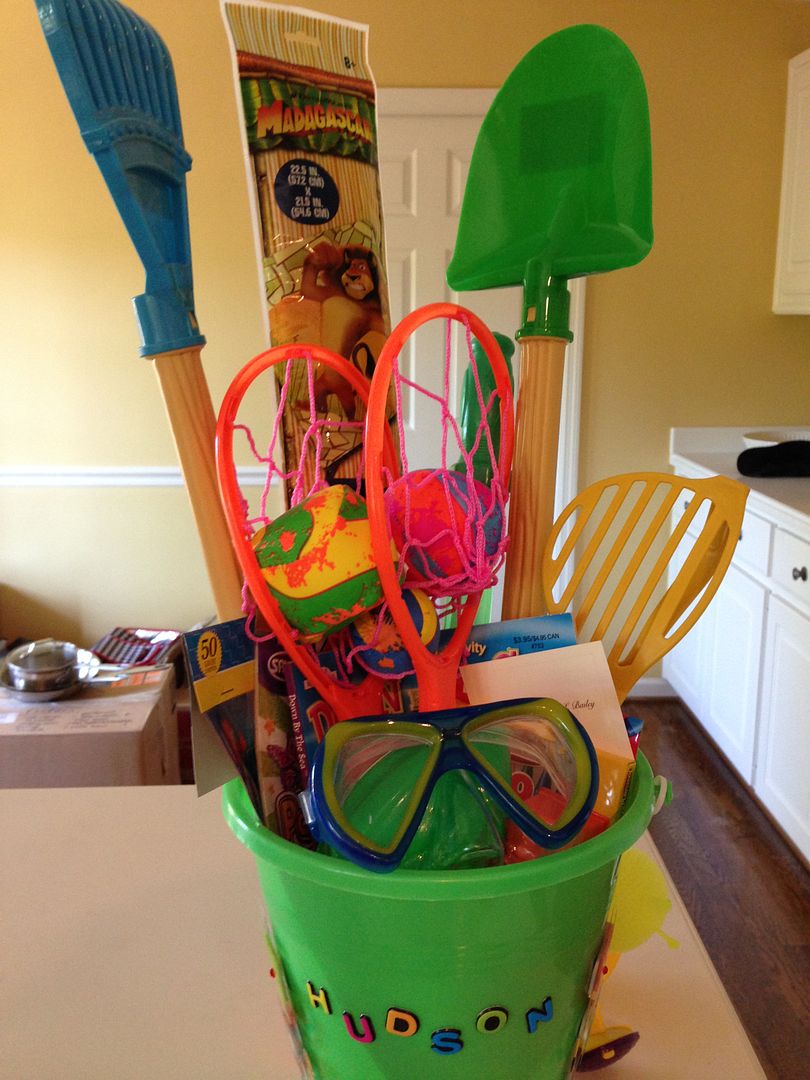 I don't have kids and I don't pretend to be an expert on what they need or what, but dang was I proud of my beach bucket for Hudson! He is going to the beach this summer and I thought he would enjoy some beach accouterments.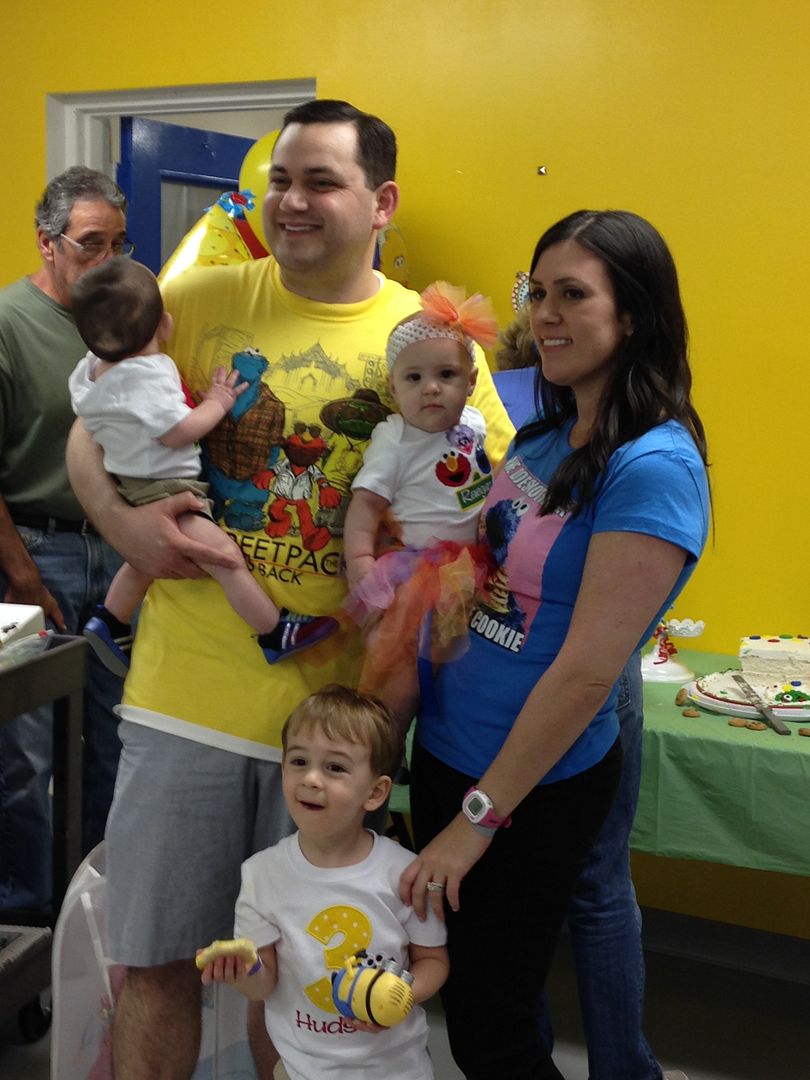 Love the Pucketts!!!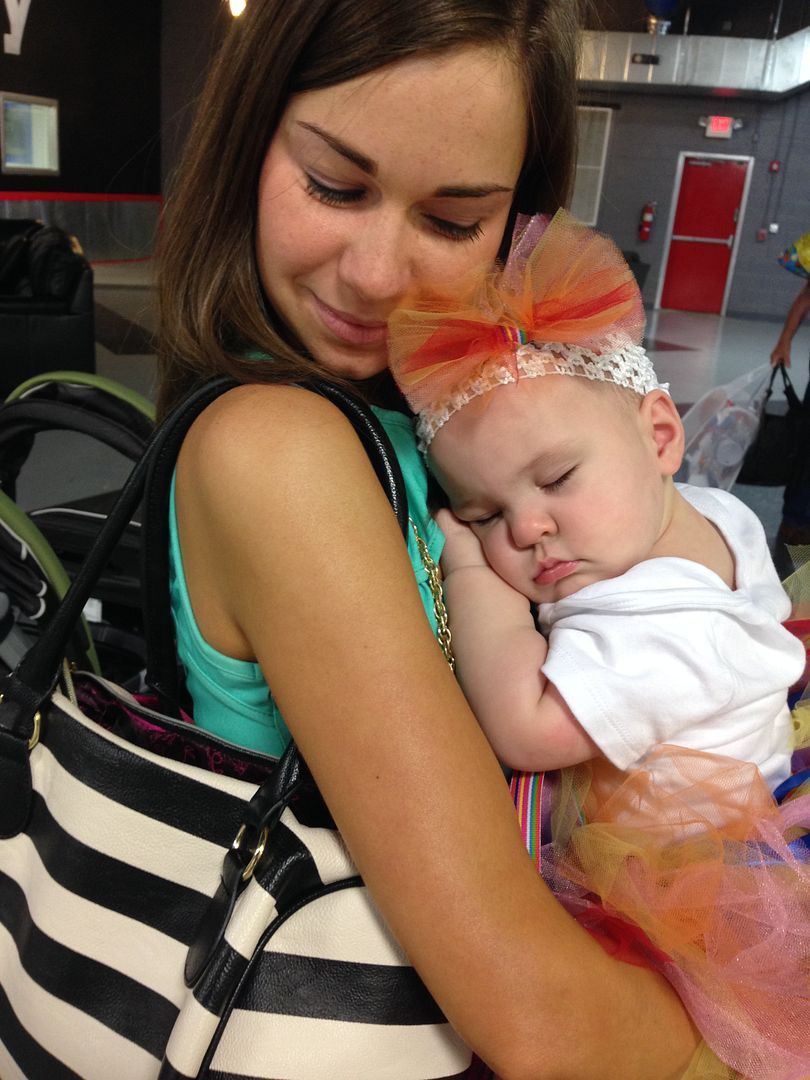 Any FRIENDS fans out there? Remember the episode where Phoebe admits that she wants to keep one of her brother's triplets? Well, that's how I felt about Raegan. This girl loves to eat, rocks out with hairbows and tutus, and enjoys the occasional nap. Home girl and I are soul mates.
By the time our group arrived for dinenr, I had everything ready and have to admit was pretty laid back. This may have been due to the margaritas I was sampling, but who knows. I think it was more that I had a really good plan for attacking the prep of this party and was able to stick to it. More to come on that this week! Our supper club loved the house, and more importantly, loved my food! A big shout out to Farrah who helped me immensely. She brought over the chairs and chair covers, let me borrow the flowers she took from Regency, and let me used one of her drink dispensers. One of my main tips in planning a party is saying "YES" when help is offered, and Farrah always is a friend who offers. Thank you sweet girl! (She also makes my hair and nail appointments when she makes her own because I never seem to remember to do that--only a real friend worries about the state of your appearance that much!!).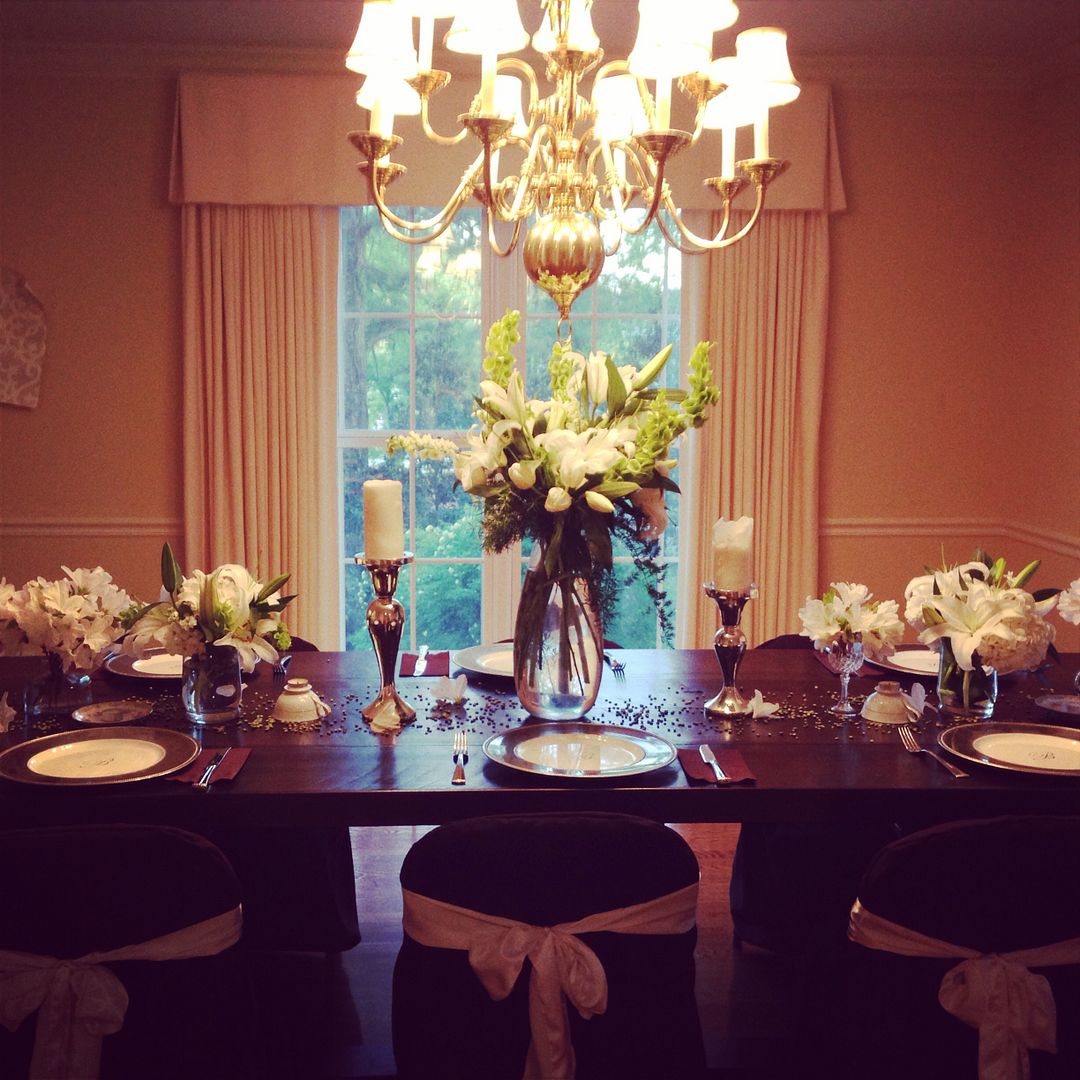 My table! Slightly over done for a Mexican theme meal but once the chair covers arrived I had to kick it up a notch. The flowers were all from Regency the night before or from bushes at Forrest's office. Everything else was pulled out of boxes on the fly. I'm channeling my Aunt Fran with this table for sure. Oh, and Forrest built this table--amazing, right?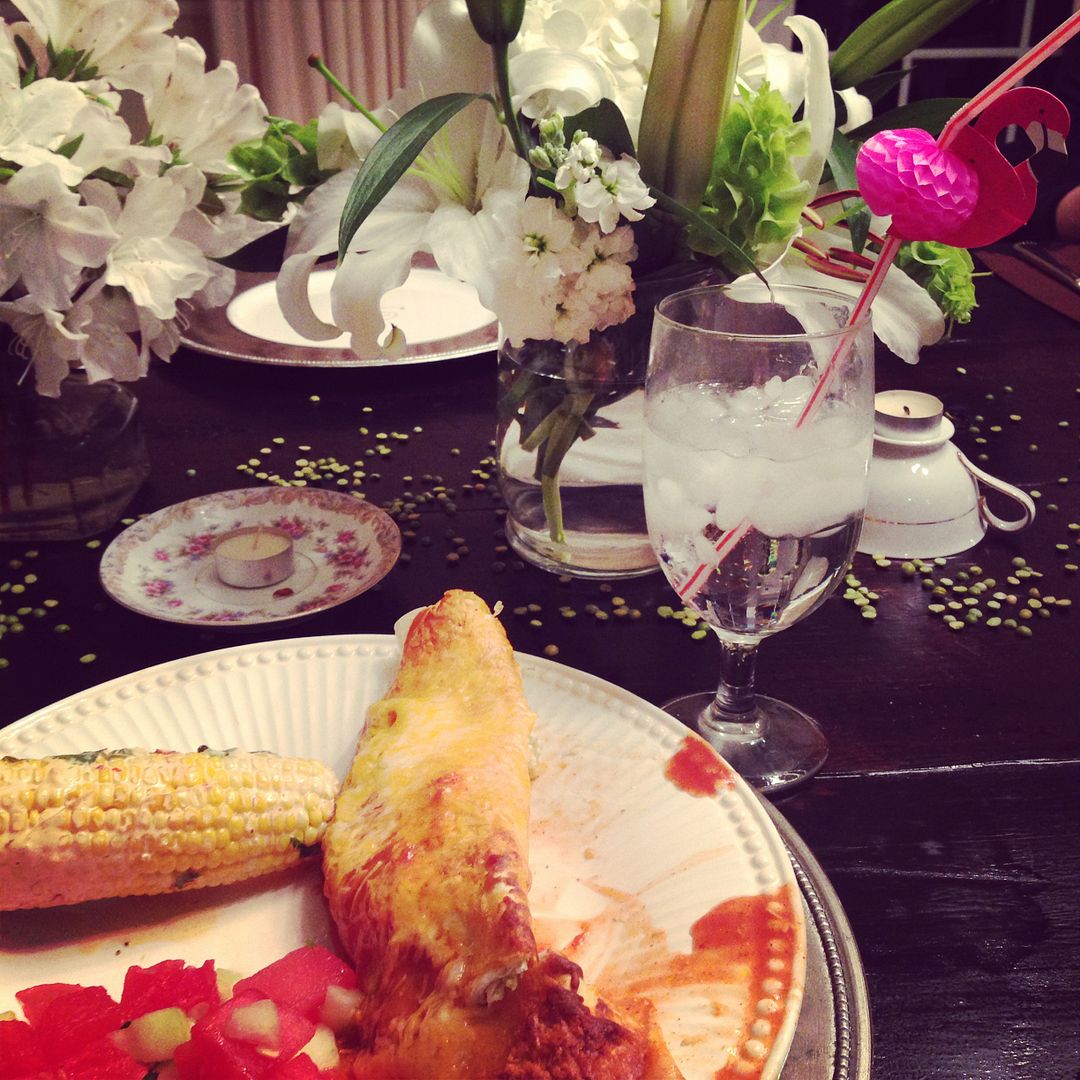 Mexican fiesta, plus flamingo straw, plus wedding flowers equals one amazing night!
If you were curious, my menu included baked chicken enchiladas, Mexican street corn, and watermelon/cucumber/avocado salad.
This is Forrest's new outdoor fireplace. He just had to have it and envisioned the whole thing. As per my usual I was skeptical but didn't care one way or another about it and as per his usual, he was right. It is beautiful. We really wanted to serve s'mores for dessert, with our friends gathered around the fireplace, but as it is April and 80 degrees, there was no firewood to be found. Instead, we served s'mores straight out of the microwave. Our patio furniture looked so inviting, and the night air was so perfect, that we decided just to "try" out the fireplace when everyone left. That meant burning whatever we had available--boxes. We just tried one, but boy was that fire pretty. Slightly redneck, but beautiful. Even Ruffles couldn't take her eyes off of it.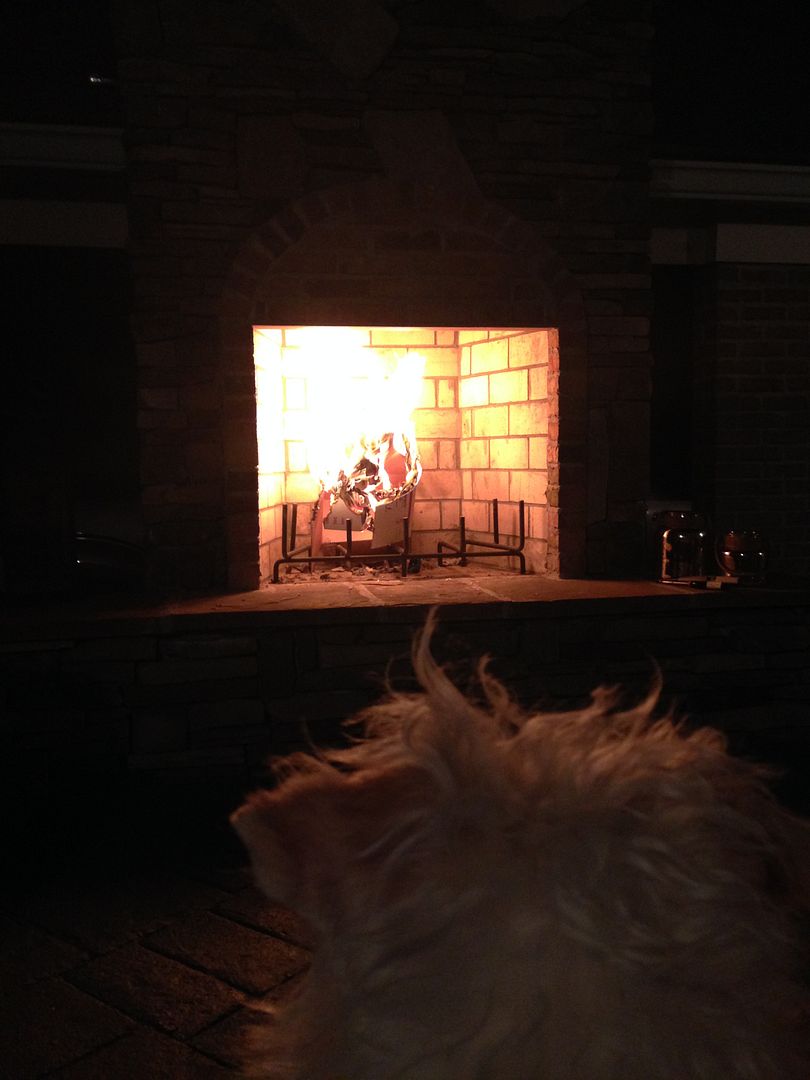 Since I had gone to Mass on Saturday, Sunday was a sleep late day (for me, anyway, Forrest was running errands all the way in Georgia before I even woke up). We took advantage of the sun by spending a few hours at the lake. Yes, we should have been unpacking and working at the house but after such a wild week, we needed some quite time.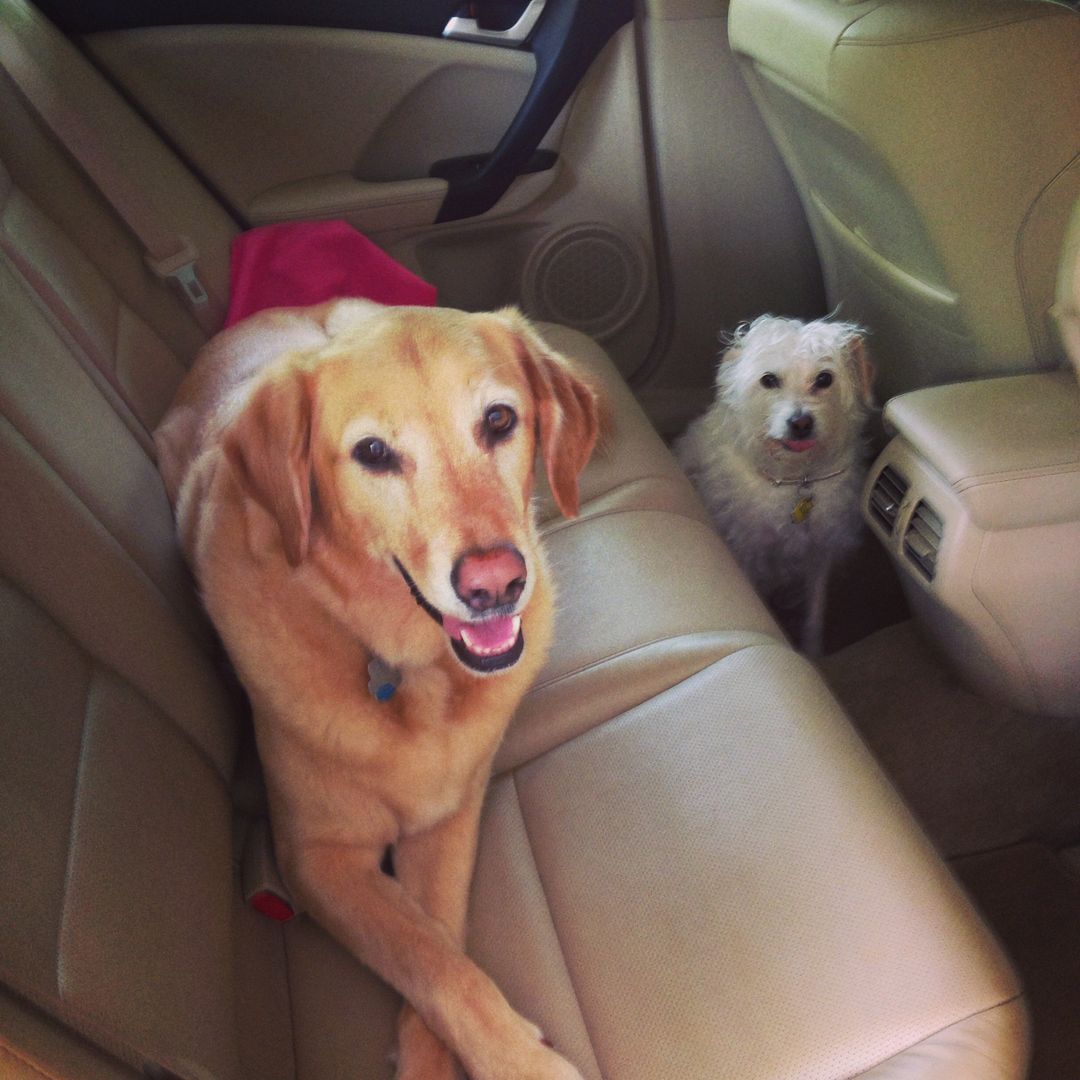 These babies were ready to go go go!
(Points for me for having my car cleaned last week)
Even this prissy diva enjoyed some outdoor time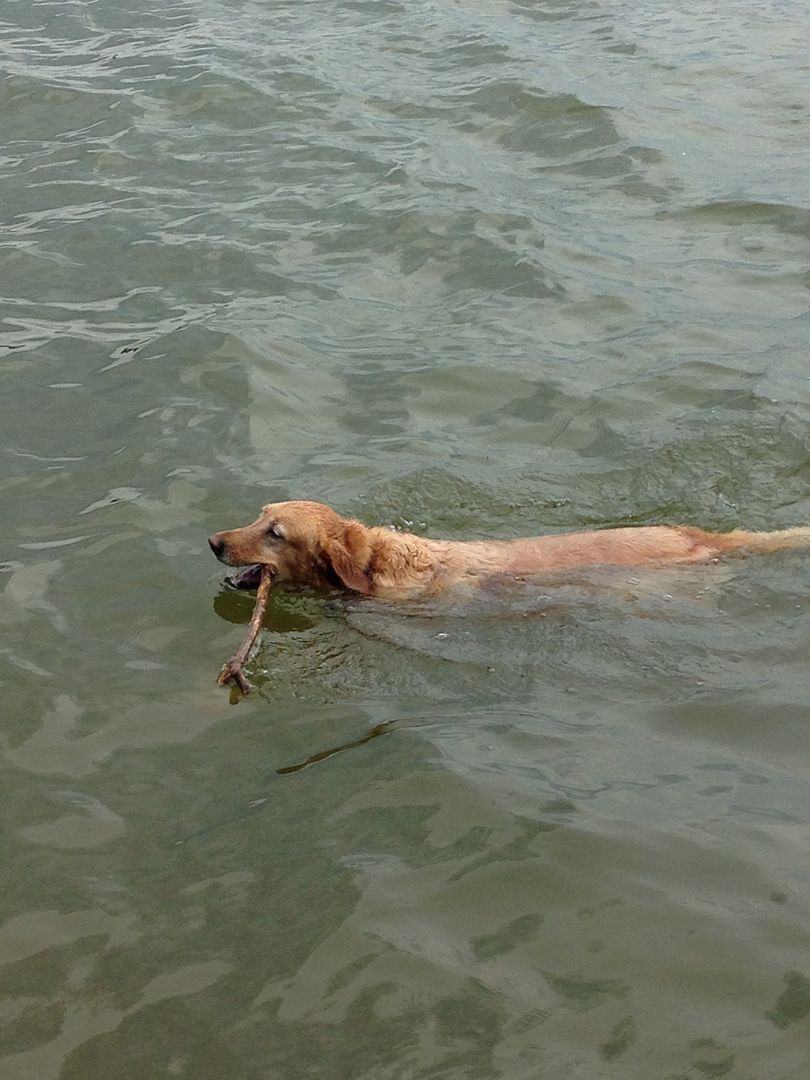 And of course, Sonny swam the entire time. Even when he broke that stick in two and was carrying both pieces at the time, he just wanted to swim.
Once the storms rolled in we headed home, caught up on some napping (Forrest) and TV (me). We managed a quick walk before dinner at my parents. It may be our last time outside for the next few days, as we are expecting strong storms to enter the state tonight. They've already been terrible in the midwest. I can hardly look at the news because I get flashback panics to the April 27, 2011 tornadoes that sliced up my state. The fear of not knowing if my sister, or any of my friends in Tuscaloosa were ok or even alive is still fresh on my mind, and any mention of the word "tornado" sends my mind spiraling back to that horrific day. Please pray for safety for those in the path of the storms and for peace and healing for those who have already been through them. The Baileys will be hunkered down in our basement tonight! Stay safe friends!!