A few weeks ago I hosted our supper club at our new house (yes I am crazy). I made some fantastic new recipes that would be great for any summer party, especially a Mexican fiesta! You can see my event board on
Pinterest
, as well as all of these recipes! I hope you enjoy! Let me know which ones you get to try!
Drinks:
I wanted to do one alcoholic and one non alcoholic drink and I also wanted them to be able to be served out of dispensers. This makes it easy for guests to serve themselves!
Infused Water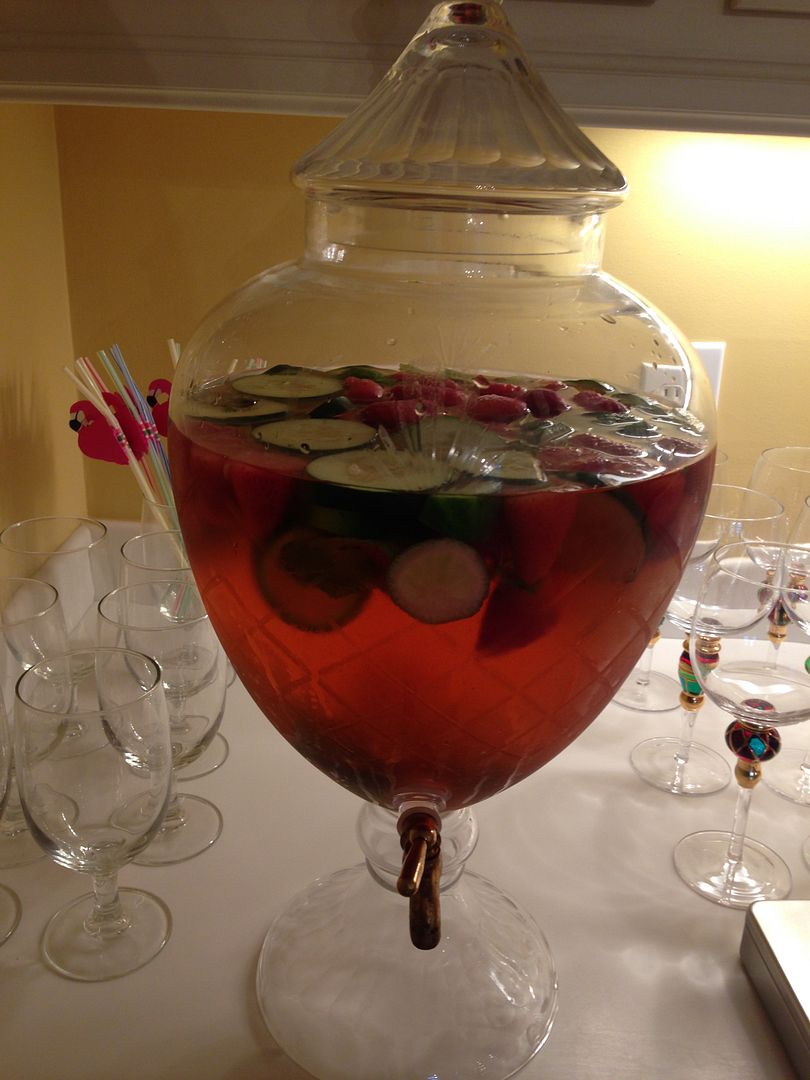 Ingredients
1 cup sliced strawberries
1 cup sliced cucumbers
2 limes, sliced
1/4 cup fresh mint leaves
Ice cubes
Water
Instructions
In a half-gallon jar, or a 2 quart pitcher, layer the strawberries, cucumbers, lime slices, and mint leaves with the ice cubes. Fill jar or pitcher with water. Let chill for 10 minutes, and then enjoy!
notes
I can get 2-4 fill-ups out of one batch of flavorings, but you might want to change out your flavorings sooner for stronger flavor.
Feel free to use sparkling water instead of still water.
Obviously, the longer the water sits, the stronger the flavor. It's mild at first, but after a few hours (or overnight) it's quite strong.
Strawberry Margarita Punch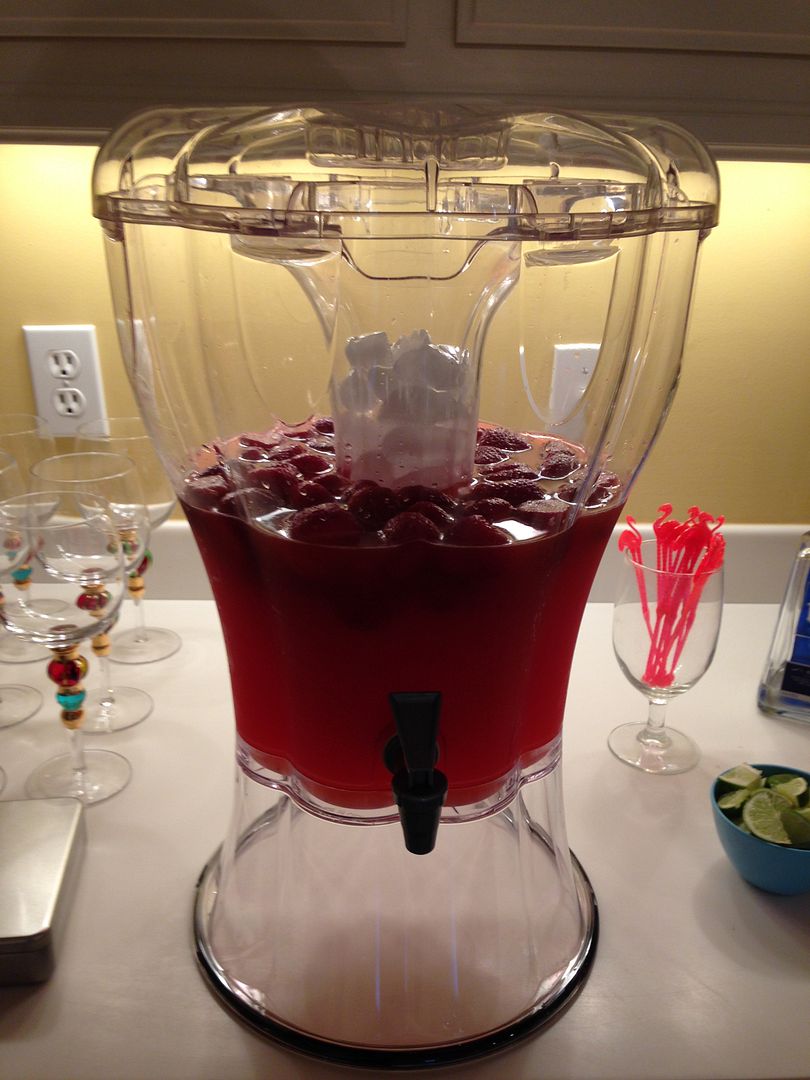 Ingredients
16 oz. fresh strawberries, hulls removed (can also use frozen)
1 can frozen limeade concentrate
4 cups water, divided. May need more (can also use sparkling water for a fizzier punch)
2 cups orange juice (without pulp)
4 cups strawberry soda
1½ cups tequila, can use more
½ cup cointreu or triple sec, can use more
Instructions
Process 1 cup of water and strawberries in a food processor until smooth.
Add to a large pitcher.
Stir in frozen limeade.
Add in orange juice, strawberry soda, tequila and cointreau.
Stir in 3 cups of water. (Can use more water if you think it's too sweet, but remember punch is suppose to be sweet so don't water it down too much.)
Appetizers
Fiesta appetizers are easy--chips, dip, salsa, guacamole! BAM! But, you of course don't want to look like you haven't given your party (and therefore your guests) any thought at all, so when I'm doing something that easy, I like to include another dish that packs a wow factor. This time I went with a tried and true favorite--taco layer dip! This is my mom's recipe:
1 can refried beans
1 packet taco seasoning
1 8 oz packet of guacamole
1 8 oz sour cream
1 small can green chilies, drained
3 or 4 Roma tomatoes, chopped
1 small cans sliced black olives
1 bag shredded jack cheese
Mix the taco seasoning into the refried beans. Layer ingredients, in order above, in a deep dish pie pan. Top with the cheese--as much as you like (definitely not the whole bag--but hey, whatever you want).
Serve with sturdy chips!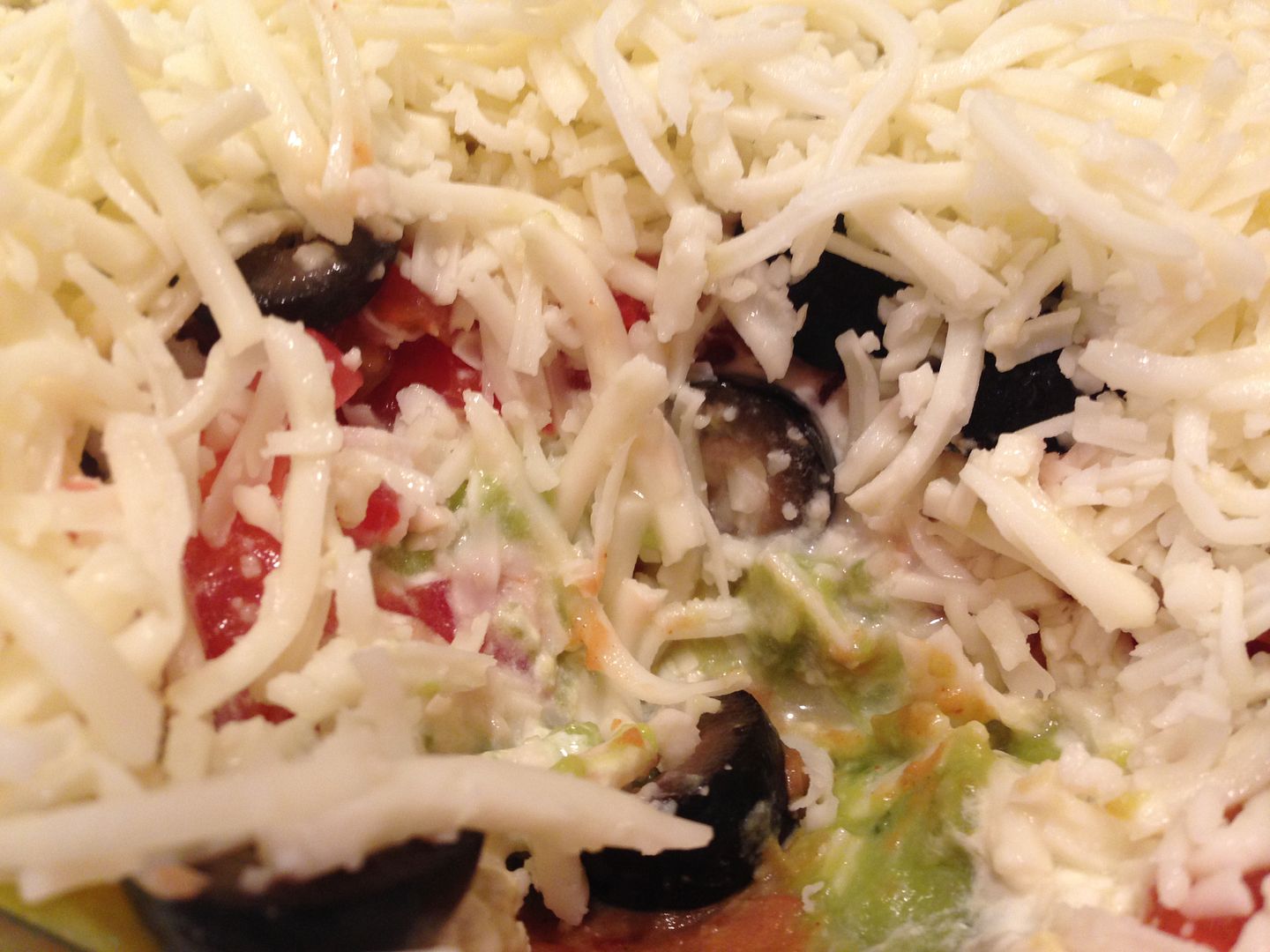 Oh yes.....
Main Dish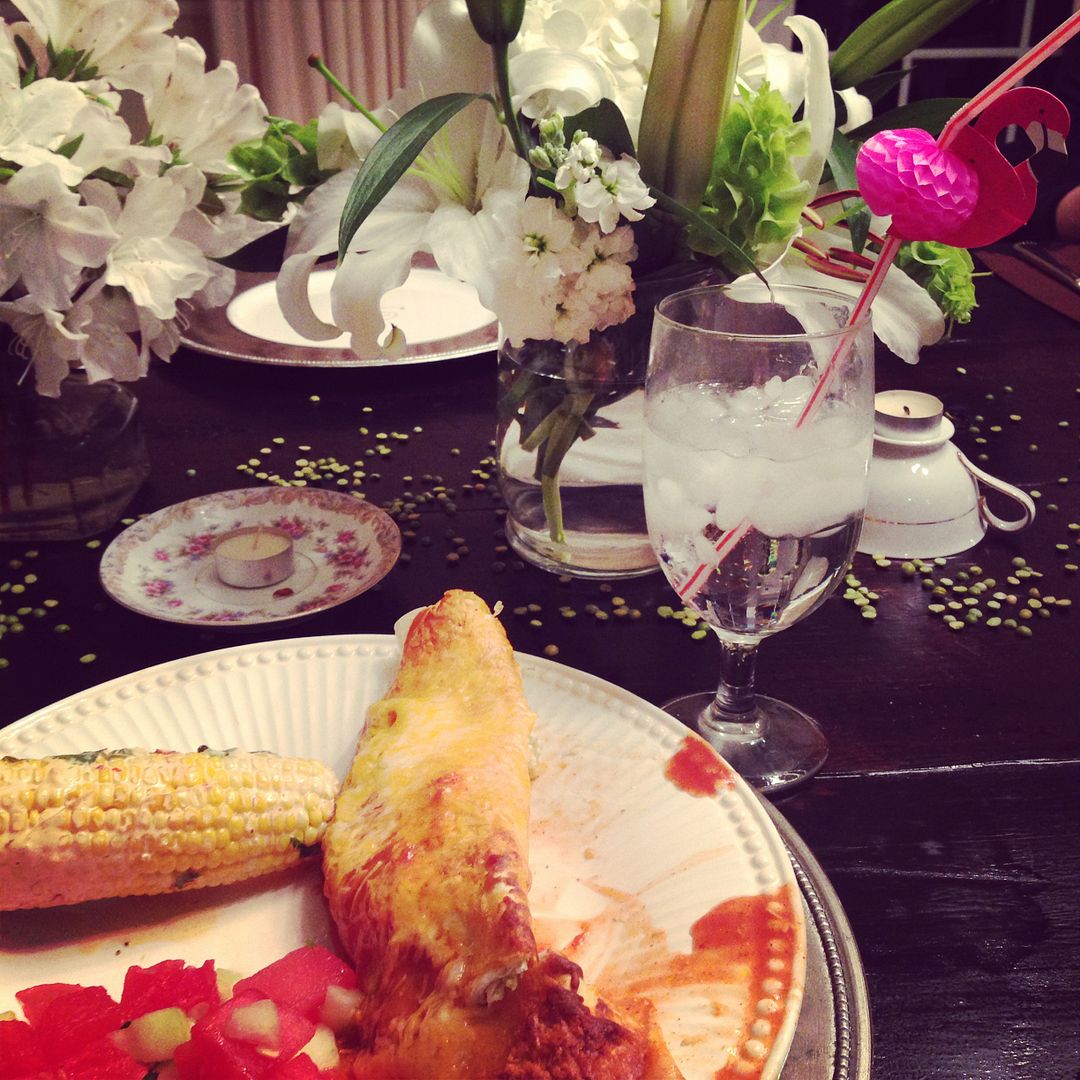 I served Forrets's famous chicken enchiladas. They are crowd pleasers but more importantly, they can be made ahead and then popped into the oven right as guests arrive to save you, the hostess, from slaving away in the kitchen while your guests enjoy the party without you!! You can find that recipe
HERE
on the blog!
Sides
My sides recipes were actually giant hits--straightforward with common ingredients, just served in a different way!
Watermelon, Cucumber and Avocado salad
2 avocados, pitted and sliced or cubed
1 seedless watermelon, cut into 1 inch cubes
2 cucumbers, peeled and cut into 1 inch cubes
2 tablespoons fresh lime juice
1 tablespoon olive oil
1/3 cup freshly chopped cilantro
salt and pepper to taste
Directions
In a large bowl add avocado and drizzle with lime juice and olive oil and gently stir to coat. In a separate large bowl, toss watermelon and cucumber together. Add the avocado mixture on top of the watermelon and cucumbers. Sprinkle with cilantro and season with salt and pepper to taste.
Mexican Street Corn
I got the idea for this dish from the link above, but I kind of made the actual recipe up as I went.
8 ears corn
Chili infused olive oil
Crumble Cotija Cheese
Tomato aioli
Chopped cilantro
Red pepper flakes
Boil the ears of corn in water with at least 3 tablespoons of chili infused olive oil. I left mine simmer for at least 15 min so they soaked up the heat.
Wrap each ear of corn individually in foil. Before sealing, spread one heaping scoop of the aioli (or let's face it, regular mayo would be fine here) on to the ear of corn. Then sprinkle on the cheese, cilantro, and red pepper flakes. Wrap them tightly in the foil so none of the goodness spills out. You can grill these or you can put them in the oven directly on the rack for between 15-30 minutes.
Dessert
Dessert was easy--s'mores! I went ahead and fixed a tray with everything I needed so when the time came I was ready. I had both dark and milk chocolate as well as flavored marshmallows so my guests could choose!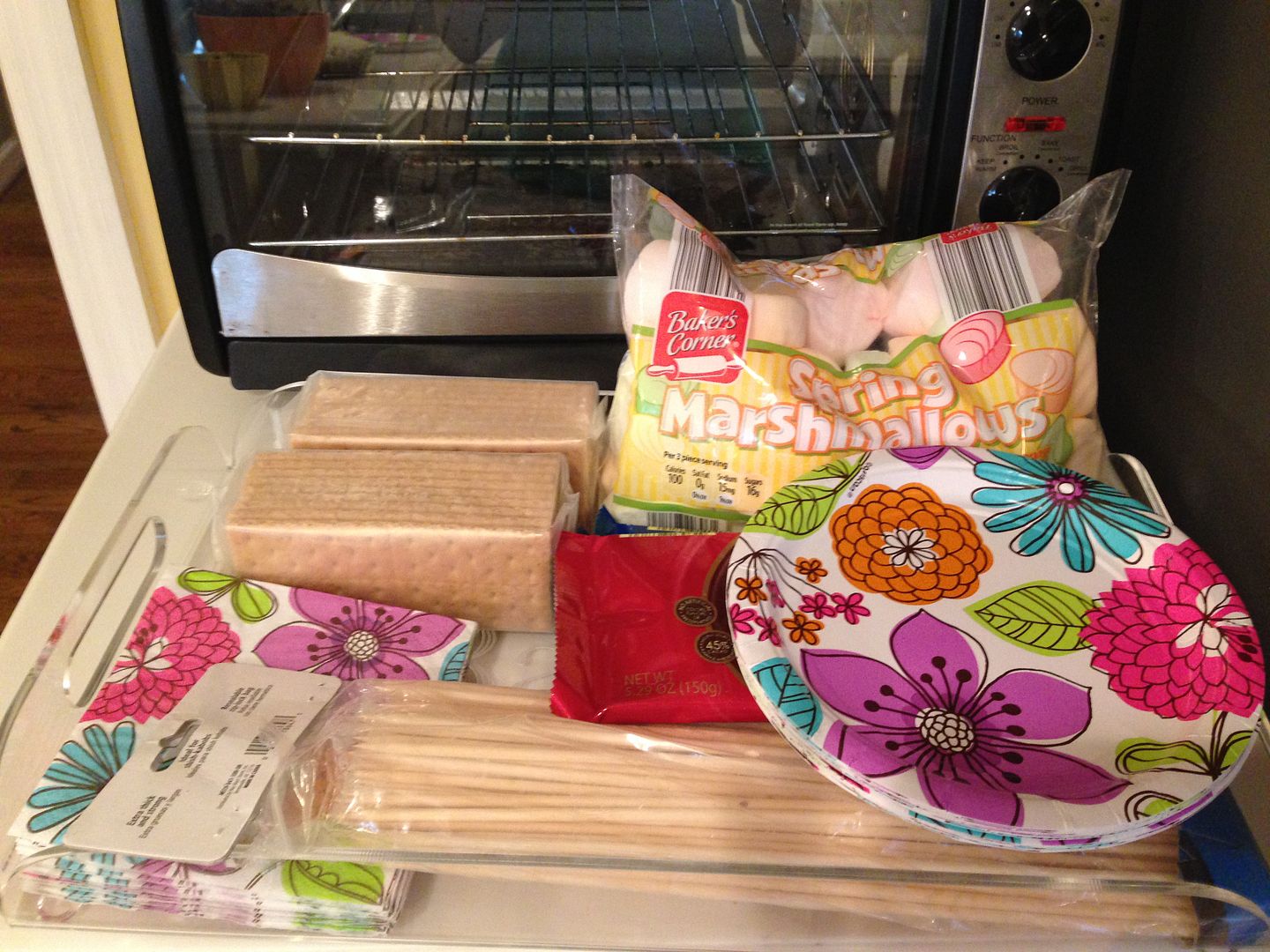 Are you anxious to try any of these recipes?? If you do, please let me know!