Happy Friday Y'all! Hope you all had a great week! This week I'm particularly loving being home and getting back into my routine. NYC was AMAZING and we definitely hit it hard while we were there, which means I paid for it all week. Too many late nights equals a whole week to get over it when you are 30!! There is nothing like the calm of a routine to put you right again. Honestly, since we've moved, we have been soooo out of a routine. We still have boxes in the kitchen because it isn't ready yet, most of our furniture is still at the old house so it can look nice and be staged while people are looking at it, and OH there are so many projects left to do. It kind of makes my head spin. I go from being really crazy about it to being so chill that I don't bother to attempt to finish anything. It's a crazy mess, actually (or maybe I should say I am a crazy mess...).
Not only am I happy because it's the end of a very very long week, but I am excited for you to meet my blogging pal Ashley from Hearts & Stuff. Her blog is SO much fun! She has lots of DIY projects to share, fabulous fashion advice, AND you can shop her closet! You are definitely going to want to check her out ASAP before I buy all of her clothes!!
Not only is Ashley a good time, she is a sweet and generous lady that wants to give one of my faithful readers an adorable necklace from Bauble Bar!! Ooooooo, aaaaahhhhhh....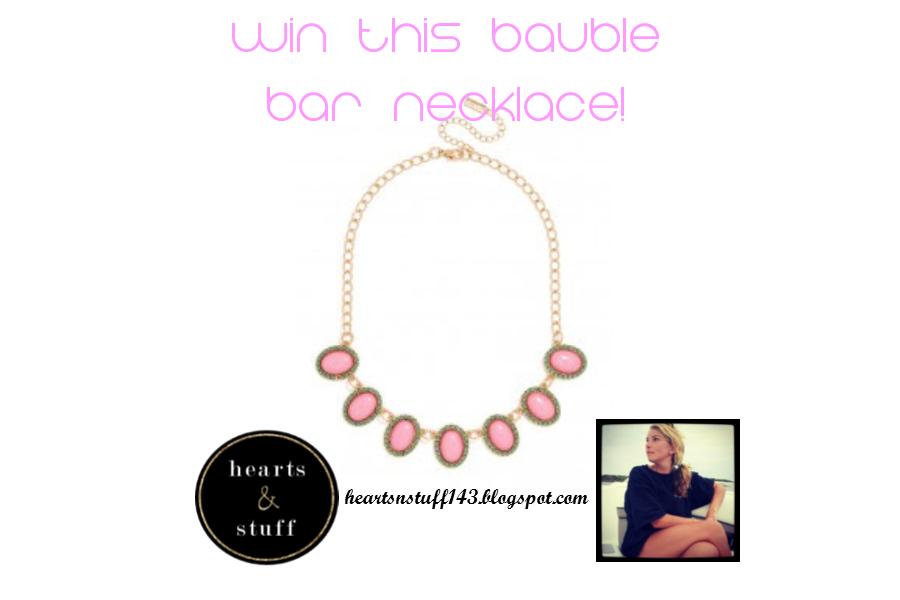 Cute huh!! I wish I could win it myself, but I shall refrain! Since it's super sweet of Ashley to giveaway such a sweet prize, please make sure to show her some love by checking her out on her blog!! Good luck and happy weekend!!