Incredible--the only word to properly describe our weekend. If you follow me on
Instagram
, you know that we were tearing up the town in NYC this weekend with our friends Becky and Alex. I don't know how we are going to go back to reality after this star studded weekend! Here is a run down of our trip, day by day, complete with tips. (NOTE that we had both been to NYC before so we didn't need to do any of the major touristy things this time around.)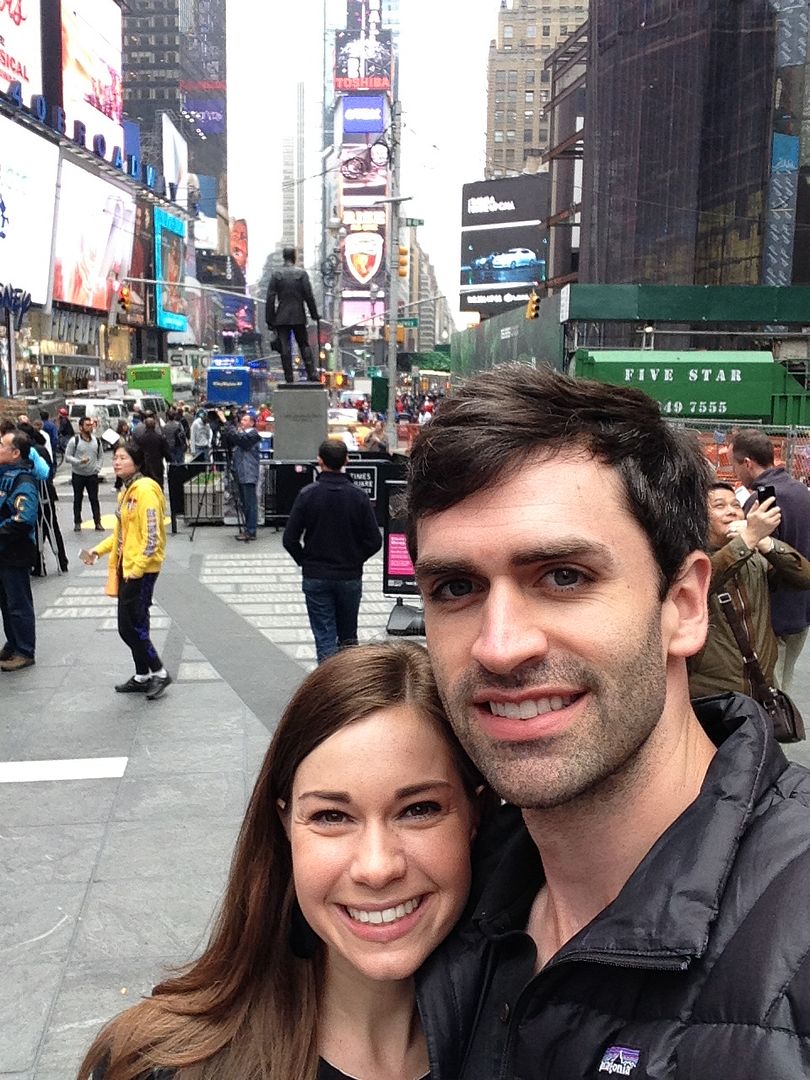 (except Times Square. You just about have to go to Time Square every time you are in NYC)
Wednesday:
--After a free flight from ATL to LGA complete with free drinks (gotta love SWA drink tickets) arrived at Becky and Alex's precious apartment in Astoria about midnight. Meet Jolene, their adorable kitty and instant felt at home!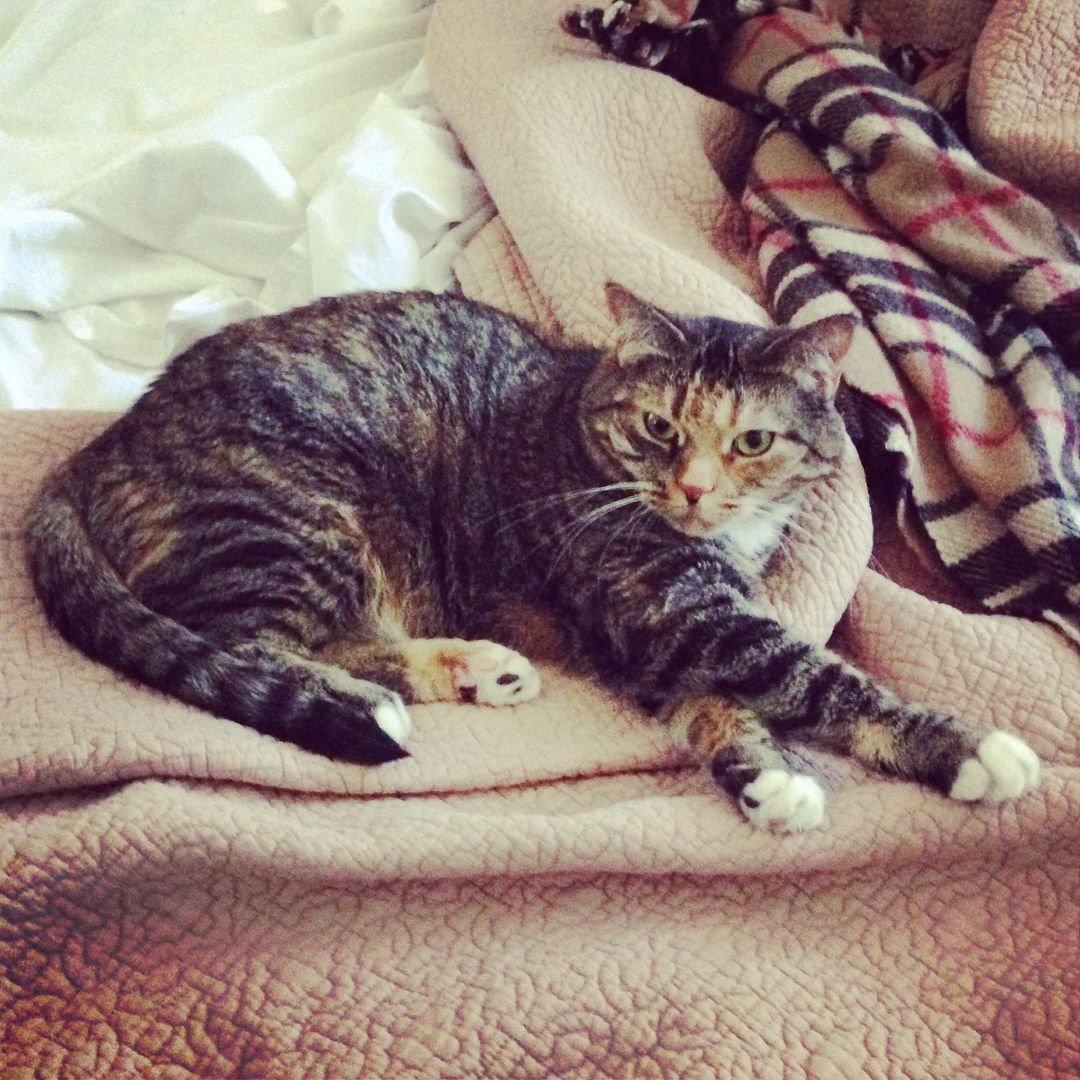 Thursday:
--Sleep late--like college student late. Figure out the subway in time to meet Becky at 30 Rock for lunch in the NBC commissary. That was pretty spectacular because you have to be checked in to be able to eat there. I was hoping that some of the TV show hosts would be in there but unfortunately they weren't. I assumed that this would be the way NYC was for us--so close to celebs, but oh so far. We did enjoy meeting Becky's friends Jen and Kim!
--Went to a taping of David Letterman! Alex works as a writer Letterman so he got us the hookup with VIP tickets. (Actually, Becky used to work there and that's where they met--awwwww). We had to wait a little bit but it was totally worth it. We were in the front row in the balcony so we could see everything perfectly. The guest were JAMES FRANCO and IDINA MENZEL. I was literally freaking out. James Franco, I mean, THE James Franco! He was SO funny and schooled Dave on Instagram. Then Idina was very sweet and totally precious and she sang a song from her new musical If/Then, which now I have to go see. You can't take pictures in the theater so I was really bummed, but as I stated before, I figured this would be how it went--so close, but so far. We exited the theater last and lo and behold there is Idina Menzel's car. Of course we hung around to see her and take pictures. She was so gracious to come over to the group that had formed---a real class act!!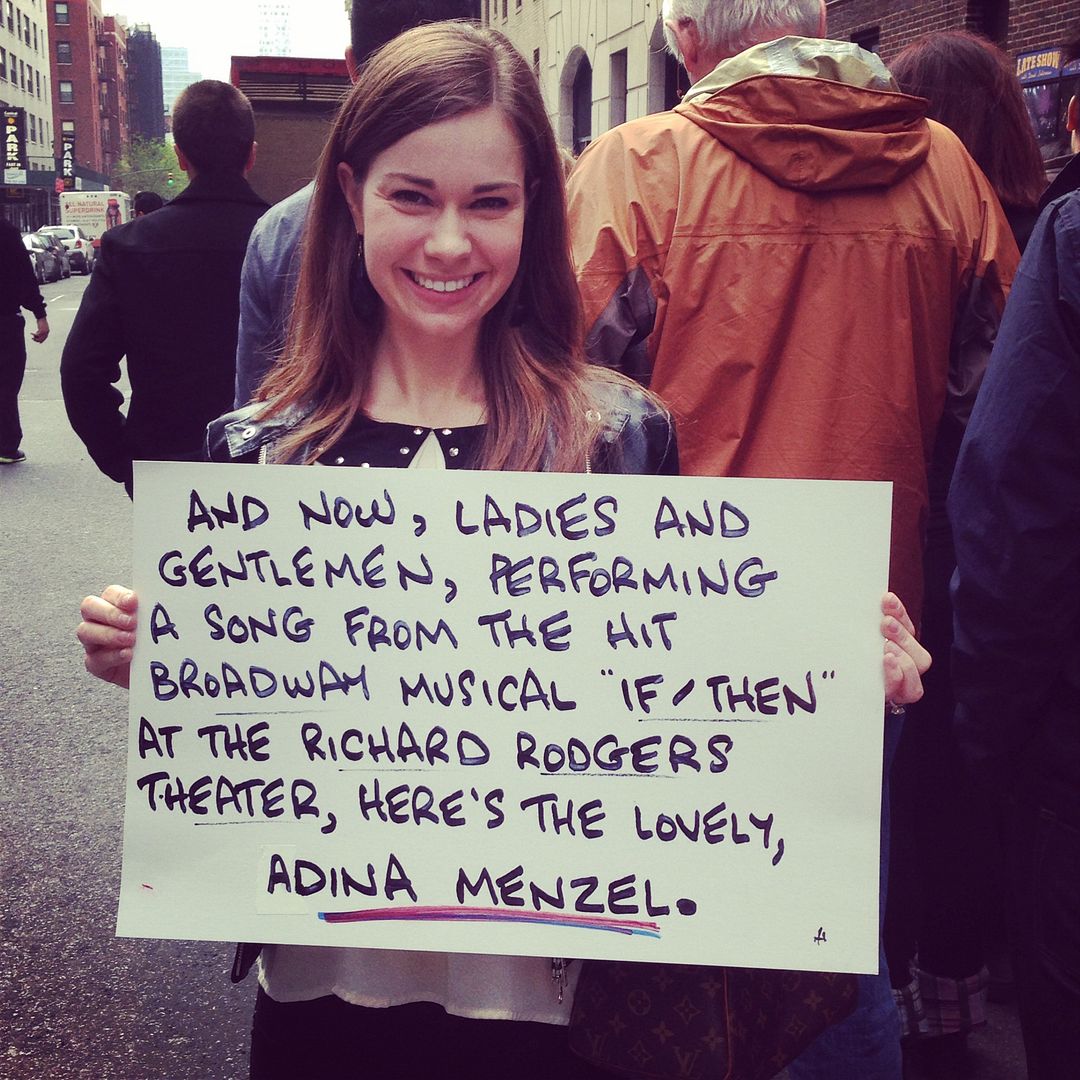 Actual cue card from the show!
--Our plan afterwards was to go hang out at Radio City Music Hall to see the sports celebs walk the red carpet for the first round of the NFL Draft and then meet Becky and Alex for dinner after they got off work. We had a good spot across the street from the red carpet but couldn't see all that well and were freezing! Forrest went around the corner to try to buy himself a jacket and in the mean time stars kept rolling in. I got a few distant pictures and the next thing I know some guy yells "YOU SUCK". As I look up, there is Nick Saban, right in front of my face walking with security. Crazy! Forrest in the mean time found a better spot so I changed locations, only to find a line of people waiting to be seat fillers for the draft. Long story short, Forrest and I convinced the guy in charge of the seat fillers to let us go in with them even though we hadn't won the seat filling lottery from
1iota
(check these guys out! you can get free tix to SO much!). I think it was the southern accent or something. We did have to wait outside for a long time and then we had to stand in the back of the room for a while, but once people got up, we were seated about 10 rows from the front. Again, this was FREE!! It was amazing to get to see some of our Bama boys get drafted. There were also celebs in the audience, which made me feel pretty cool. We had to ditch Becky and Alex but for a free night at the draft with celebs? They were cool with it.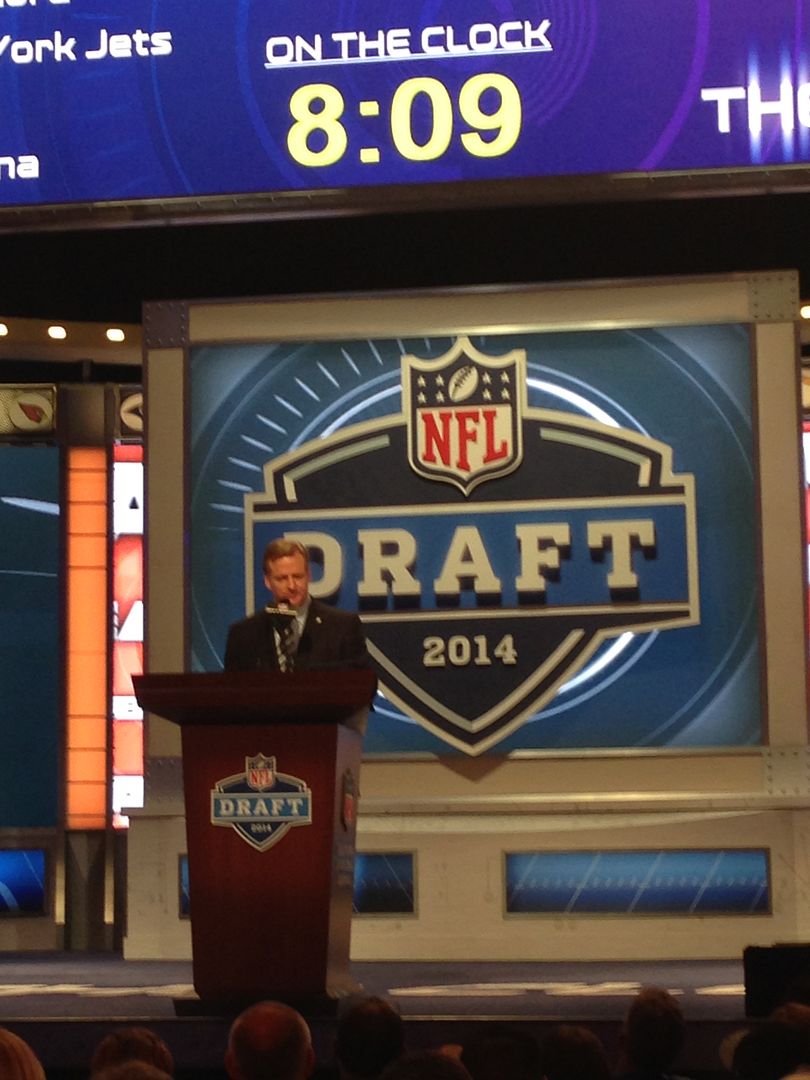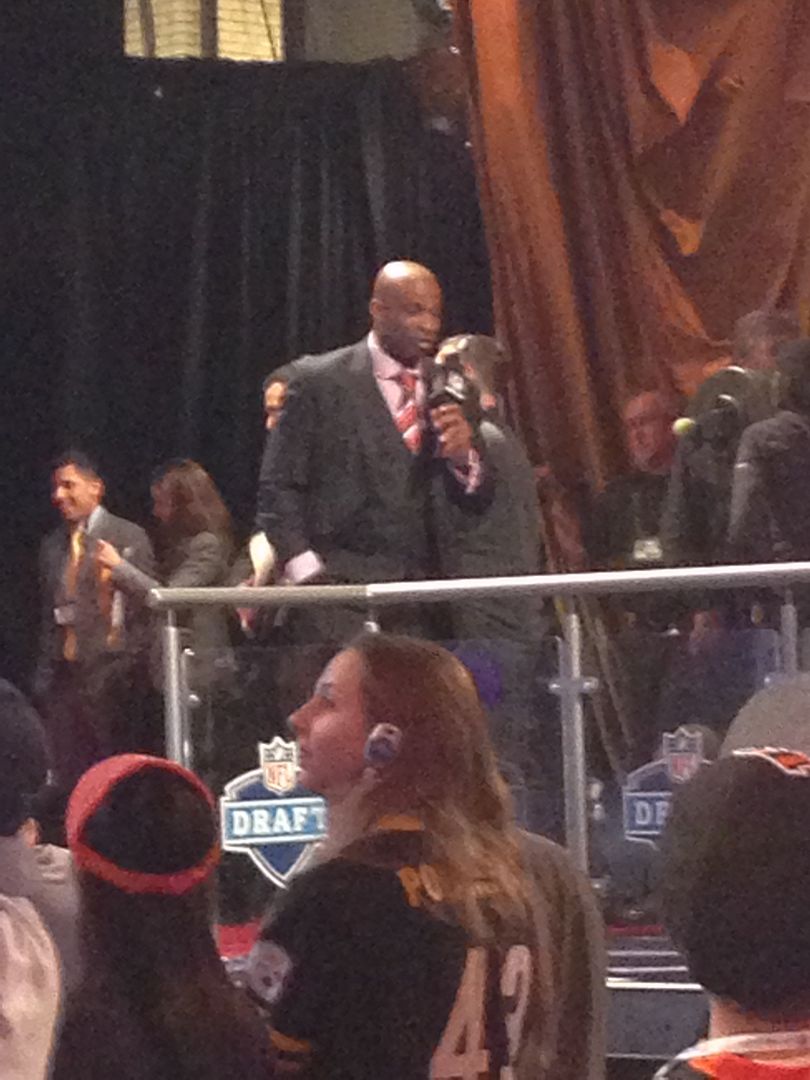 Roger Goodell and Dion Sanders!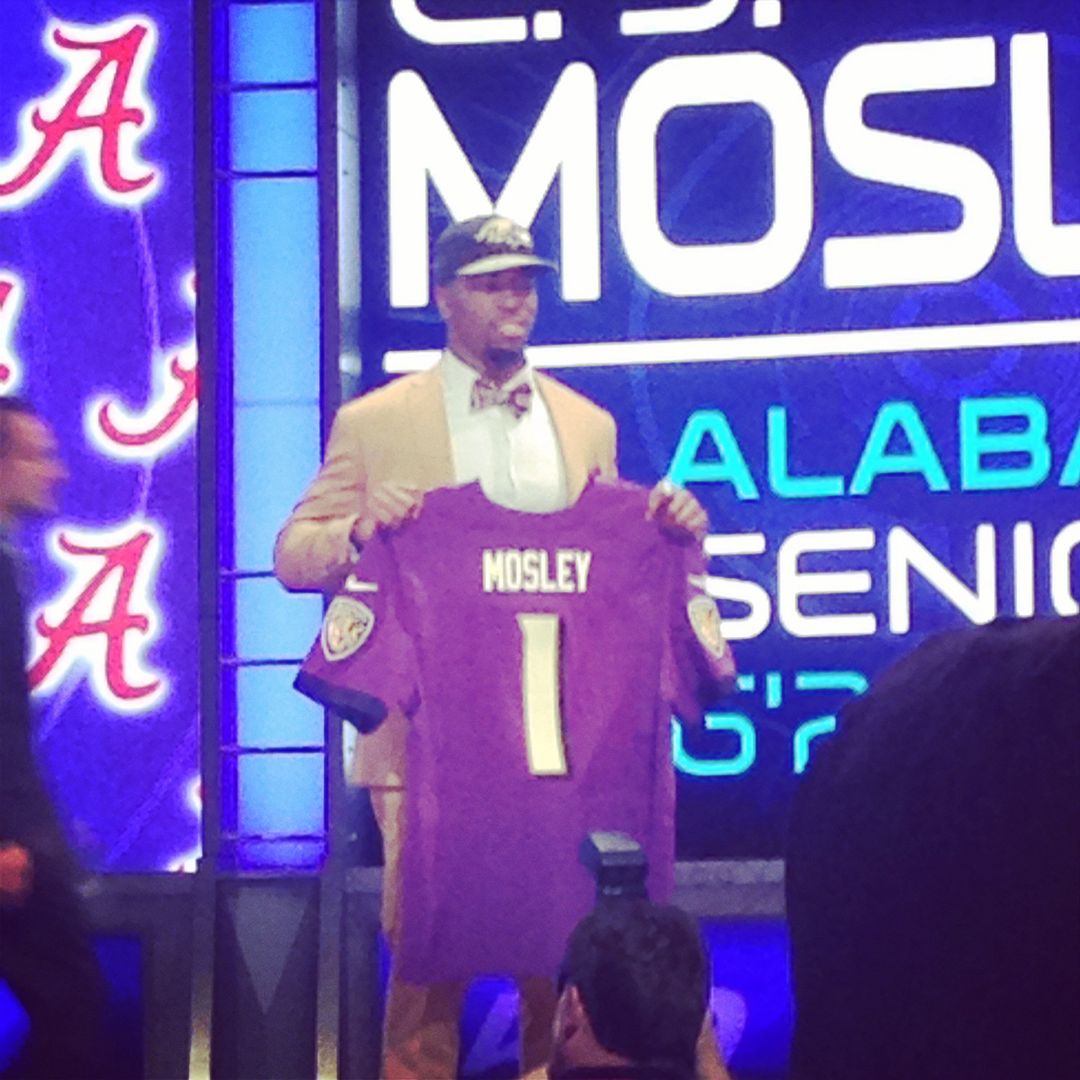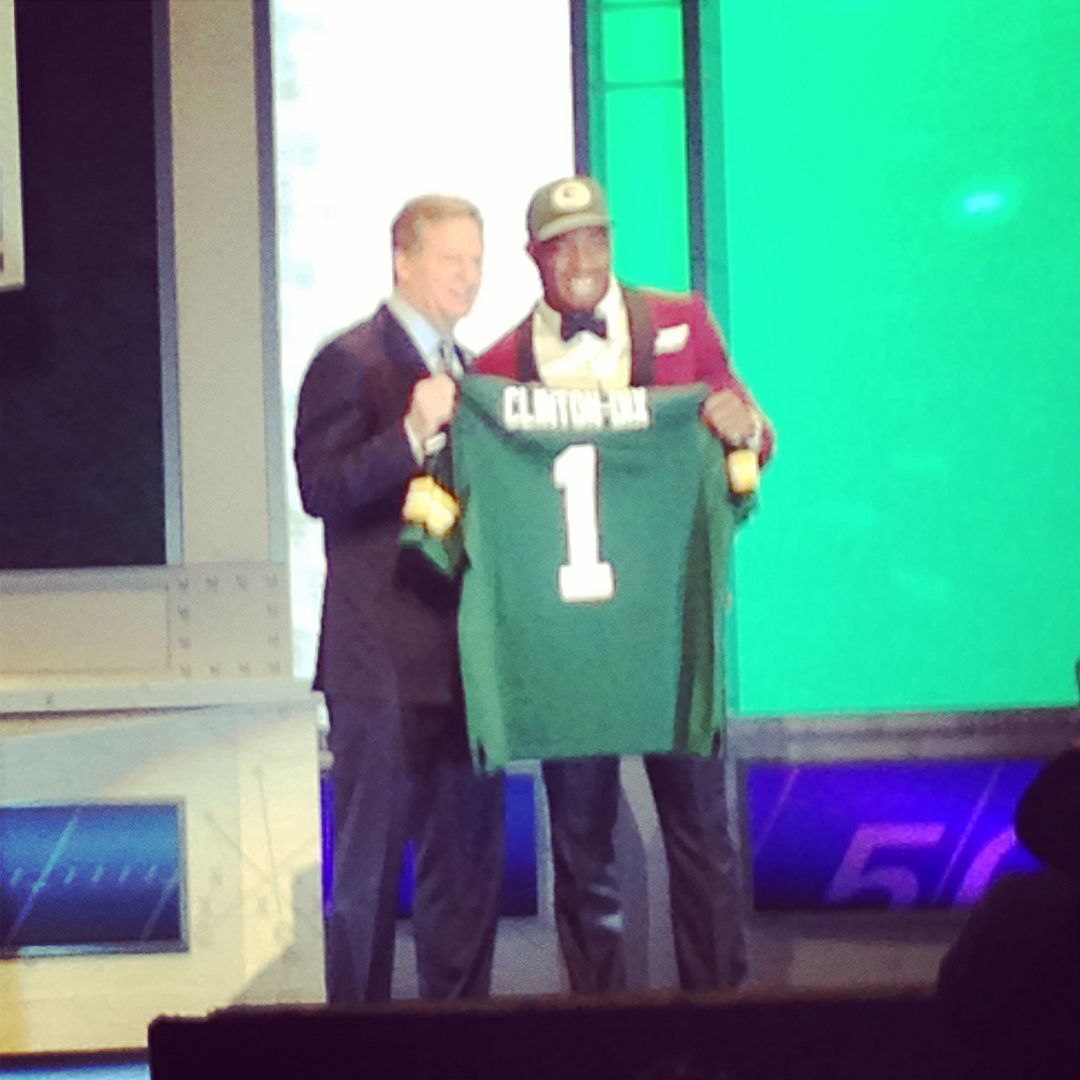 ROLL TIDE! Bama boys CJ Mosley and Ha Ha Clinton Dix get drafted!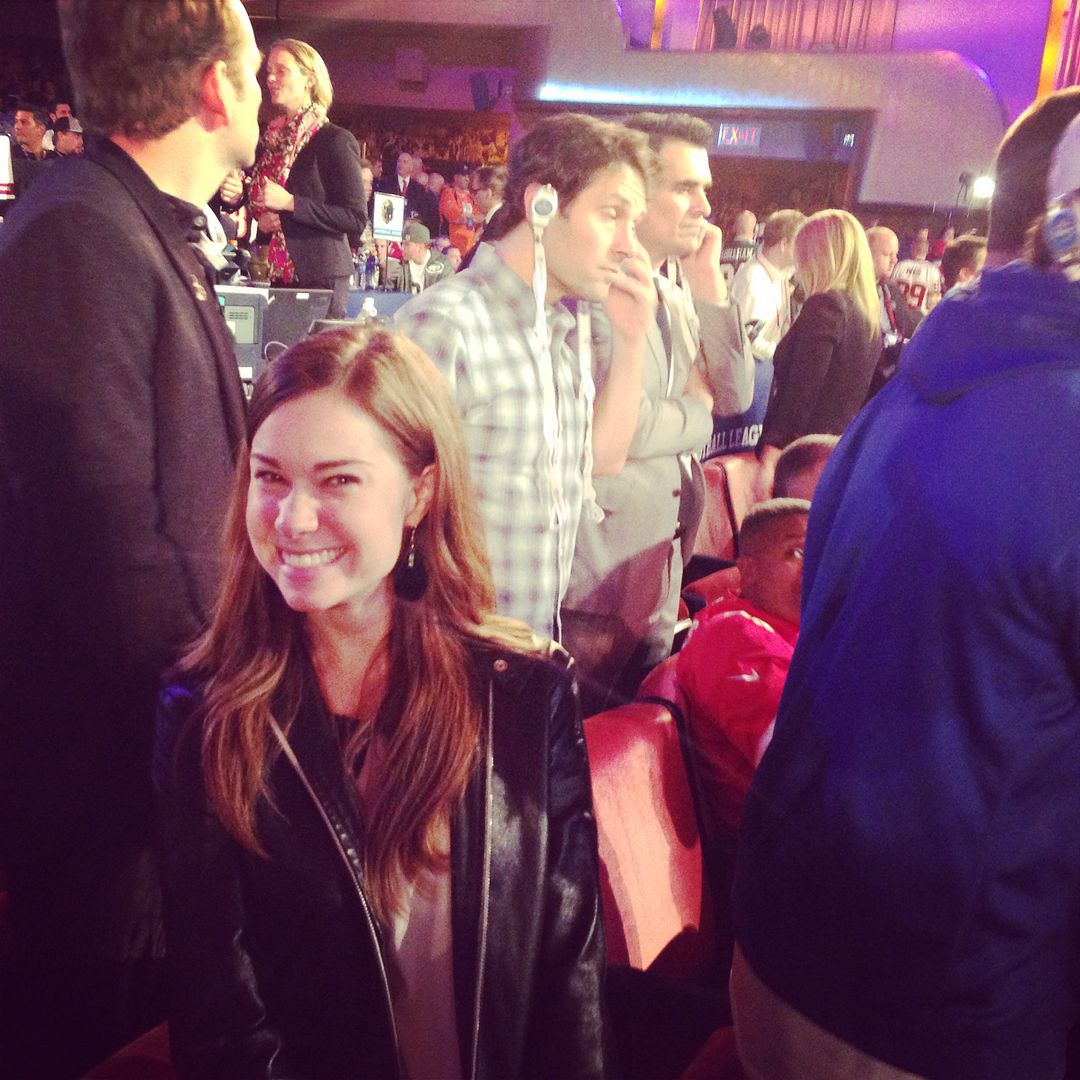 Creeping on Ty Burrell from Modern Family and Paul Rudd from well, everything.
Friday
--On Friday we ate at the famous
Spotted Pig
in Greenwich Village. I really loved that area of town--cute shops and restaurants, tree lined streets, lots of flowers, and of course, Carrie Bradshaw's house!
--Afterwards we made a quick trip to Saks for me to ogle shoes and get a quick make up touch up at
Laura Mercier
before heading back to 30 Rock to watch the taping of Jimmy Fallon, another hook up from Becky and Alex. We were seated in the 3rd row from the front--prime real estate! The energy of the show was very laid back and exciting. The Roots kept the crowd whipped up and when Jimmy came out I thought people were going to rush the stage. His guests were James McAvoy (swoon) and comedian Amy Schumer, whose friends we hung out with in the line. I was so sad when the show was over because the whole experience was so much fun! I did get to high five Jimmy, which you can see if you pay attention to the ending credits. (That means I've been on tv, right?)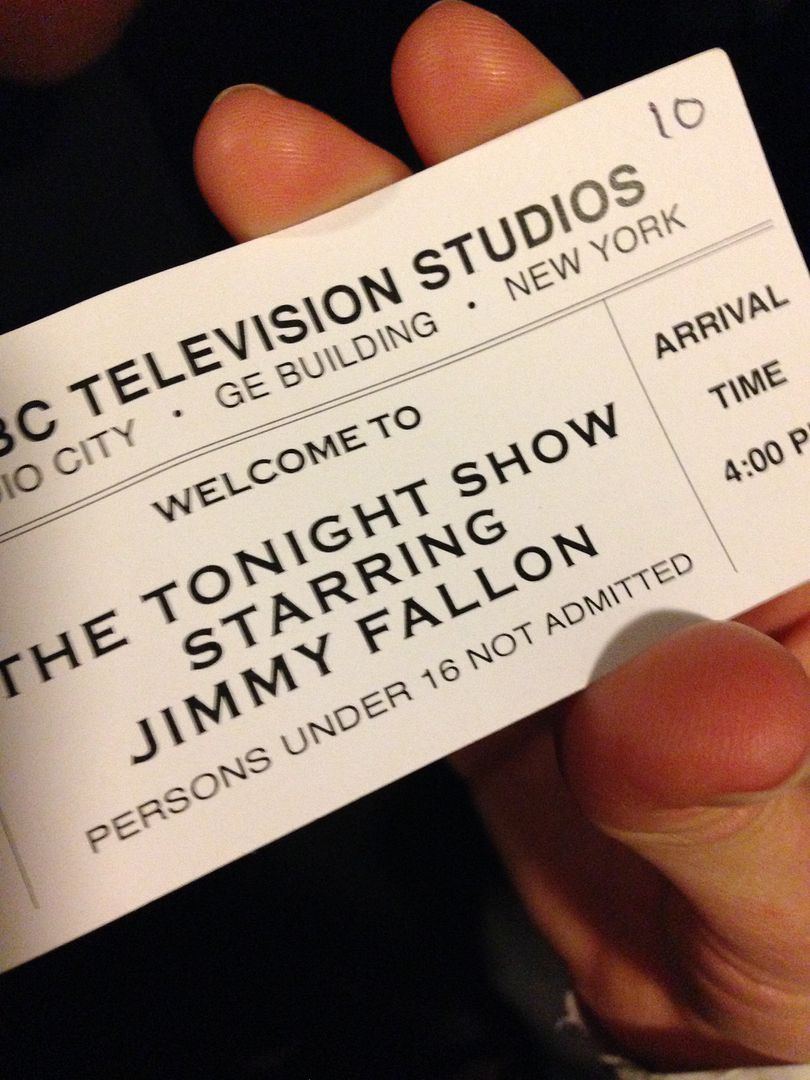 -We were totally hyped up when we met Becky and Alex at
Alfie's
for a quick bite and drink (get the sangria during happy hour!). Becky and I left the boys to go see Cabaret at Studio 54. OH MY GOSH--the show was absolutely amazing. I was totally put in a trance by the music, the dancing, and the story line. It was all so intense! I felt like the weight of the air was different inside that theater and if I left, the spell would be broke. Alan Cumming was lights out fantastic--I could watch him perform that show over and over and over. I still get chills thinking of him slyly saying "Welcome to Berlin" throughout the show. We floated out of the theater onto the street to discover that Michel Williams and Alan Cumming would be coming out to see fans. Of course we waited! The boys rode Citi Bikes
Broadcity
style over the Williamsburg bridge to partake in some eating and drinking at places like
Iona
and
Rosamunde Sausage
. We met up with them back in Astoria for some late night snacks at
The Shady Lady
(get the mac and cheese and the fried pickles).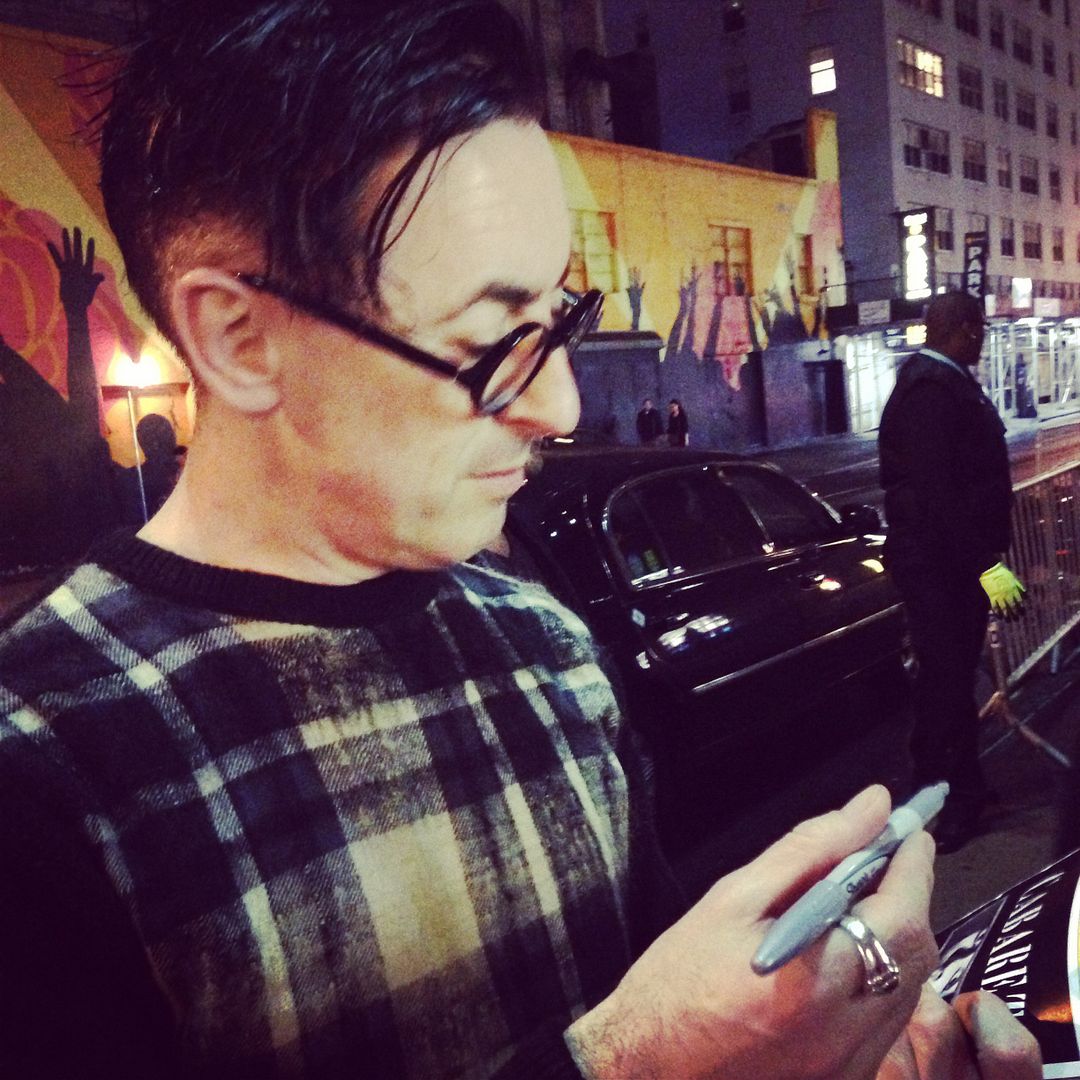 Totally geeking out over Alan Cumming!!!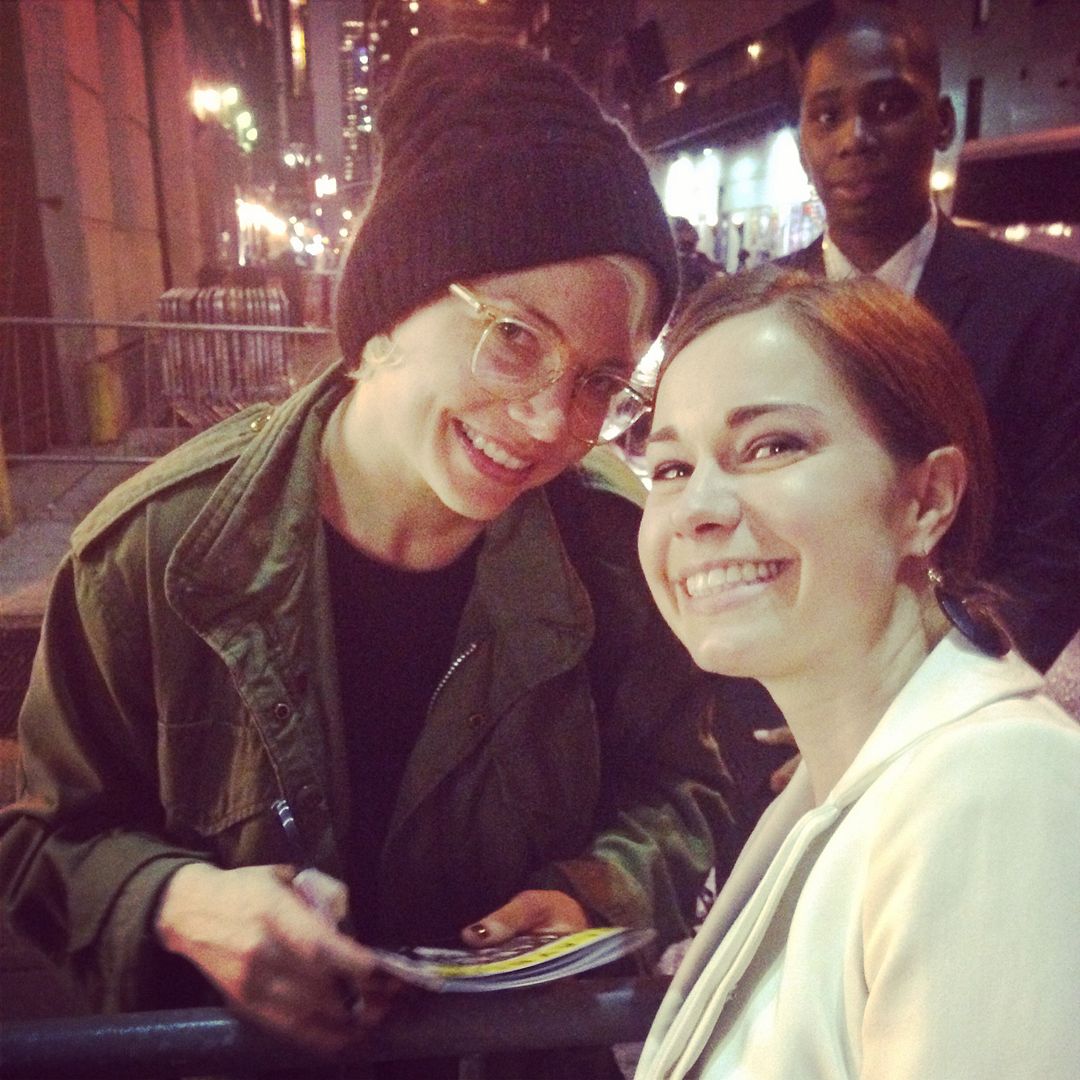 Michele Williams! Eeeek!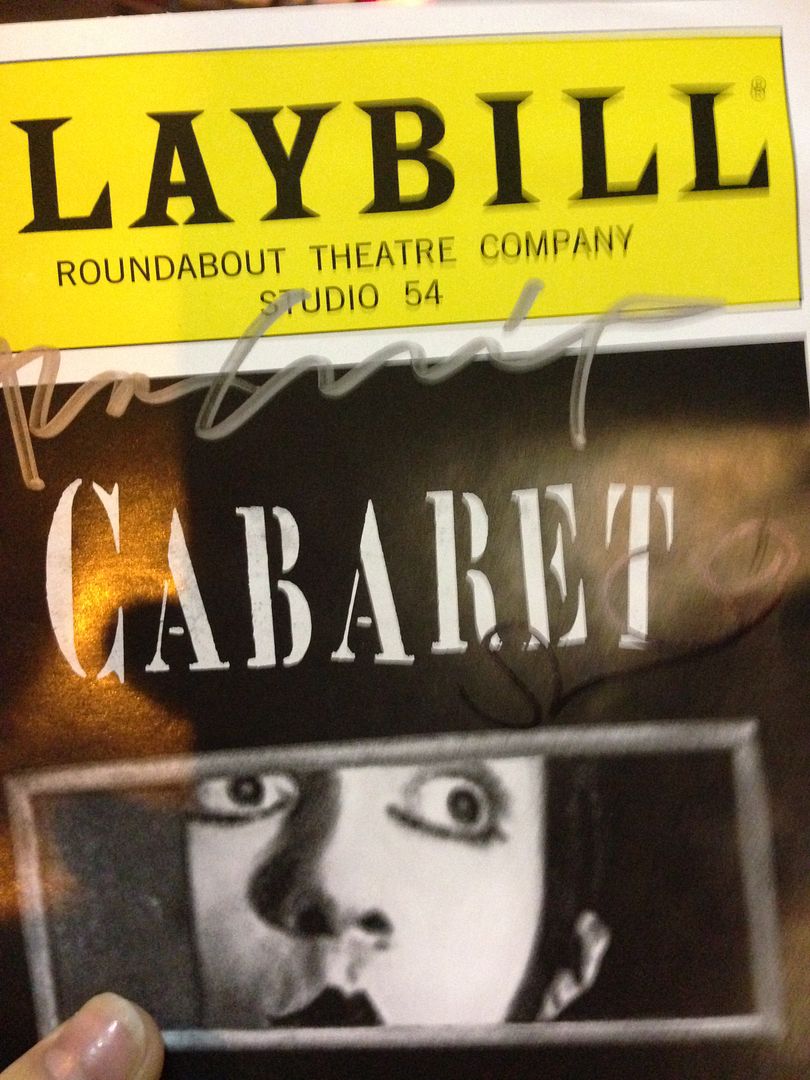 Getting this bad boy framed!
--Saturday
I was still so tired at brunch that I don't remember the name of the place, so Becky please text me the name so I can update this post!
--
Brooklyn Flea
!! Need I say more? Good clean free fun with lots of cool things to look at and lots of yummy food to eat!! We got some artwork for our new house that I can't wait to frame and hang!
--Snacks at
Momofuku Milk bar
! Get the crack pie--you won't be sorry.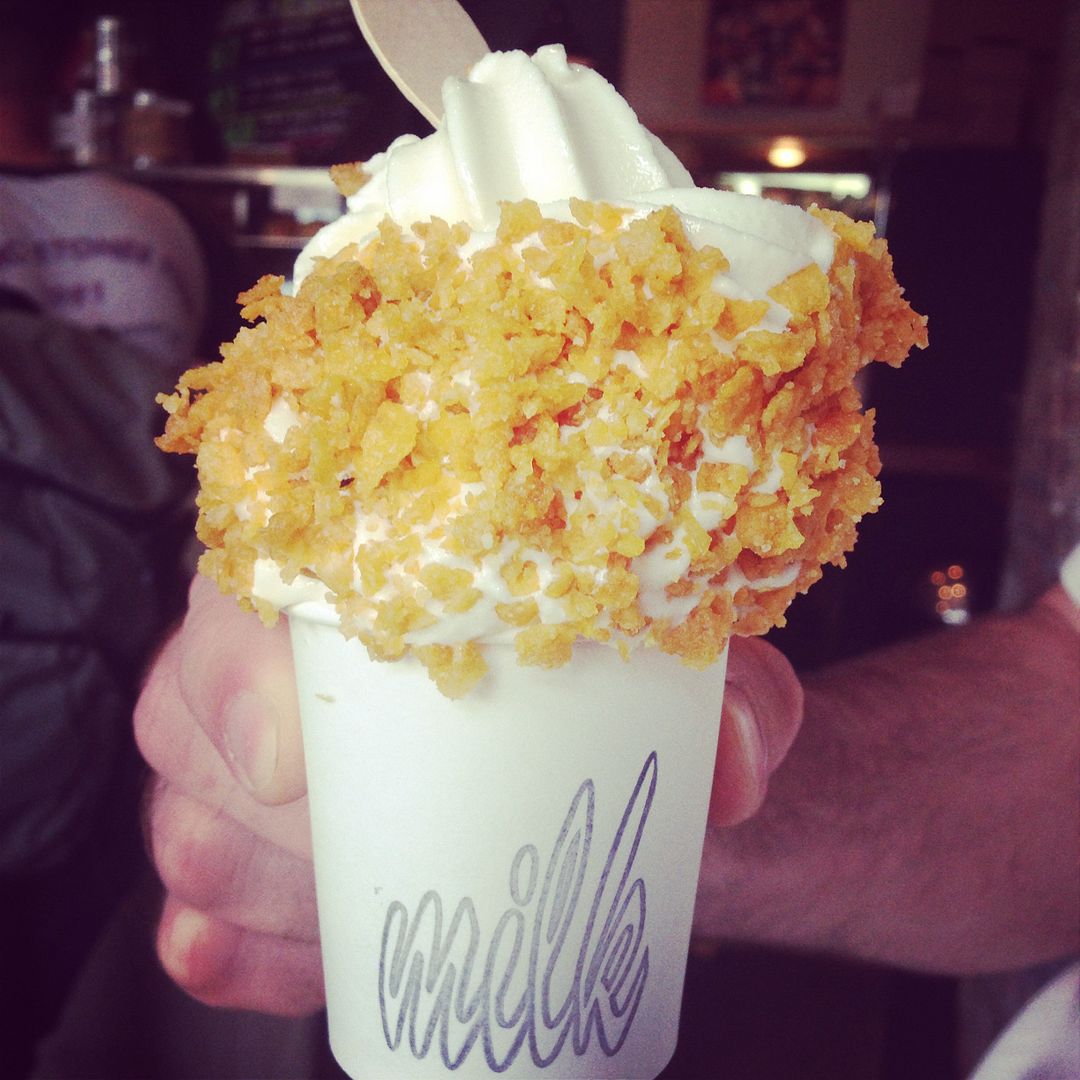 Forrest's cereal milk ice cream
--Pre-SNL nap (very cool of us)
--Walked through a monsoon to attend Mass at
Most Precious Blood
Parish. It was very Queens.
--Italian dinner at
Vesta
. So delicious! The pizzas were really great, and I at every bit of my lasagna (perfect dinner for a girl wearing a tight fitting dress and leggings, right? (The answer is not so much, but I will never regret a bite!)
--The highlight of the trip---taping of SNL!! We actually booked the trip around this date because Becky's friend was able to get us the SNL tickets. It is very hard to get tickets to the actual show so we felt like rock stars as we waited in line to be seated. We could see the entire set from our seats which was a plus because that's not always the case. Colin Jost, the head writer, came out and welcomed the audience and then sent out Keenan, Cecily, Kate, and Vanessa to sing "Gimme Some Lovin" to the crowd. They were awesome! It was SO thrilling to see the host, Charlize Theron, come out and do the opening monologue and even more thrilling to see how everyone sprang into action during commercial breaks. It was a real frenzy. People literally came and grabbed the actors off stage and rushed them back to change. It was nuts! Afterwards, we got to see the musical guests, the Black Keys, as they left and then we went to meet some of Becky's friends in the cue card area and we even snuck a peek at the stage and set!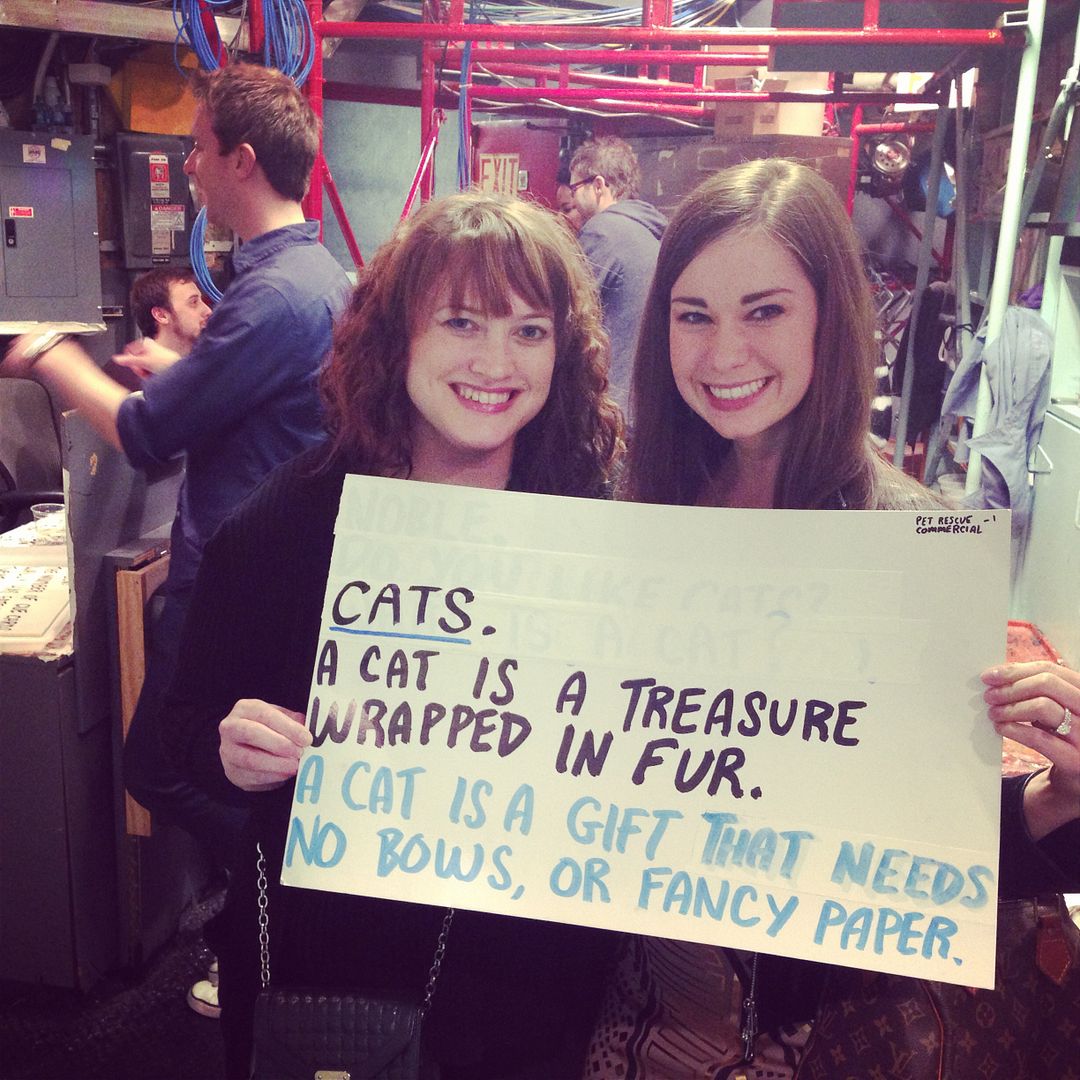 Me and Becky, 2 crazy cat ladies with a cue card from the cat skit on the show!!
We got to walk down the hall that is sometimes filmed on the show and while we were walking we ran into Keenan who was blowing a noise maker for his birthday. I got to high five him and tell him happy birthday and he gave Forrest and high five and a bro hug--as kids raised on
All That
, we were in heaven!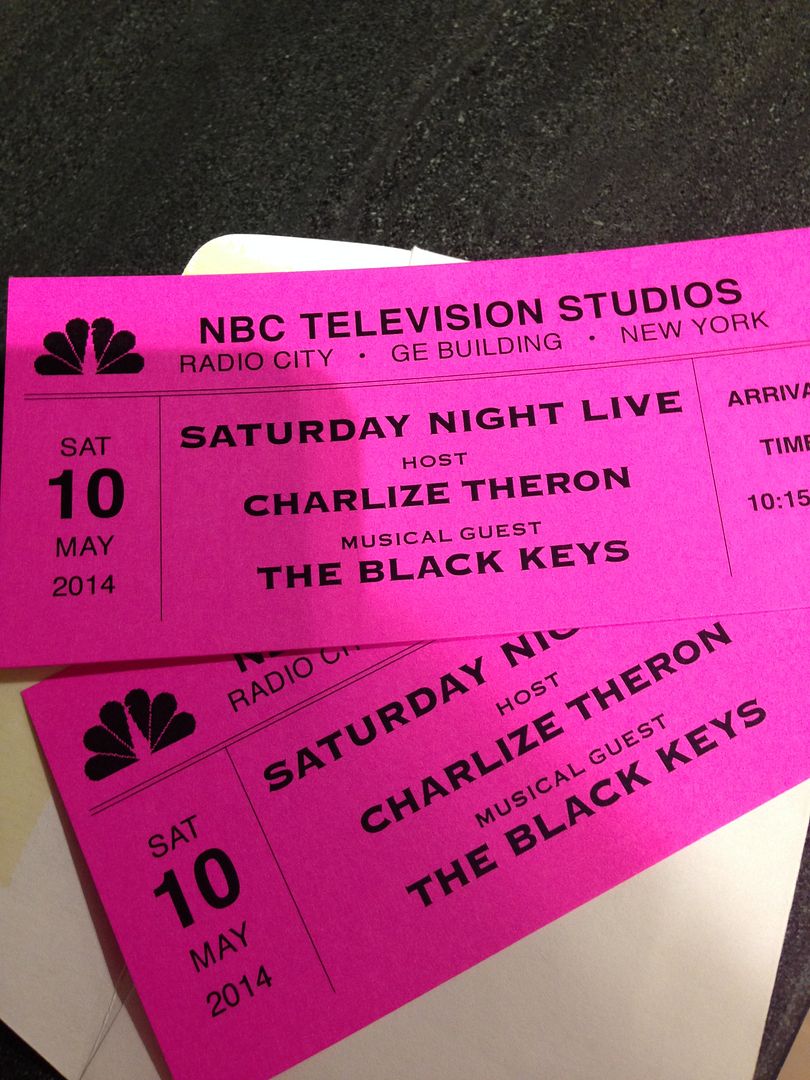 Forrest and I, however, got REALLY preoccupied with this guy: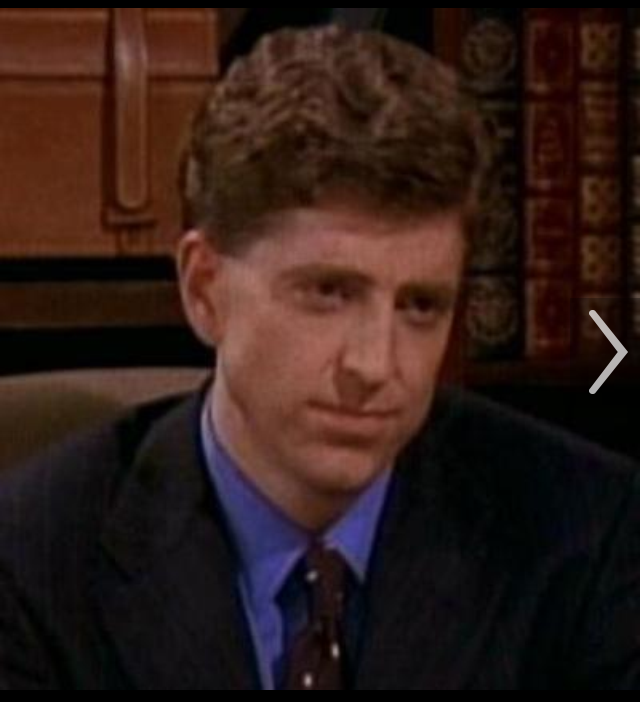 Do you recognize him? He was seated near us during the taping. We knew we knew him but couldn't place him so we were tortured all night and into the next day.
--Rolled in at 4am, feeling like rock stars!!!
Sunday
--Breakfast at
Brooklyn Bagel
. Ate about a tub of cream cheese each.
--Sad teary good byes--we hated to leave!!
--Safe flight home, safe drive home
--Visited Mrs. Bailey for Mother's Day and picked up Sonny
--Ate dinner with my parents to celebrate Mother's Day, picked up Ruffles
--Home to unpack, shower, and go to bed at reasonable hour
--12:30am (so really Monday)-FLY out of bed because I finally remembered who the guy above is!!
MR. ZELNER, Rachel's boss at Ralph Lauren on Friends! HOORAY!!!
Now THAT, my friends, is a weekend!!! Giant thank you to Becky, Alex, and Jolene for their hospitality! We can't wait to come back soon!! Who knows what we will get into next time!???
***I wanted to add that aside from food and cabs/subway fare and any other goodies we bought, this trip was FREE! That's thanks in part to Becky and Alex for letting us shack on their couch bed and to Southwest for our points. Want to know how to fly other places for free? Check out
THIS
post! The time is now to sign up for your own Southwest card and receive 50,000 points to put you on your way to companion status!***