I really like to cook when I have the time. Maybe even more than cooking, I like to read recipes and look at pictures of food. Of course, more than anything, I like eating. With everything going on lately, cooking has been on the back burner and I've honestly missed it. I really believe that when we cook for ourselves we eat better because we control the ingredients and thus we control what goes into our bodies. I'm a LOT healthier when I have to cook for myself. Otherwise, when food's easy to come by, I'll eat whatever. That's a reason we don't keep many snacks in our house--no will power. Anyway, I was determined to change my slacking and get back into the kitchen and nothing motivates me to do that more than a new recipe. I chose something simple, quick and relatively healthy and was not disappointed. This "mac n cheese" is going to be a "do again" at our house for sure! Hope you enjoy!
Mac n Goat Cheese
3/4 lb macaroni pasta (I used whole wheat penne)
1/4 c evoo
2 cloves garlic, chopped
1 pint cherry tomatoes, halved
1 9oz bag of spinach
salt and pepper
6 oz goat cheese, crumbled (mine had Mediterranean spices in it)
3/4 cup toasted walnuts (I didn't use these but I wish I had--maybe almonds though)
I also added kalamata olives and think that mushrooms would have been a great addition too
In a large pot, cook pasta until al dente. Drain, but reserve 1/4 cup of the water. Keep pasta warm.
Meanwhile, heat olive oil over medium heat. Cook the garlic until golden brown. Stir in the tomatoes, olives, mushrooms, and spinach. Pour in the pasta water and cook until spinach is wilted. Salt and pepper to taste. Stir the vegetables and their juices into the warm pasta and add the goat cheese. Combine until all cheese is melted and top with the walnuts.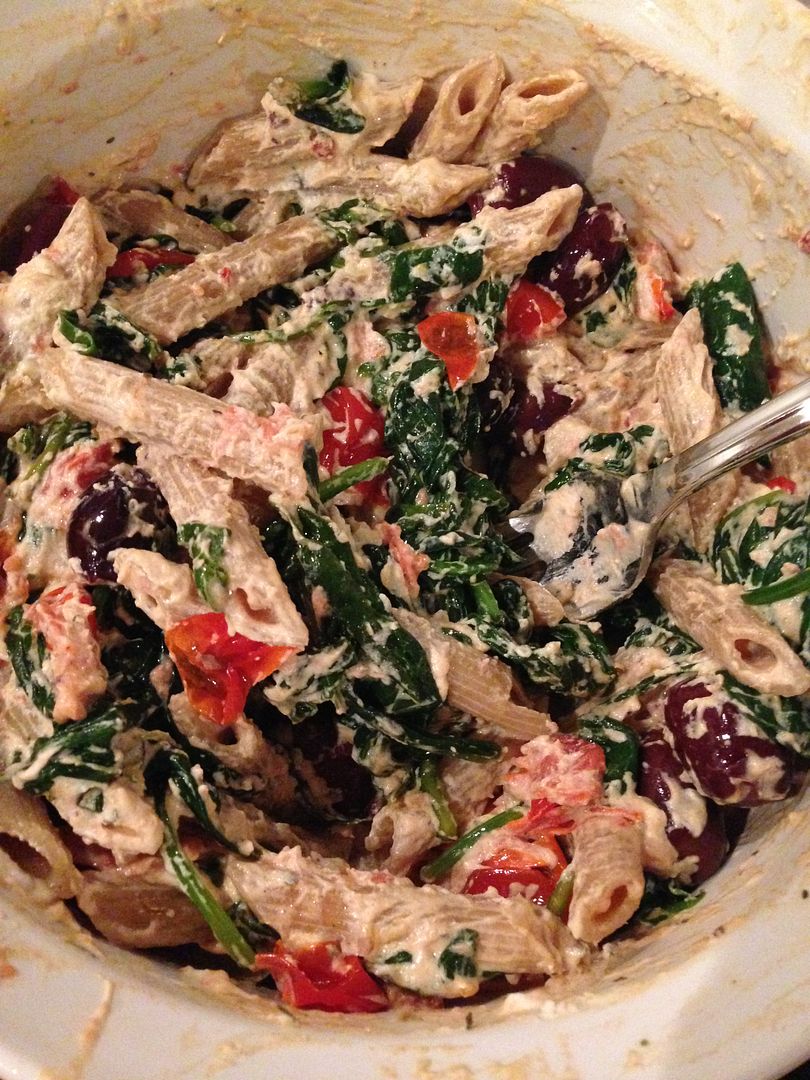 Since Forrest wasn't home, I ended up eating most of this, but it's healthy, right???
Hope you guys enjoy this one!
I found this recipe on
pinterest
. You can follow me
HERE
to see what else I'll be cooking up soon!