I'm SO glad it's Friday, y'all! We have a fun weekend planned so I'm anxious to get that started. Plus, after a week of nothing but court, I could use a day to sleep in and not have to get dressed up!
Let's cut right to what I'm loving this week, shall we?
Using my kitchen
Yes that's random to say, but it's true We got new counter tops a few weeks ago so I never fully unpacked the kitchen stuff so I didn't have to repack it. Then the counter tops took a while to install AND they kept giving me the wrong sink, so I was without a kitchen sink for about 2 weeks. Let me tell you how NOT fun that was! Forrest and I have been living off of frozen pizza and the hospitality of others when it has come to dinner basically the entire time we've been in the new house (minus the day I sucked it up and cooked for supper club). On Monday everything was finally ready and I took full advantage by cooking my pick for cooking club this week,
Pioneer Woman's Shrimp Pasta
. I made several modifications which I will include in pink in the directions but I have to say this was quite tasty and it made me feel slightly good about myself when I ate it.
Ingredients
2 Tablespoons Olive Oil
2 Tablespoons Butter
(I didn't use butter--just extra evoo)
1 pound Scallops
(I just doubled the shrimp)
1 pound Shrimp
5 cloves Garlic
3/4 cups Dry White Wine
28 ounces, weight Whole Or Diced Tomatoes
Salt And Pepper, to taste
1/4 teaspoon Crushed Red Pepper
1/4 cup Heavy Cream, Warmed
(I didn't use any cream, I just upped the white wine)
12 whole Basil Leaves Torn
Chicken Broth, If Needed For Splashing In A Little Liquid
12 ounces, weight Pasta
I added half a bag of spinach as well as a can of pieces and stems mushrooms to give it a little extra in the veggie department.
Preparation Instructions
Preheat oven to 350 degrees. Cook pasta for just over half the cooking time (it should still be a little firm.)
Heat 1 tablespoon olive oil and 1 tablespoon butter in a heavy skillet over medium-high heat. Brown the scallops just until they get great color on the outside, about 45 seconds to a minute per side. Remove to a plate and set aside.
Add another tablespoon of both olive oil and butter to the skillet. When hot, throw in shrimp and brown them, too. (Don't completely cook scallops or shrimp.) Remove to a plate and set aside.
Add a small splash of oil to the pan. Cook the garlic for 30 seconds, then pour in the wine. Let it bubble up and reduce for a minute or two, then pour in the tomatoes (including juice.) Add salt, pepper, and red pepper flakes, then cook the sauce over medium-high heat for 10-15 minutes.
Tear off two large sheets of heavy duty aluminum foil. Overlap them on an ovenproof platter (make the overlap about 6 inches or so) with some depth or in a baking sheet. Use your hands to press the foil flat against the platter.
Pour the pasta onto the platter, then pour all the sauce over the pasta (juice and all). Next, pour on the seafood, making sure to add all the juices that may have dripped on the plate.
Gather up the two ends of the foil and roll them down so that they're tightly sealed---do the same with the shorter sides.
Place the platter into the oven and bake for 15 minutes, until the seafood is fully cooked and the flavors have all had a chance to meet and fall in love.
To serve, open the foil and drizzle a little warm cream all over the top. Throw on basil at the end and serve.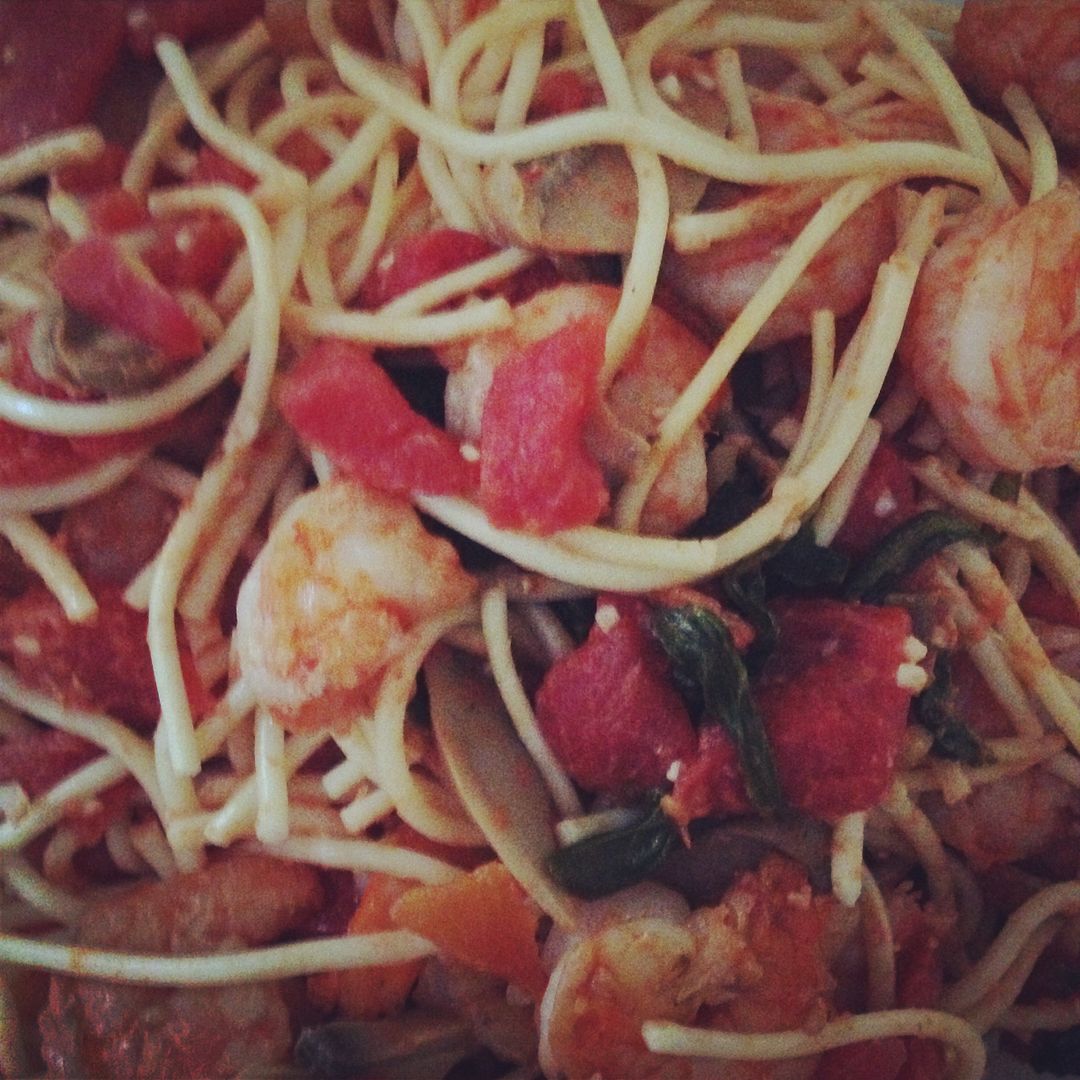 Please and thank you!!
And speaking of thank you, my mom and Aunt Fran came over on Sunday and helped me unpack the kitchen, display my accessories, and hang pictures. It was a LONG day but one that was long over due. We really had a great time and I appreciate them taking the whole day to help us out!
Boat Riding
We have had perfect boat riding weather lately. The dogs would agree!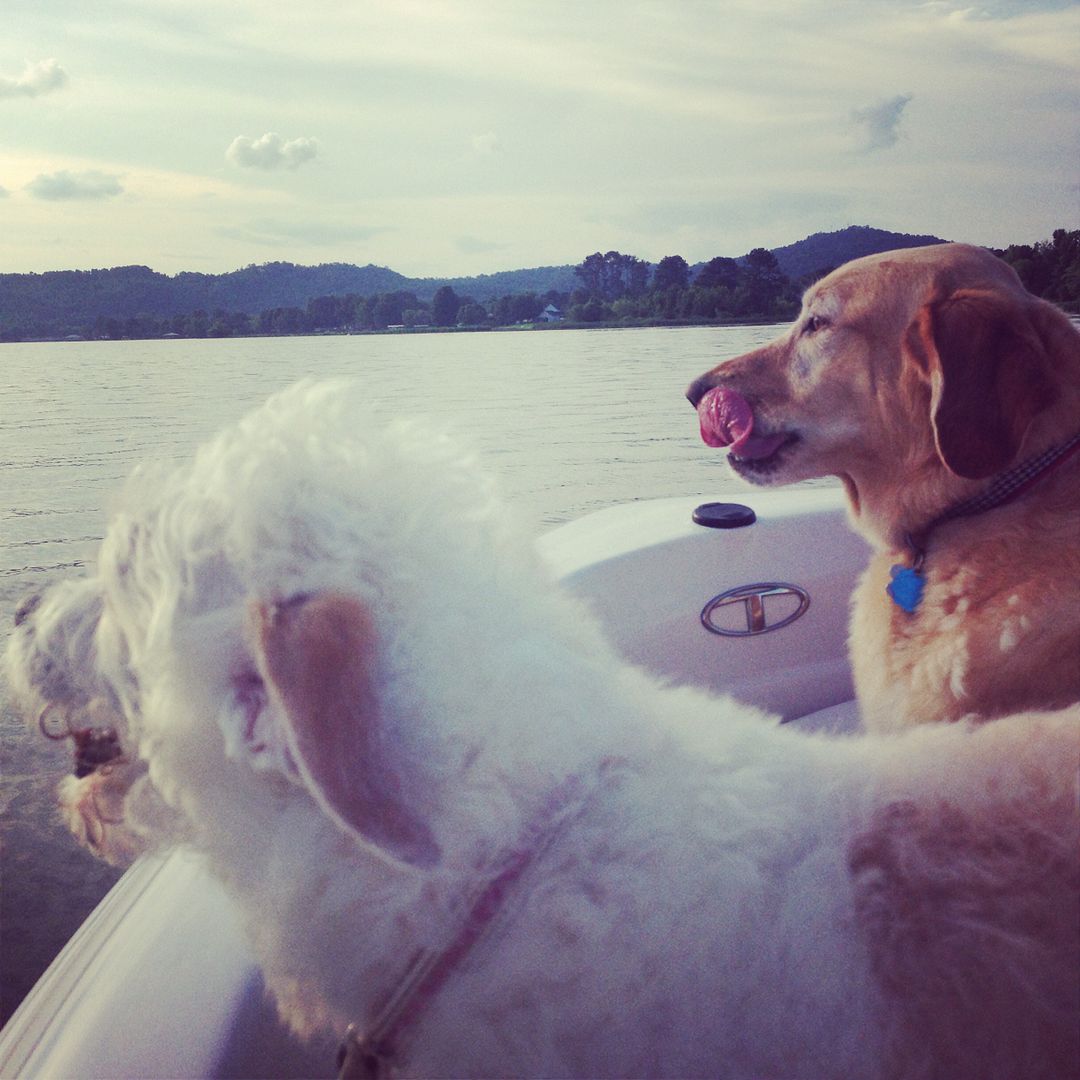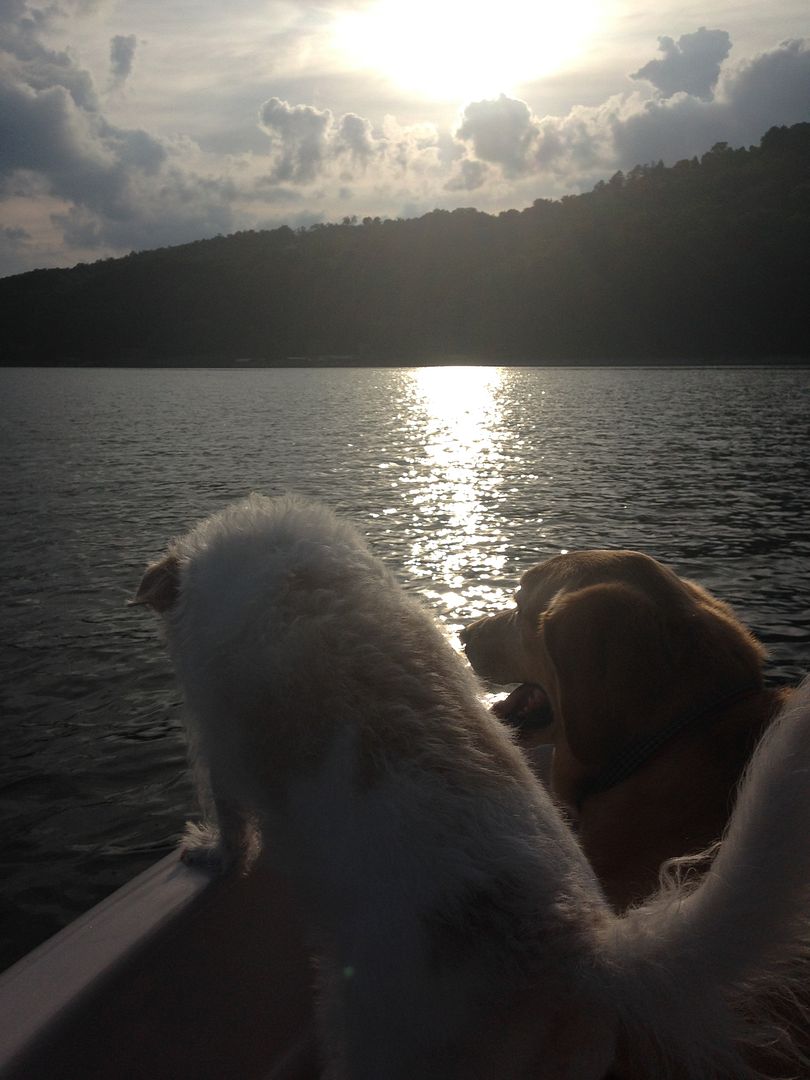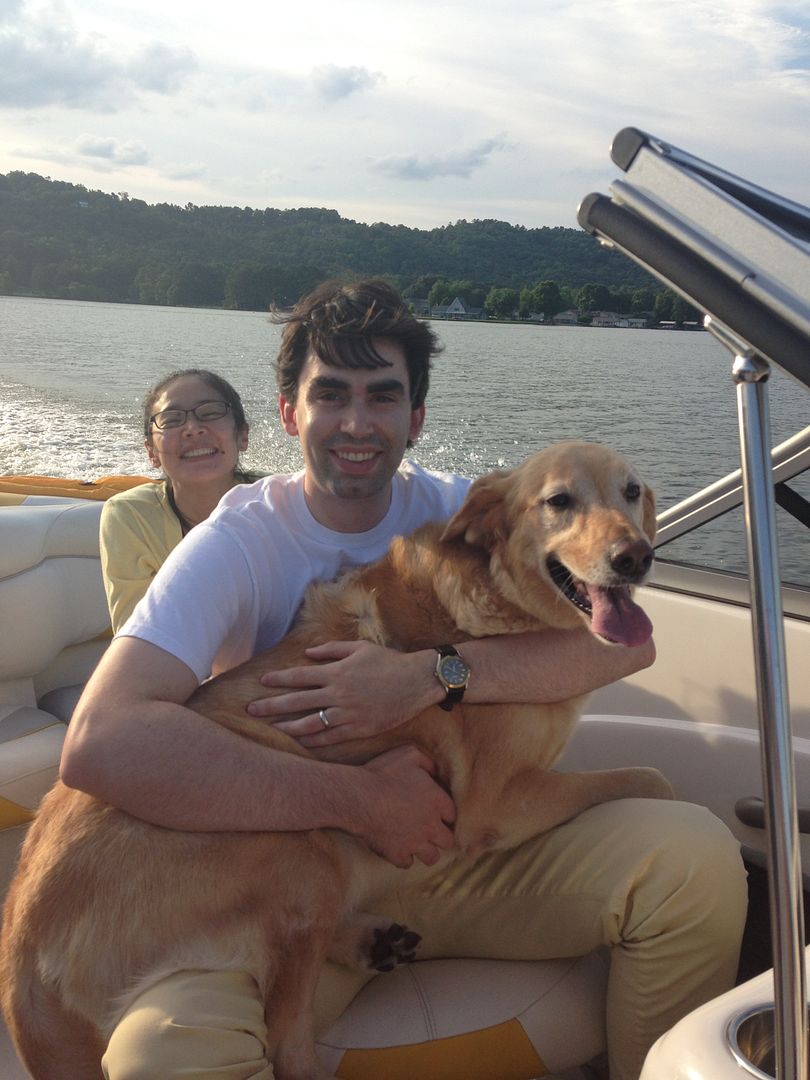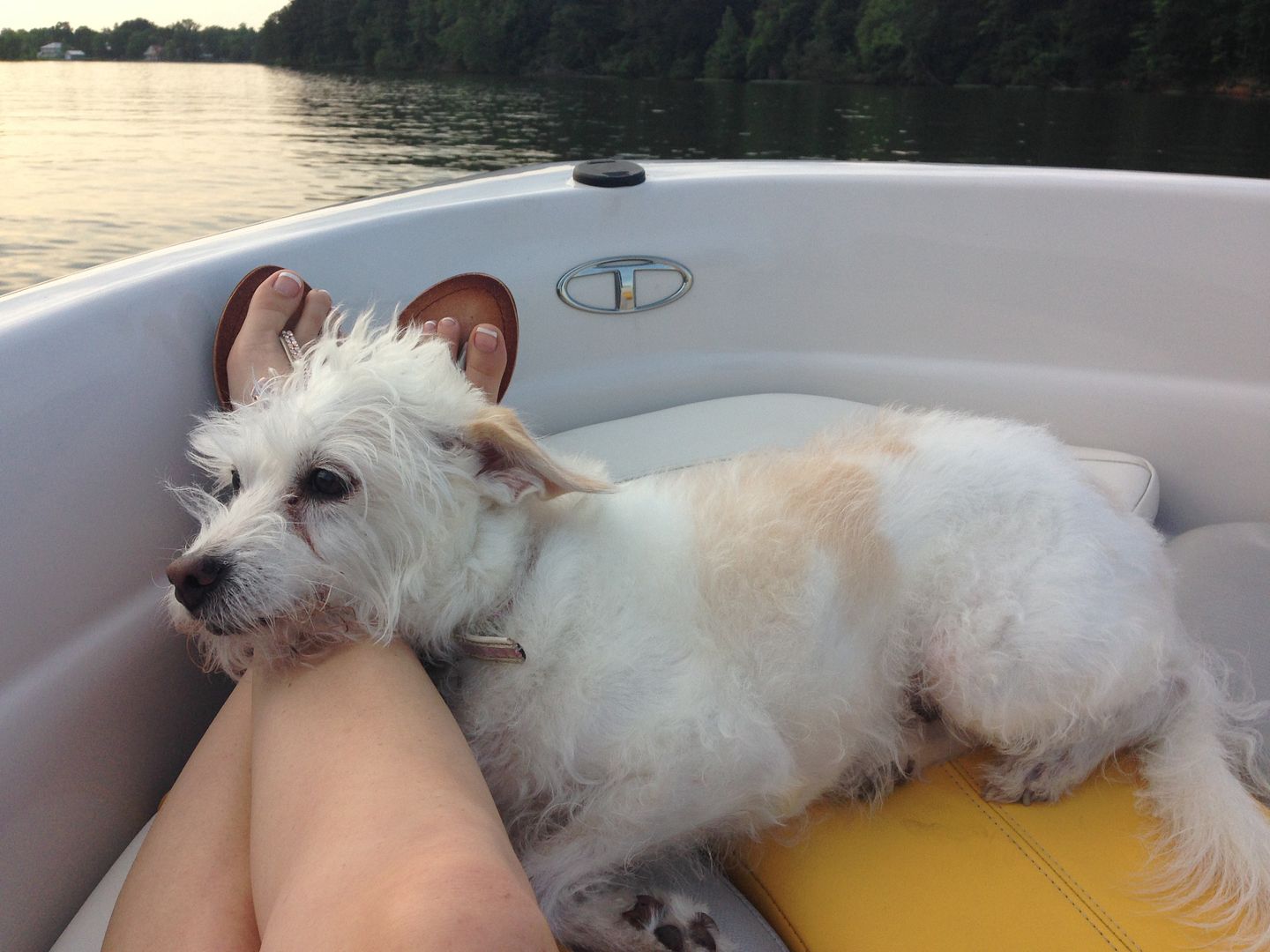 Pageants and Girls Nights
Last night Kelli, Jenny, and I went to Brio to celebrate Farrah's birthday. We also got to go watch Kelly emcee the Miss Alabama pageant! Of course going to the pageant was right up my alley and it was a great way to celebrate Farrah and cheer on Kelly! I was really looking forward to going to the pageant and comparing it to the USA system, which I'm of course familiar with because of my sister. Speaking of, Miss USA is THIS coming Sunday on NBC. I can't believe it has been a year since we were there cheering my sister on to becoming the first runner up! Read about that
HERE
and
HERE
and
HERE
and
HERE
.
Love these girls SO much!!
Jenny, Kelli, Kelly, Farrah, Me
Well that's a wrap on this week--have a great weekend!!