This week I'm loving the #surfsupvoxbox! I was pumped when I got the notification that I was one of the lucky recipients of this particular box because it's full of things to keep me going this summer! Let's take a peek, shall we?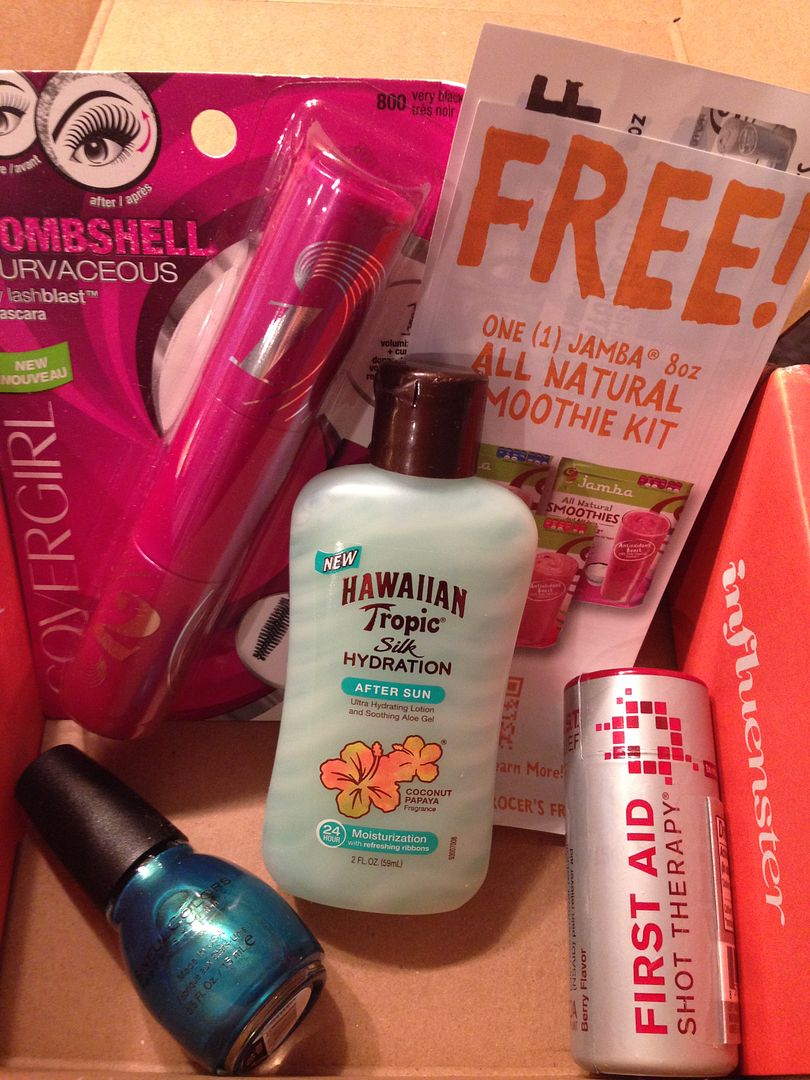 I was so glad that I got the Covergirl Bombshell Curvaceous mascara, especially because my other mascara was running dangerously low. I'm really picky about mascara and am never satisfied with mine because they either clump or run. So far, this hasn't run under my eyes, but I've only run it during the day and I don't wear mascara on my bottom lashes during the day
because
it always runs. We will see how it holds up at a party this weekend when I go all out on my eyes.
Next, I got these coupons for Jamba Juice Smoothies. I haven't picked them up yet but I definitely will because they are fat free and gluten free. I always have a snack during the day at work so I think these would be healthy and a change from my regular snacks.
The Hawaiian Tropic Silk Hydration After Sun was a life saver that came at the perfect time--right when I got home from the beach. I had gotten a little red and this lotion really feels great and takes out the sting. The best part? It absorbs quickly and doesn't leave you sticky, PLUS it smells great! I will definitely be purchasing this soon!
I'm really excited about the Sinful Colors Nail Polish. Who doesn't love a free size polish, really. I don't have this color but it reminds me of a dark blue that I painted on my nails in 7th grade at a friends house and my mom freaked out. Too dark, she said. I love any kind of wild polish, dark or light. This seems like a pretty versatile color to me--perfect for summer and winter! I'll definitely be using this for my next pedicure.
The First Aid Shot Therapy is not exactly up my alley. I am weird about taking medicine so I probably won't be taking this. Aside from being a weirdo, this is full of caffeine and I don't drink any so this would probably make me feel pretty bad instead of good. Forrest may like to use it so it will not go to waste.
Did anyone else get this voxbox? What did you love??
Happy Friday!!
**I got the voxbox free from Influenster, but the opinions are all my own!