A frequent question asked by all on the trip, especially day 2 of hiking. I know that we didn't fully anticipate just how difficult the Lares trek was going to be. I was concerned about my fitness level but Forrest said it would be fine for me. I ran (about once a week at that point) and went to yoga (once a week) as well as a dance class (once a week) but still, that's not hiking. He said the trek was "moderate" and we were going to have people much older than us on the trip so we should be fine.Well, we were fine but MAN--I do not want to know what comes after moderate. Just think about carrying your worldly goods on your back, including water and snacks, for several hours a day, then sleeping on the cold ground and getting up and doing it twice more. Then remember that you are hiking at an altitude probably 15,000 feet higher than you are used to...yeah, something like that. The first day wasn't so bad because it was A) warm and B) not that steep. We were warned that day 2 of hiking would be uphill for about 3 hours and then downhill for 3 more hours and we would be cresting about 15,200 feet. By that time of course it's too late to turn around so you just have to put on your big girl back pack and suck it up. OH and get a hiking pole--that thing makes all the difference.
Anyway, we started out day 2 optimisticly. Remember we were told that we had to have good attitudes or else it would rain. We got about a 5 minute sprinkle and the whole time people kept screaming "Whose fault is this?? Who is whining??" It was kind of funny. The scenery was breath taking but the trail was steep. Not steep like you might fall off the side but steep as in the grade of the terrain. Add a backpack to that and it makes it all the more difficult. The good thing about the trip is that you get to walk at your own pace. The guide gets to a point and stops and waits on you, so you get to take your time and enjoy yourself. I realized that I could hang with Mario, our guide and if I did, I got to sit and rest while I waited on the others to catch up. This is probably bad hiking behavior but it worked for me.
When we could see the top, we were pretty much all exhausted already but we had to keep moving.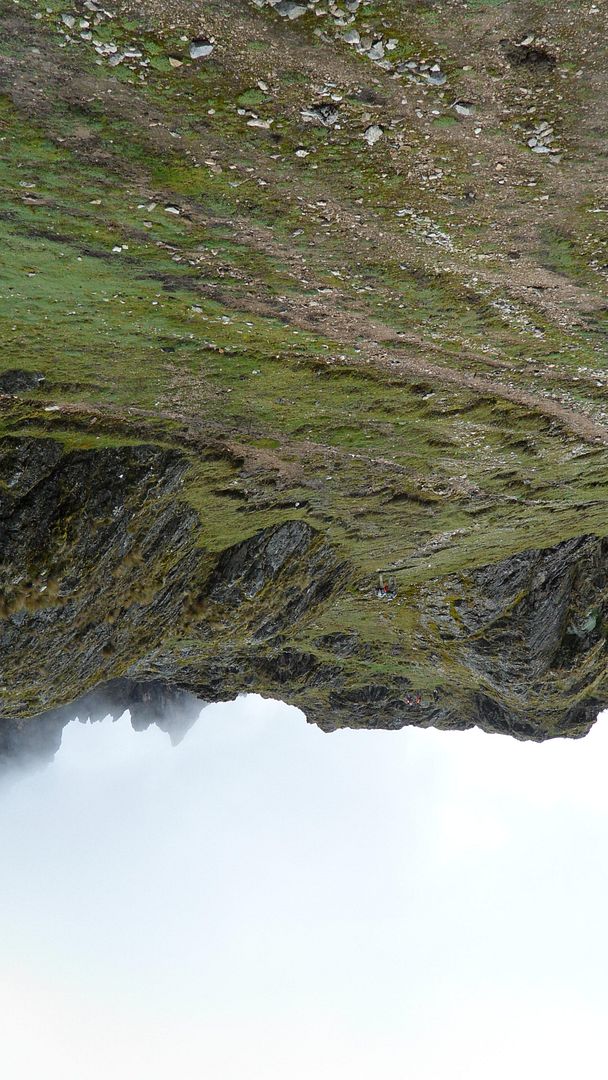 Up we go
The air was very thin and it was a struggle to take a step and a breath, but you had to keep going. At one point I was grunting like Serena Williams with every step I took. My lungs would fill up with air and then it would take the entire capacity to be able to take the next step. Wow. I just wanted to be done. I was exhausted, cold, and tired. The best part to me, though, was how our group bound together. When one person stumbled, or felt ill, or needed a rest, or thought they couldn't go on, we used our little bit of breath to cheer them on. When Chip said that Lucy needed to keep going because one of them needed to make it home to raise their child, Claire and I cheered him on like we've never cheered on our favorite Crimson Tide because he was one of us---and we weren't going to leave one of us out there on the trail!! Of course, dramatics aside, we all made it to the top. The freezing, unforgiving top. We were supposed to place a rock on the top to show we had been there but I was so worn out I had to get Forrest to do it for me. I could have cared less about the rock at the time.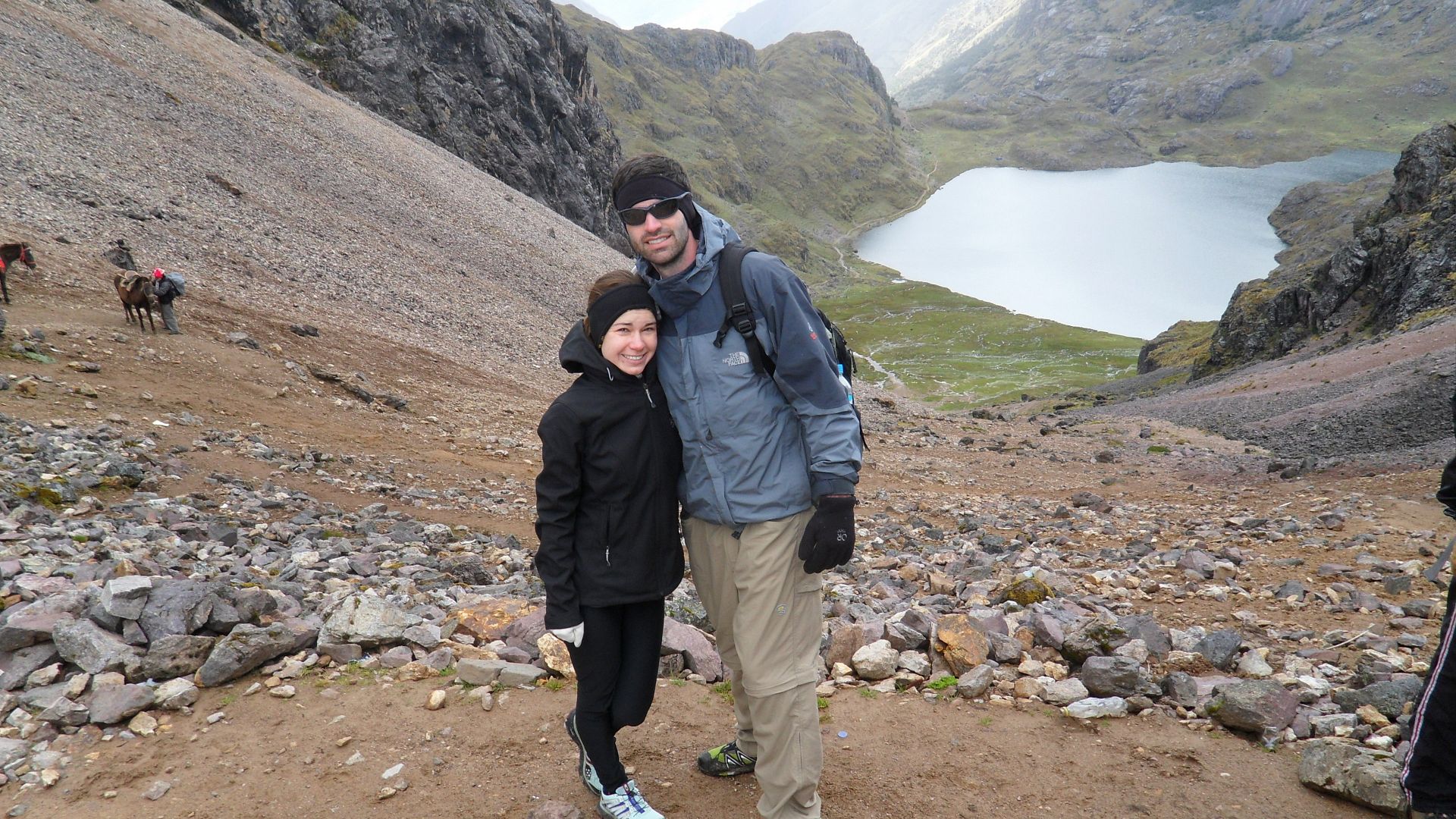 The view from the top
Then, as we started back down, it started to sleet, and I started to cry. I was OVER hiking and being cold. I just wanted to be snug and warm in my own bed. I think actually I was crying because I was so relieved that the hard part was over. It was basically all down here from there. I was incredibly proud of myself and for my friends on the trek. It may not have been pretty; it may not have been skillful, but we did it, but regardless of how it looked, that was something to be proud of.
The way down was beautiful, so that made up for the way up.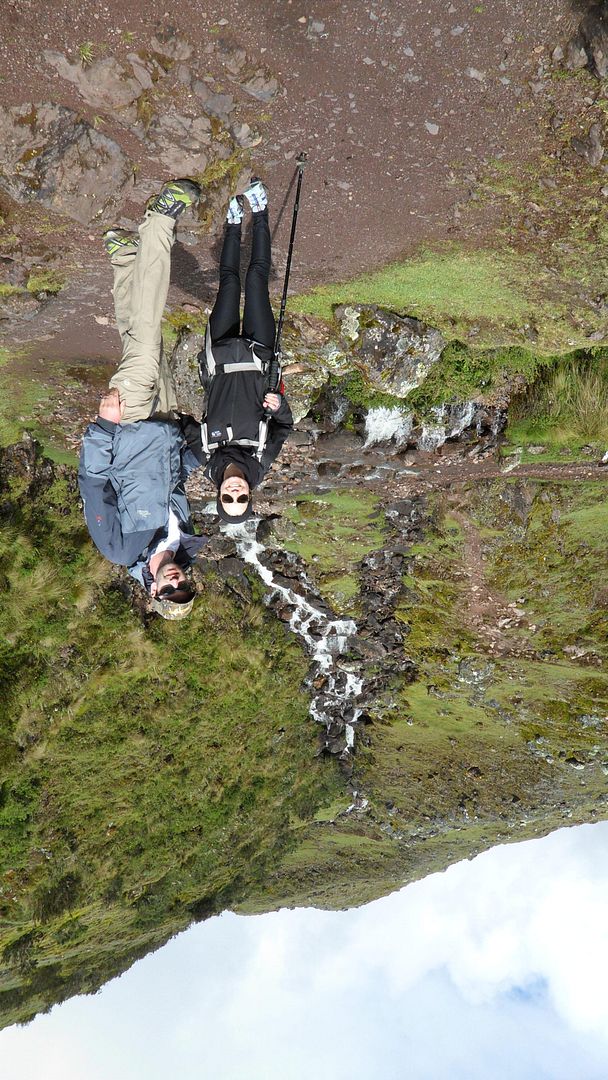 I love how this picture makes me look like I know what I'm doing.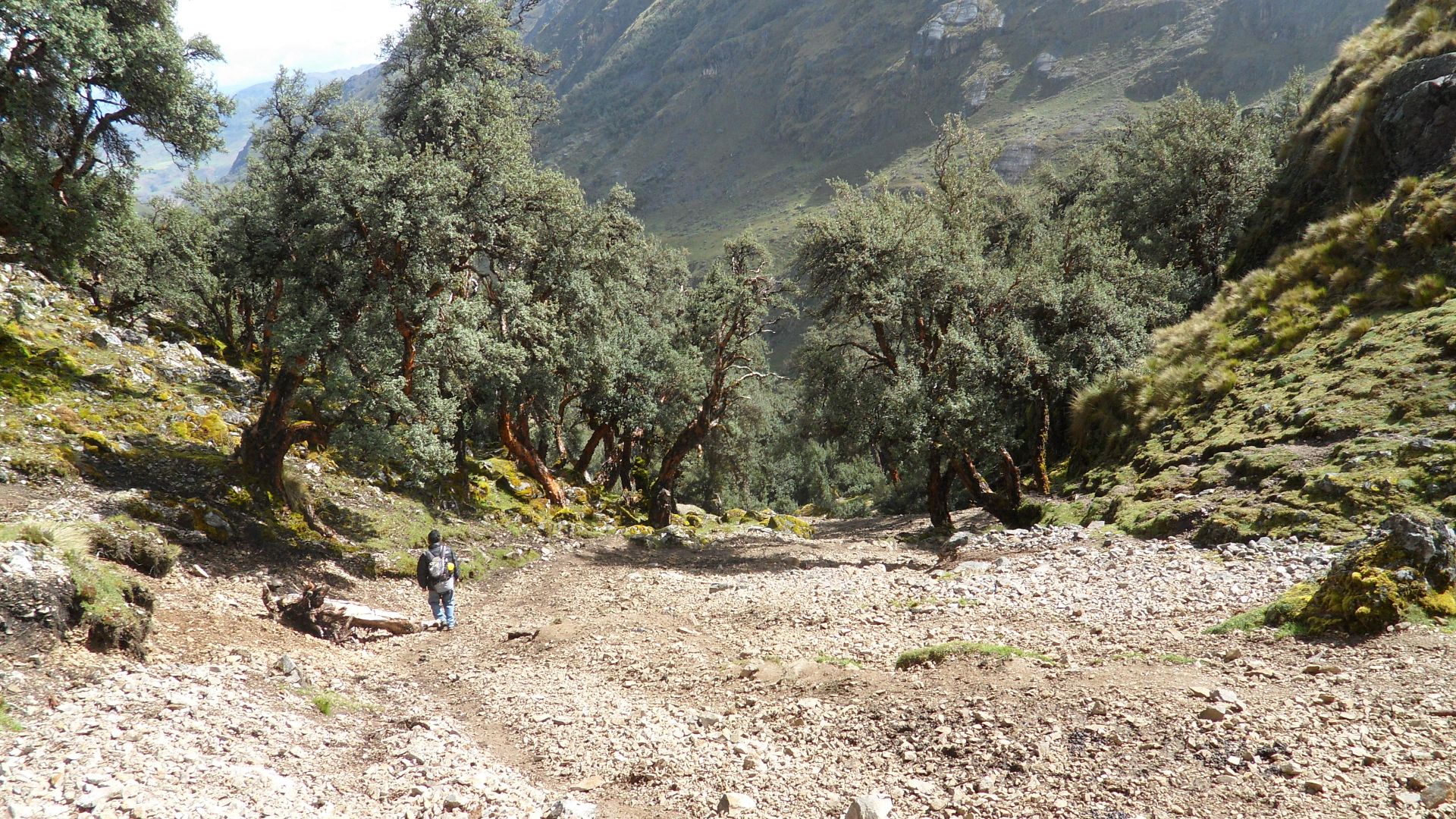 I loved these funky trees!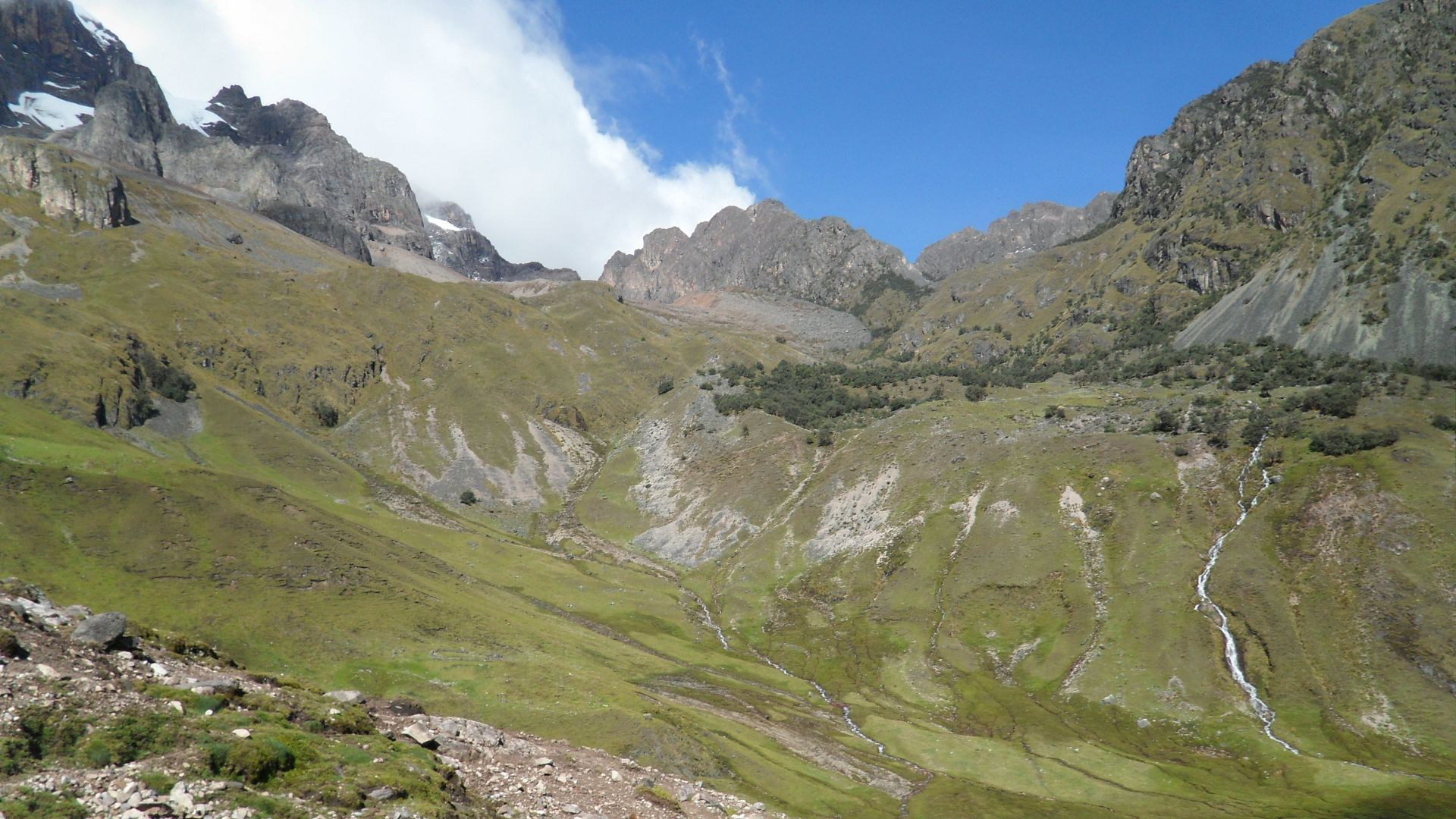 This picture reminds me of the hymn: For the beauty of the earth, for the glory of the skies. Lord of all to thee we raise, this our hymn of grateful praise!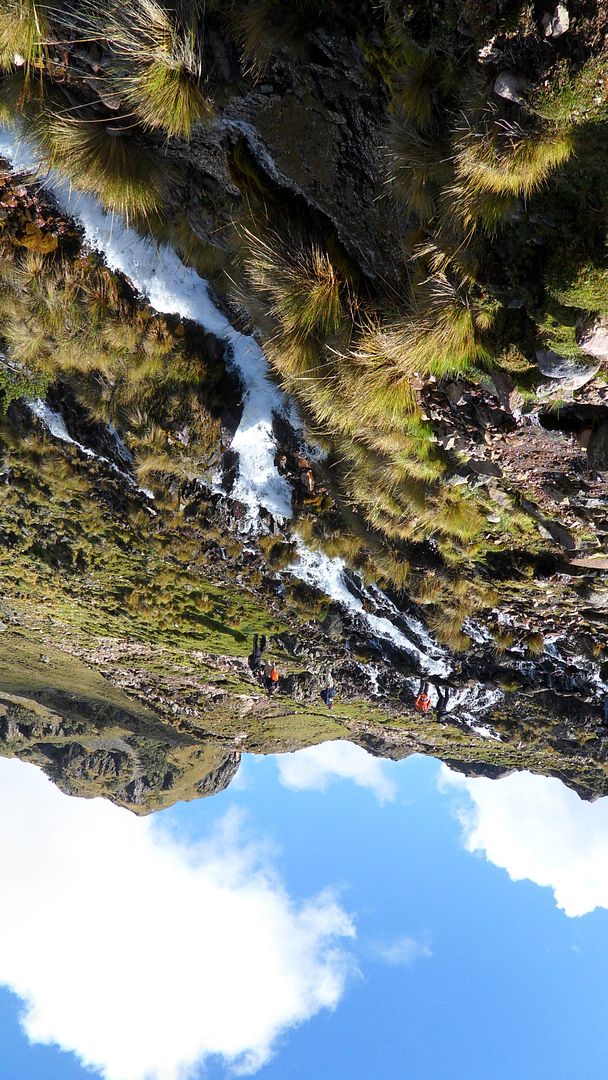 Just tip toeing through a waterfall, no biggie.
That night I went to bed with the knowledge that I would NEVER have to sleep outside again if I didn't want to. I have to say, it was the best sleep I got while on the trek!