Who is ready for football season? Anyone? Anyone? Well you all know I am. I have been counting down the days until college football kicks off since the last down of the last game on January 6. The start of the college football season means so much for us--Saturdays spent in front of the TV or with 101,000 of our best friends cheering on the Tide, spending time with friends who live out of town while we are on our football travels, and of course, tailgating. Recently, I got to try out the Gourmet Grillware Deep Dish Sizzler. Not only can you grill in this dish, but you can also serve in it. It's very versatile and easy to clean, although you can't put it in the dishwasher. You can put it just about anywhere else though! It goes from grill to oven to fridge to freezer to tabletop! I think it will be the perfect tailgate accessory this fall! Forrest and I tried this baby out one Saturday night. We grilled burgers on the grill and used the deep dish sizzler to grill up some fresh veggies from Chip and Lucy's garden. After the burgers were grilled, we put them into the sizzler to keep them warm. You have to make sure it isn't hot enough to continue cooking your meat, but if you can do that, it really does a great job of keeping everything warm. No one likes cold burgers before the football game!!
Delicious dinner in the Deep Dish Sizzler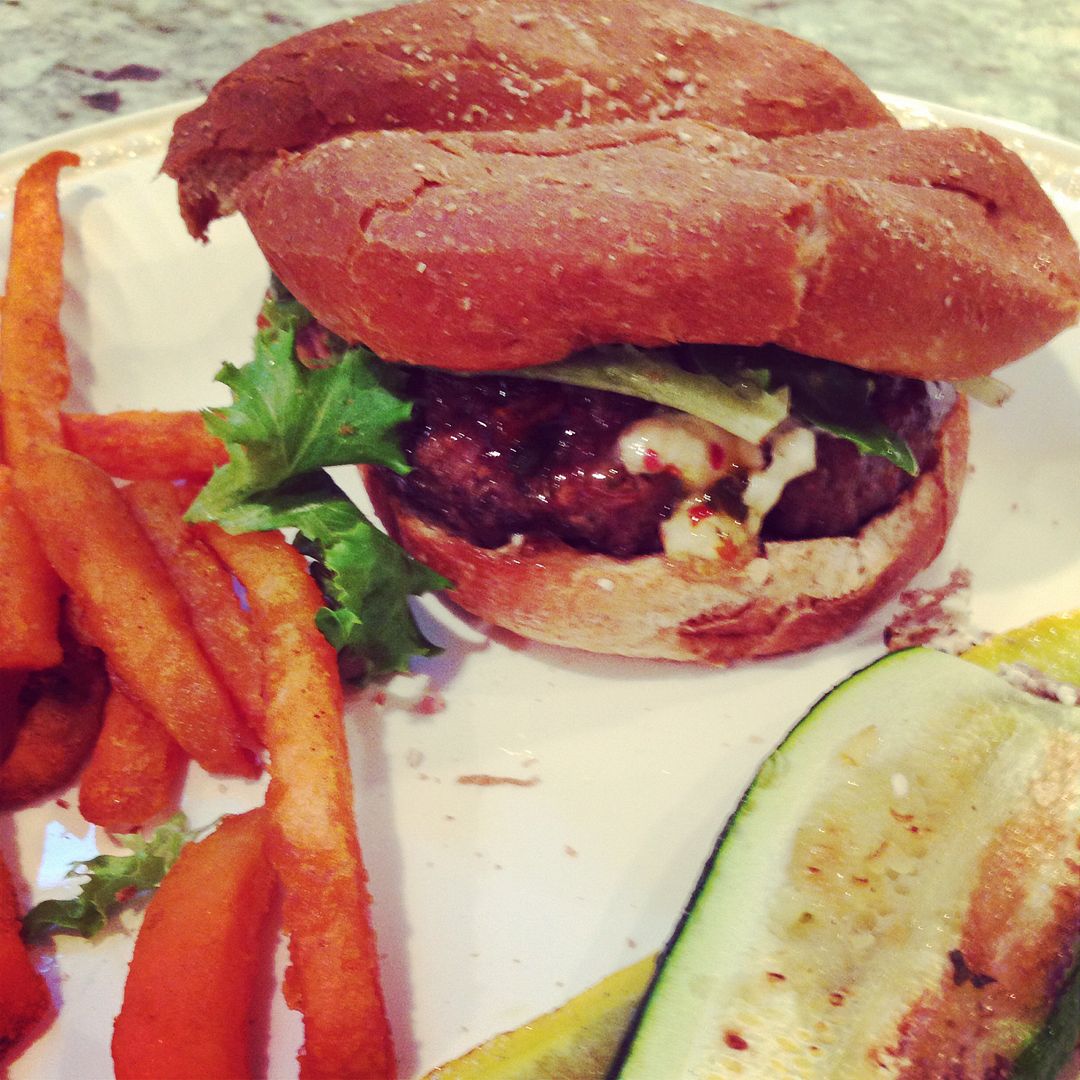 Here is my mom's recipe for her amazingly delicious burgers--perfect for tailgating:
per 1 lb of hamburger or turkey meat
1 egg salt pepper garlic powder
1 cup Parmesan cheese
1 cup Italian bread crumbs
Put the meat in a big bowl (don't chop it up yet). Add the egg on top. Then salt, pepper, and garlic powder the meat. I do this by eye--just cover it until you feel it is enough (then add an extra dash for good measure). Pour in the cheese and bread crumbs. Again, I usually eye ball this, so you can just pour from the can instead of measuring. I usually go heavier on the cheese and lighter on the crumbs--just do what you like! Now chop up the meat and stir it all together. You may decide to add more seasoning as you go!
I really did enjoy this product and will most definitely use it again. Although I did receive it for free in exchange for my review, my words and opinions are all my own!
Now YOU have the change to win $300 worth of Gourmet Grillware products. Just enter the giveaway below! Happy tailgating!!!
Entry
-Form