Remember when I went to Peru, like ages ago? Ok so more like March, but still. I wanted to be a prepared as possible for the trip, but I really had a hard time finding information about my exact trek. Most people do the Inca trail but it is longer and a little different than the Lares. My biggest concern, though, was what to pack. Luckily the info on the Inca trail translated well to the Lares, but I'd like to put this out there for anyone interested in this 3 day trek as opposed to the 4 day Lares. My friends Carly and Adam are about to do an even longer trek and their impending trip motivated me to get this post together!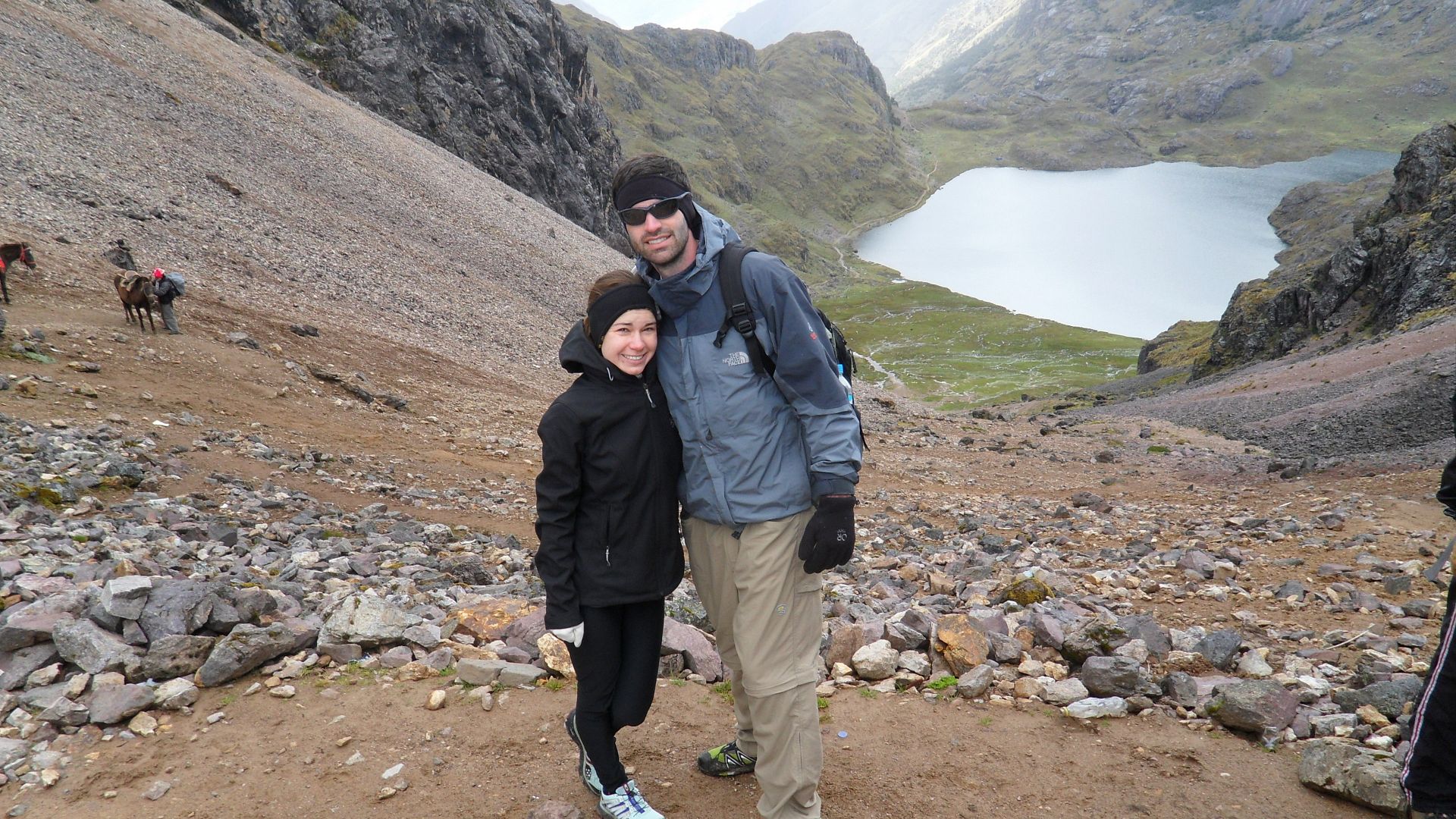 Here are my tips for packing for the Lares Trek....
1. Pack light but pack right. Remember you have to carry all of your crap with you like a turtle so you want to bring as little as possible but you want to make sure you have the things you need.
2. Abuse the extra bag they give you--Many trek companies will give you a duffel bag to fill with things you don't need immediately--those things you will keep in your day pack. Abuse the heck out of that bag. A very able bodied horse or donkey will be carrying it so you don't have to worry.
3. Choose a small day pack that is light weight. If I had to do it over again, Forrest and I would have just had one back pack and we would have shared it. Our packs were perfect sizes and light, but we really didn't need to both be carrying a backpack since we had expertly utilized the duffel.
I packed everything in individual ziploc bags that were labeled. This was to make sure everything stayed dry and organized on the trip. I have to say it was really wise...
What to pack in your day pack:
1. Snack bag--before we left I bought individual bags of trail mix and lots of luna and cliff bars. I divided them up and made each of us a "snack bag". You don't need the whole snack bag in your day pack, maybe just one of each snack. Your trek company will probably provide you with a daily snack so you will have plenty to eat.
2. Potty bag--Goes without saying. Our potty bags had those little packs of tissue (much easier than rolls of toilet paper), wet wipes and hand sanitizer (if I over did anything on the trip it was the hand sanitizer, but I think that was ok).
3. Water--coming from the idiot that didn't realize they were boiling stream water for us to drink, you would think I wasn't really worried about water, but I totally was. Forrest and I each had a Camel Bak reservoir in our back packs that we filled with bottled water. We had people along the trail selling drinks and snacks so we took advantage of the bottled water. I think our were 2 liters each. You will need it!!
4. Rain gear--nothing is worse than getting wet. We had rain jackets (that were insulated so they were also great for cold) and ponchos, just to be safe. Also, make sure you have a rain covering for your back pack.
5. Other necessary items: chap stick, sun screen, sun glasses, warm gloves, scarf, bug spray, hand sanitizer. Have these handy in your pack because the horses may go another way than you and you might need them. We went from freezing cold to burning hot all in one day so be prepared!!
6. Camera/iphone--you won't get service but I wanted to be able to upload pics as soon as I hit a wifi area so I had both my point and shoot and my phone. The phone was also great for setting alarms and some people used an app that calculated our elevation and how far we walked. I wish I had used one too!
In your duffel...
1. Changes of clothes-I'm sorry but I couldn't deal with feeling nasty so I had a clean pair of socks and undies for each day. I had 2 pair of yoga pants, 2 work out tops with built in sports bras (that saved me from having to pack bras!), and so I just rotated the tops and pants. For night time I had an extra pair of fleece lined leggings (amazing), a long sleeved tshirt, wool socks, and a sweat shirt. I ended up sleeping in my clothes for the next day topped with the pjs--it was that cold. Oh and I also slept in my jacket, scarf and fleece headband. Yikes. I had each day's clothes in individual ziplocs and then a PJ bag. I didn't bring an extra pair of shoes but if it has been warmer it might have been nice to have some flip flops to wander around in once we were at camp.
2. Sleeping bag--You must have a mummy sleeping bag! Find one that is compact and light weight but rated for lower temps than you will experience.
3. Pillow--A good night's sleep is essential!! All I had was a airplane neck pillow and rolled up clothes and that didnt cut it. Just find a small travel pillow or one that inflates.. Trust me, it's woorth it!!
4. Sleeping mat--Let's get this straight--I don't care how big it is or how much room it takes up! I would have gladly toted a twin sized mattress up that mountain if it was the only option. Our "mats" were hard rubber that were literally terrible. If the ground hadn't been so cold I would have scrapped the mat and just slept on the ground because it was softer. The mat was so hard I got bruises on my hip bones. I'm a side sleeper and I had to sleep with my gloves in my pockets to try to put a little cushion between my hip bones and the mat! You can rent mats when you get there and I promise you I would have spent all my money on one if I had known how bad ours were before hand.
5. Toiletries: I perhaps over did it slightly on the toiletries but I am nothing if I'm not prepared. I had small bottles of my face medicines, moisturizers, and face creams. I wasn't about to get grody skin just because I was being outdoorsy. I also had my tweezers and a little compact--I mean, eye brows don't stop growing while hiking!! I also had a pack of wet wipes for bathing and those facial cleansing cloths for my face. I had my full sized brush (my hair is too long be to be tamed by those travel size brushes but I kept it in a high pony the entire time), hair spray, and dry shampoo. My hair was surprisingly descent looking when it was all said and done and I think it's because the hair spray and dry shampoo dried it out. Oh and of course, I had deodorant. OH and a disposable razor...
6. Meds-We had prescriptions for Diamox for altitude sickness and Cipro for any tummy infections, but we both hated the diamox and never took the Cipro. I'm glad we had it just in case though. I also had Advil, Advil PM (Forrest would say this is the number 1 thing to pack), Pepto to Go, Band aids, and Neosporin. Allergy meds might be a good idea too.
7. Extras--I highly recommend ear plugs and an eye mask. You will sleep by water and it is LOUD! Also the sun comes up really early and so the mask will keep you asleep.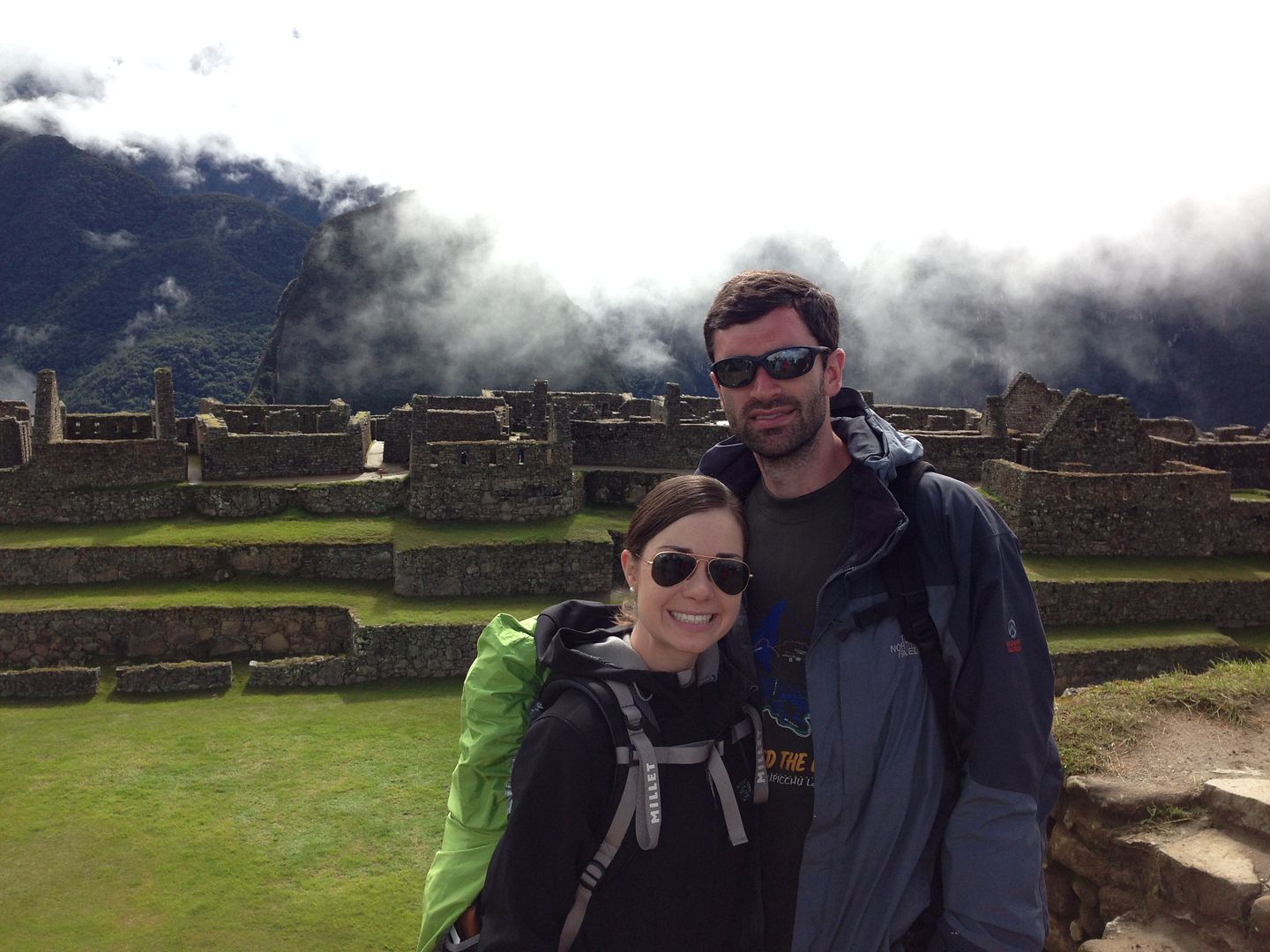 SHOES--I didn't pack these of course because I was always wearing them. I had Salomons and I loved them. I got them a 1/2 a size too big and that was great because my Darn Tough socks were really thick, plus your feet will swell AND when you are going down hill you don't want your toes cramming into the front of your shoes. Mine were not water proof because the guy at the store told me that Gore-tex made your feet sweat and that is NOT something you want to deal with. They are pretty water resistant so I was fine even when it rained a little and when we walked through wet areas. Also mine were just trail shoes, not boots, because my feet aren't used to big hiking boots, plus the boots were HEAVY! Think light!!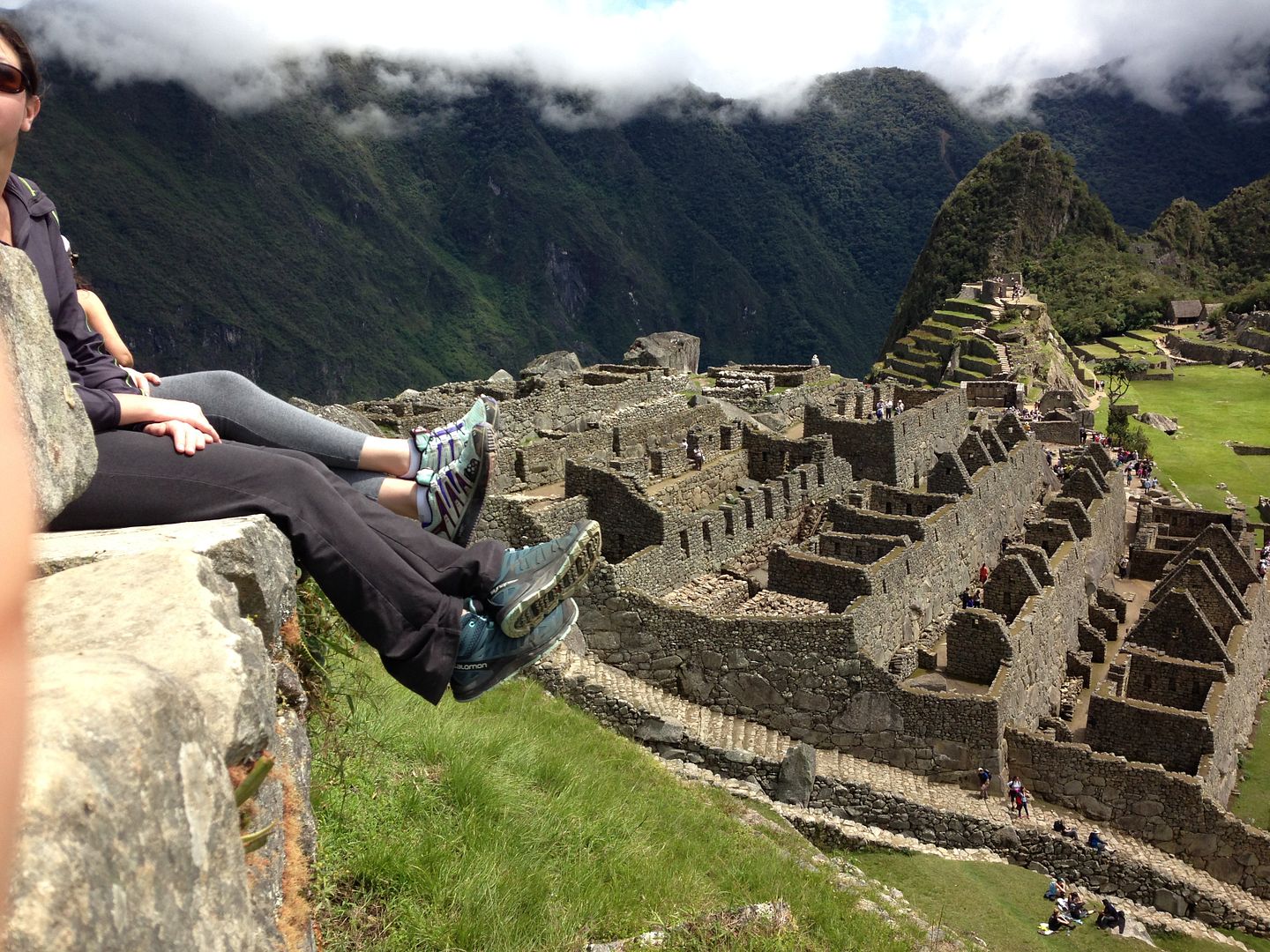 Other things to consider:
1. I had my nails done with gel polish before I left. That sounds prissy but I didn't want to worry with picking them, filing them, or anything like that and gel tends to keep them pretty sturdy. I think I did have a file and clippers in my toiletry bag though.
2. I used Frizz Ease 3 day straight spray in my hair right before we hiked in efforts to keep my hair tangle free and less of a disaster. It was fantastic.
3. I brought a fleece headband instead of a hat. It kept my hair back and my ears warm and then I used my hood if I got really cold. I thought it worked pretty well.
4. All of your hiking clothes need to be dry-fit material. Socks, clothes, undies, everything. You don't want to hike in ANYTHING cotton because even though you may get cold you will sweat and you don't want to carry that water on yourself because you will a) stink and b) freeze.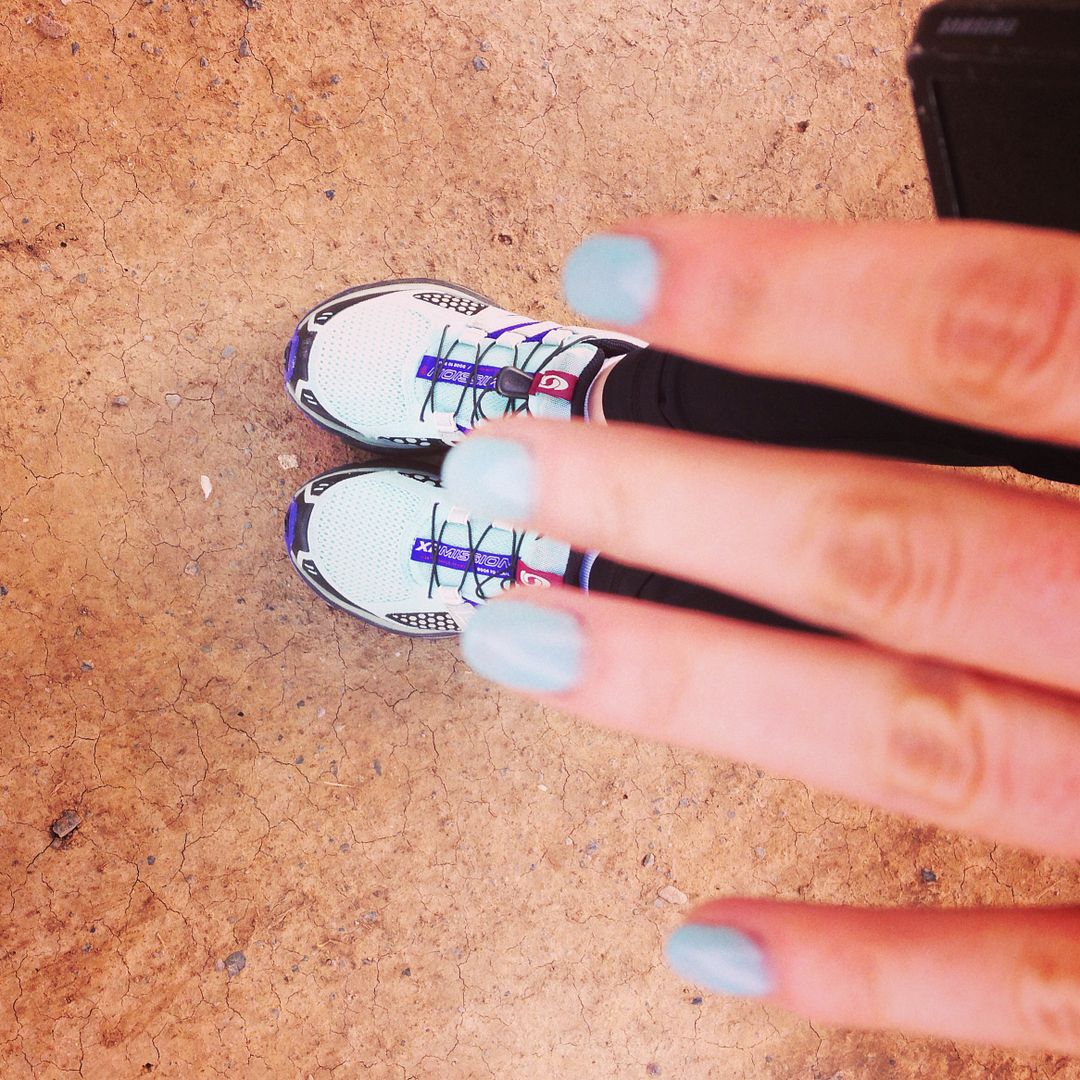 Ok--I'm sure I forgot several things so if you are going to do the Lares Trek, just message me. Hopefully by putting this out there I can help others who are on their way!!