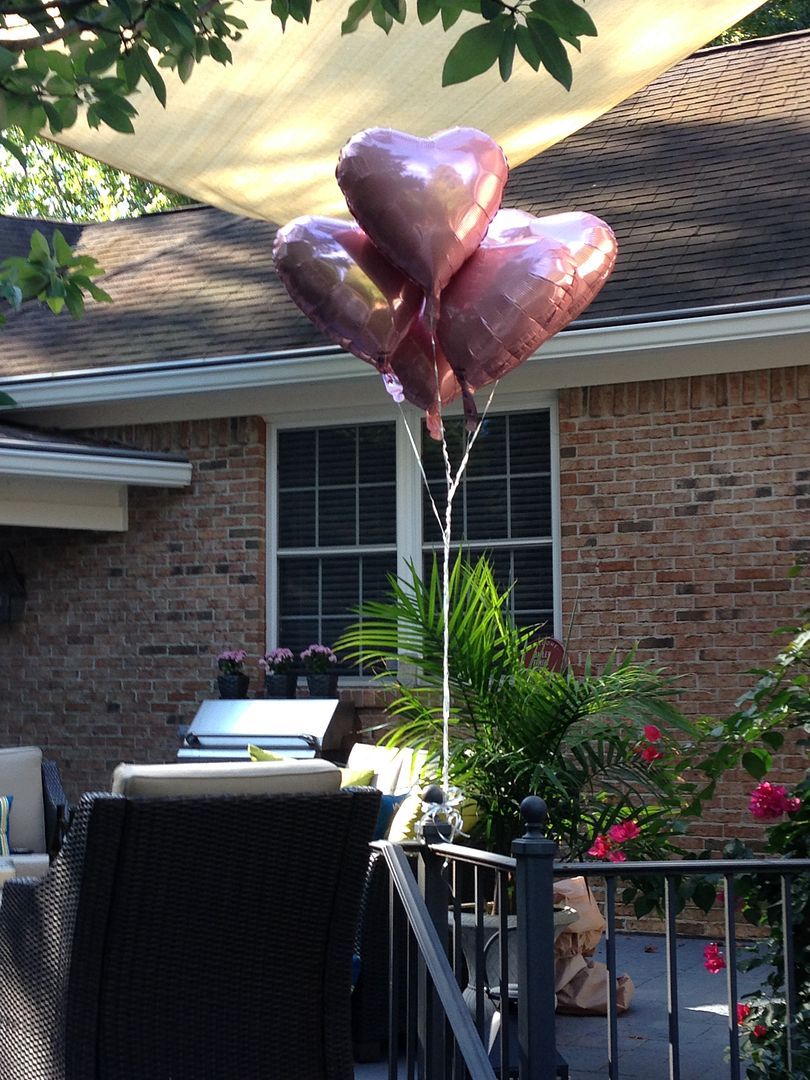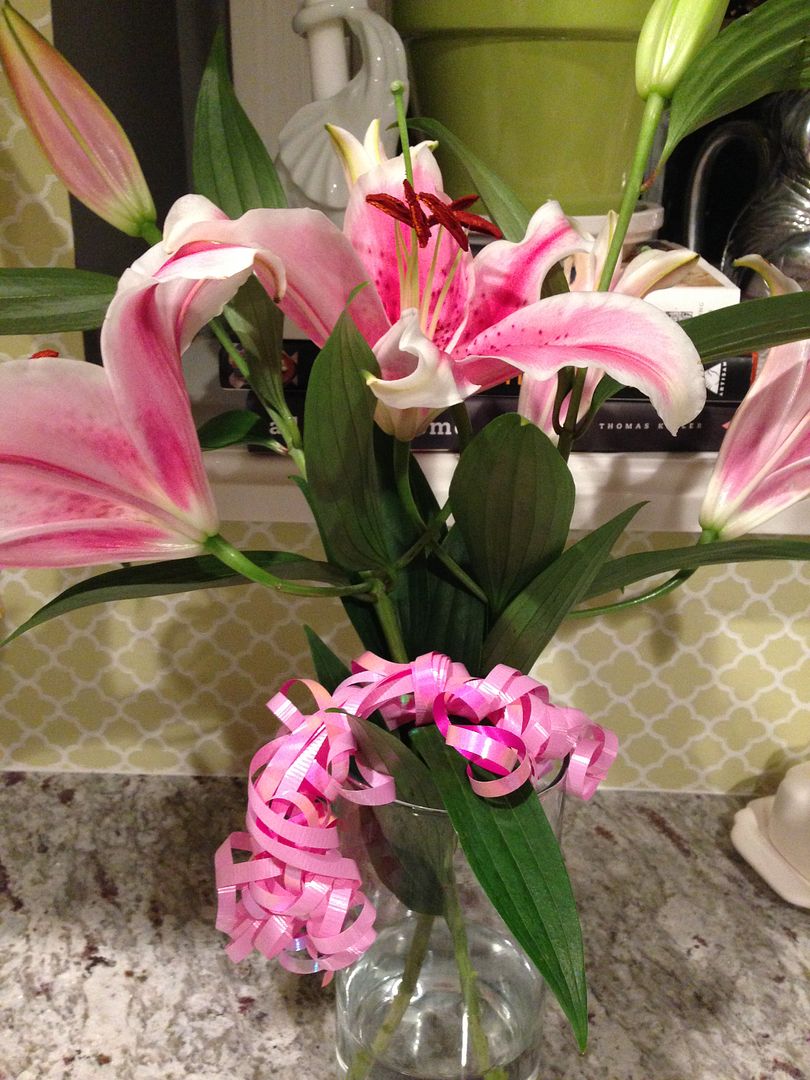 PINK!!! It's a girl!!! I have to admit I am still in shock. Forrest's family only has boys, and he was convinced it was a boy, so I just believed him! When the ultrasound tech said it was a girl, I literally told her to look again. I just hadn't been expecting it so I was beyond surprised, but of course thrilled!! I'm such a girlie girl so I'm so ready for bows and glitter! I'm hoping she gets some of Forrest's height and athletic ability. Honestly, I'm so nervous that now that I'm over the moon about a girl, I'm going to go to the doctor and they are going to say "oops--it's a boy". Not that a boy wouldn't be fantastic, but now that I'm dreaming in pink, it would be hard to switch gears. I have heard so many stories of people being told they were having a girl and then it turned out to be a boy that I'm a little paranoid. But oh my gosh, a girl!!!! I'll talk about our "reveal day" next week but for now here are some stats:
16 weeks and heading out to a party--baby girl loved getting dressed up (and Mommy loved being able to still fit into her dress!)
Total Weight Gain: 5 lbs
Gender: GIRL!!!!!
Maternity Clothes? It's getting to be about that time. I'm happy it's getting cooler and I am able to wear tunics and leggings--that makes everything easier! I have had several friends gift me maternity wear and one of my weekend goals is to organize it all.
Stretch Marks? Not yet, hooray!
Sleep: I was unable to sleep the night before the ultrasound, then I couldn't sleep the night after it, and this morning I woke up at the crack of dawn thinking about all the things I need to buy. Needless to say I'm glad Bama has an off weekend because I need one too!
Movement: Not yet. It's weird to see HER on the ultrasound move and not be able to feel it.
Food Cravings: I'm still on sandwiches. Nothing thrills me quite like going to Quiznos and reading the menu board. I also am wanting veggies a lot too.
Food Aversions: Ick, still nuts. But I don't mind them when smothered in chocolate or ice cream!
Symptoms: Nothing really new to report. I've been telling people that my latest symptom/craving is 19 Kids and Counting. One of the daughters got married and is pregnant now and due right after me in March and so now I'm hooked on their show. I can't get enough!
Belly Button In or Out? In, please stay that way!
Wedding Rings On or Off? On. I haven't noticed any swelling yet, other than in my feet every now and then but that's normal after wearing heels all day to work anyway, so I don't think it's pregnancy related.
Miss Anything? Shaking my tail feather! Ha! It feels so weird to dance right now. Of course the weight in my belly is different and so when I'm grooving to the music, it feels weird! I don't notice it so much in my ballet class, but it definitely gives me pause when dancing in the stadium to the hype music, or with girlfriends at a party! Last night I was at an all women's fundraiser with some friends and we got up to "wobble" and I started to worry that it wasn't really a good example for my little girl for me to be shaking it! I know that's silly because she doesn't know what's going on and she probably actually likes the movement, but the extra weight in my belly when I move makes it hard to ignore those crazy ideas!
Best Moment This Week: Finding out we were having a girl and getting to announce to all of our friends! It was also so special to share that moment with Forrest. When we left the ultrasound room we met some people in the hall and they told us bye and he replied "It's a GIRL!". Yes, to strangers. Then he told me not to freak out and spend all our money on pink this week, but that his baby girl could have whatever she wanted. It made me melt. I know he will be a wonderful girl daddy even if he came from a family full of boys!
Looking Forward To: Getting immersed in pink!! Now that we know it's a girl (barring some sort of disaster by the tech, but we made her promise it was a girl) I get to start planning her nursery and registry! SO MUCH FUN! As Forrest says, planning is my "wheelhouse", so I can't wait to get started!! Any ideas and tips would be MOST appreciated!!