that we have a new Bama fan on the way!!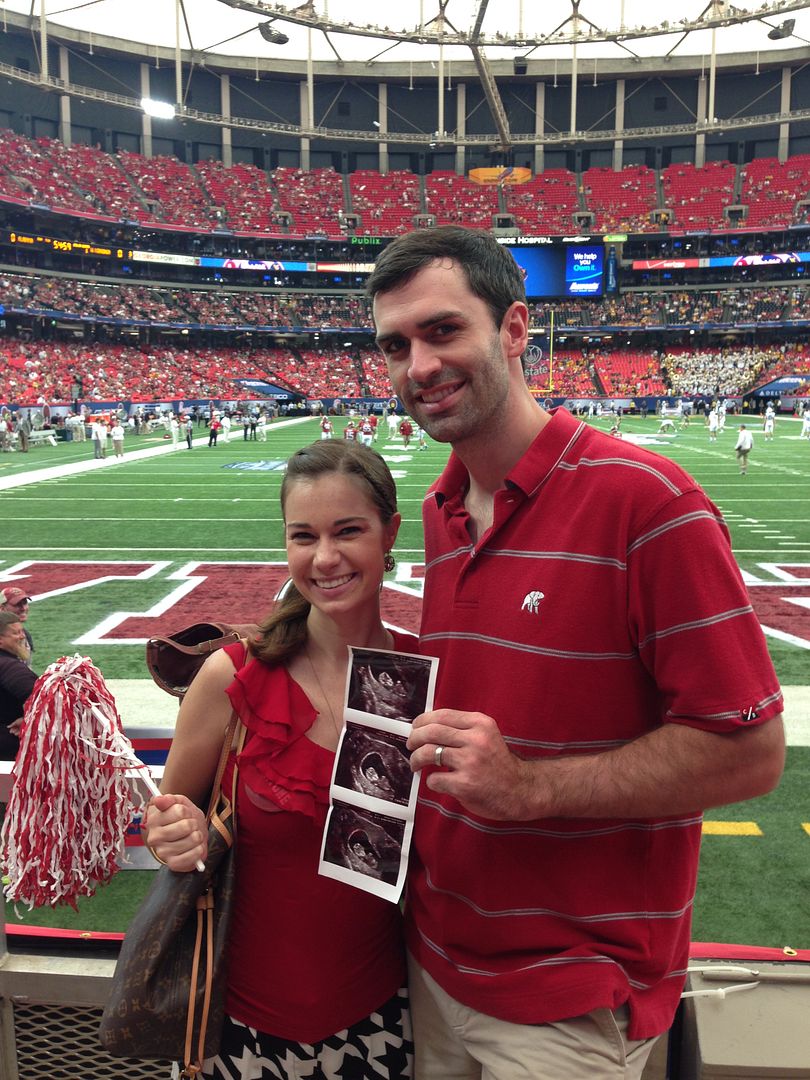 Baby Bailey is due March 2015!!
I cannot tell you how humbled I was by the outpouring of love and support we received after we announced our news on Facebook and Instagram on Tuesday. I know that sounds really silly but it's true! We had so many sweet comments and texts, phone calls and messages that it was overwhelming. Our baby is already loved by so many, and that makes me so happy!!
If you've noticed that I've been an absent blogger, it's because I've been asleep for the months of July and August. Baby Bailey is growing like a weed in there and that means it's stealing all of my energy. I've been taking naps on my lunch hour or leaving work early for nearly 8 weeks because I can't seem to make it through an entire day. Of course, I'm so lucky to have a job that's flexible enough to let me do that! Since I usually do my blogging during my down time and work, and since during my downtime I've been sleeping, I haven't had time to blog! That made me really sad because I love this blog and have had so many fun things to talk about (housewarming party, Vegas trip, etc!), but I just haven't had the energy. I know I have to understand that my life is changed forever now, but it's hard to let go of my old ways!
I have stolen this little survey from my friend
Lauren's blog
. I don't know how comfortable I feel talking about pregnancy stuff yet, but I guess we shall see over time. I like this survey though because it's a great way for me to keep up with my pregnancy without being overly detailed. So here goes:
How Far Along? 13 weeks--baby is the size of a peach!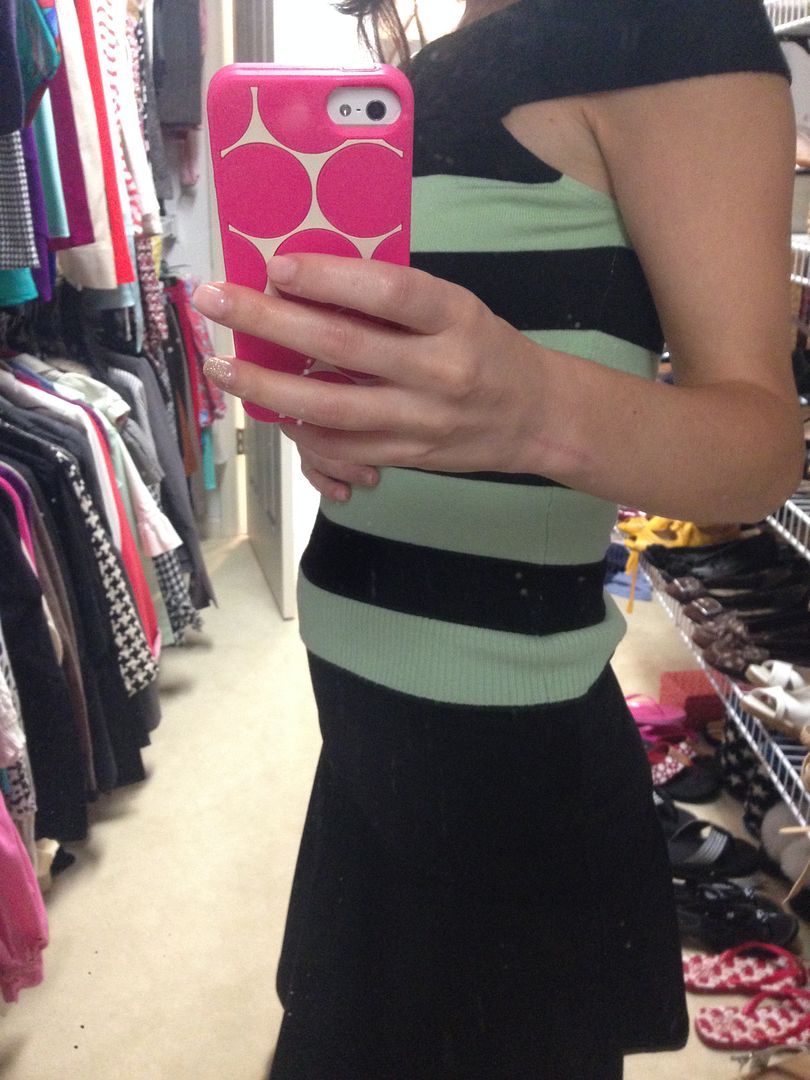 12 weeks v. 13 weeks (you can see a kitty hiding in the 12 weeks pic)
Total Weight Gain/Loss: At my 11 week appointment I had gained 2 lbs. I might be up another by now!
Gender: I have no feeling either way. Forrest and my sister are convinced it's a boy. The heart rate was fast, which suggests girl and the Chinese calendar said girl too. The ring test was boy and I haven't had morning sickness, which people say is boy, but I know lots of boy moms who were sick and girl moms who weren't, so who knows! I will find out in 3 weeks!
Maternity Clothes? Not exactly. I had to buy some new work dresses because my work clothes are very tailored and were SO uncomfortable already. Luckily most clothes these days are flowy so I can hopefully just keep buying my regular size in regular clothes to save money. I don't like anything fitting across my tummy at all, so I've given up on wearing pants (except yoga pants!) and I refuse to wear my Nike shorts any more. I'm hoping I can get away with leggings under long tops for the fall and winter! Some sweet friends have already given me some great maternity stuff so when I absolutely have to break down and wear some, I'll be ready!
Stretch Marks? Let's cross our fingers for no!
Sleep: I sleep all the time. I'm so exhausted. It doesn't matter if I take a nap at 5pm, because I can still go to sleep at regular bed time. I sleep pretty well throughout the night as of now too. I used to wake up and have to eat, but now I can at least make it throughout the night.
Movement: No, but I'm waiting on it anxiously! My mom felt me really early and the Dr. said I might too since I'm little, but who knows. I don't think I should really worry about it until around 20 weeks.
Food Cravings: SALTY!! I want Lays plain potato chips and Barbers party dip at all times. I could eat that all day long. It's weird because I was a pretty healthy eater before and now all I want is salty, fatty, fried food. I also have had to break my rules and allow Ranch dressing back into my life because the baby wants it (my sister says that's just me), and it also wants Coke! I haven't had a Coke since I was a freshman in college (circa 2002!). I know I'm not supposed to drink caffeine and that really easy for me except whenever there is Coke I absolutely have to have a few sips! It's so weird! My very first craving was Taco Bell, something else I haven't eaten in years. This is one crazy baby!!
Food Aversions: Nuts! So weird, because I love nuts. I can eat peanuts but anything else requires me to choke them down. I even covered some nuts in French Onion dip and it didn't help. I think it's the chalky texture? Also I feel a little weird about eating fish. Of course, these foods are both high in DHA, something necessary for baby's brain, so I'm hoping the aversions go away soon and that in the mean time, my vitamin is doing its job.
Symptoms: Extreme fatigue, hunger every 2 hours, weepiness. I can cry about anything right now! The hunger thing is much better than morning sickness, but I have to eat every few hours or I start to feel terrible. Overall during my first trimester I just felt generally crappy, but hopefully that will stop soon. I felt so good yesterday that I went to the gym for the first time in weeks!
Belly Button In or Out? In
Wedding Rings On or Off? ON
Miss Anything? I know that you aren't exactly in control of your life when you have a baby, but I didn't realize how out of control I would be during pregnancy. I can't control when I eat, when I sleep, and what I do any more. I haven't been to the gym or running in about 8 weeks because I've been too tired. I hardly cook; the grocery store makes me cry, and I have to take a break between showering and drying my hair because I get too tired. I just miss feeling like I have everything together and that I'm in control, but I guess I better get use to being a mess for a while!
Best Moment This Week: Sharing our news with the world, actually making it to the gym, watching the 13 weeks videos with Forrest, and finding out about a few new babies on the way to some of our friends!
Looking Forward To: Perking up in the 2nd trimester and finding out the gender!
Well, that's it in a nutshell I suppose! Thank you all for your support and hopefully as I feel better, the posts will be much more frequent!