As soon as we moved into our house, I set the date for our housewarming party. Yes, that sounds crazy but if I didn't give myself a deadline I knew I would slack off and not get things finished in a timely manner. It turned out to be the best idea because once I was pregnant I had zero desire to get anything accomplished, so it was fantastic that I was basically finished by the time I started feeling badly. I wanted to throw a big party for all of our family and friends to be able to come and see our new home, but a big party is such a huge undertaking! I decided that the best approach to keep the party fun yet cost effective was a "Cupcakes and Cocktails" theme. By serving just desserts and drinks, I could keep the party costs down. Also, by starting the party later (8pm) everyone would have time to eat on their own or attend any other events they may have had that evening and still have time to swing by our house later in the evening. It turned out perfectly and I have to say people loved the theme! You can check out my idea board on Pinterest
HERE
.
I have to give a shout out to all the people who helped me get the party ready. I was either 10 or 11 weeks pregnant and was still feeling exhausted and weak. My "getting ready for the party" consisted of laying around on the couch while my mom and aunt decorated. Without them I don't know what I would have done. Farrah brought SO much food for me and came early to set it all out, and Harriet, who didn't know I was expecting, not only brought my favorite Neiman Marcus Brownies, but also monitored the food table and beverage station and did refills so I could stand by the door and greet my guests. Of course, Forrest was a rock star and got the yard ready throughout the week and helped me in the house too. It was a team effort and I appreciate everyone's help more than they know!
Here are some pics from the evening!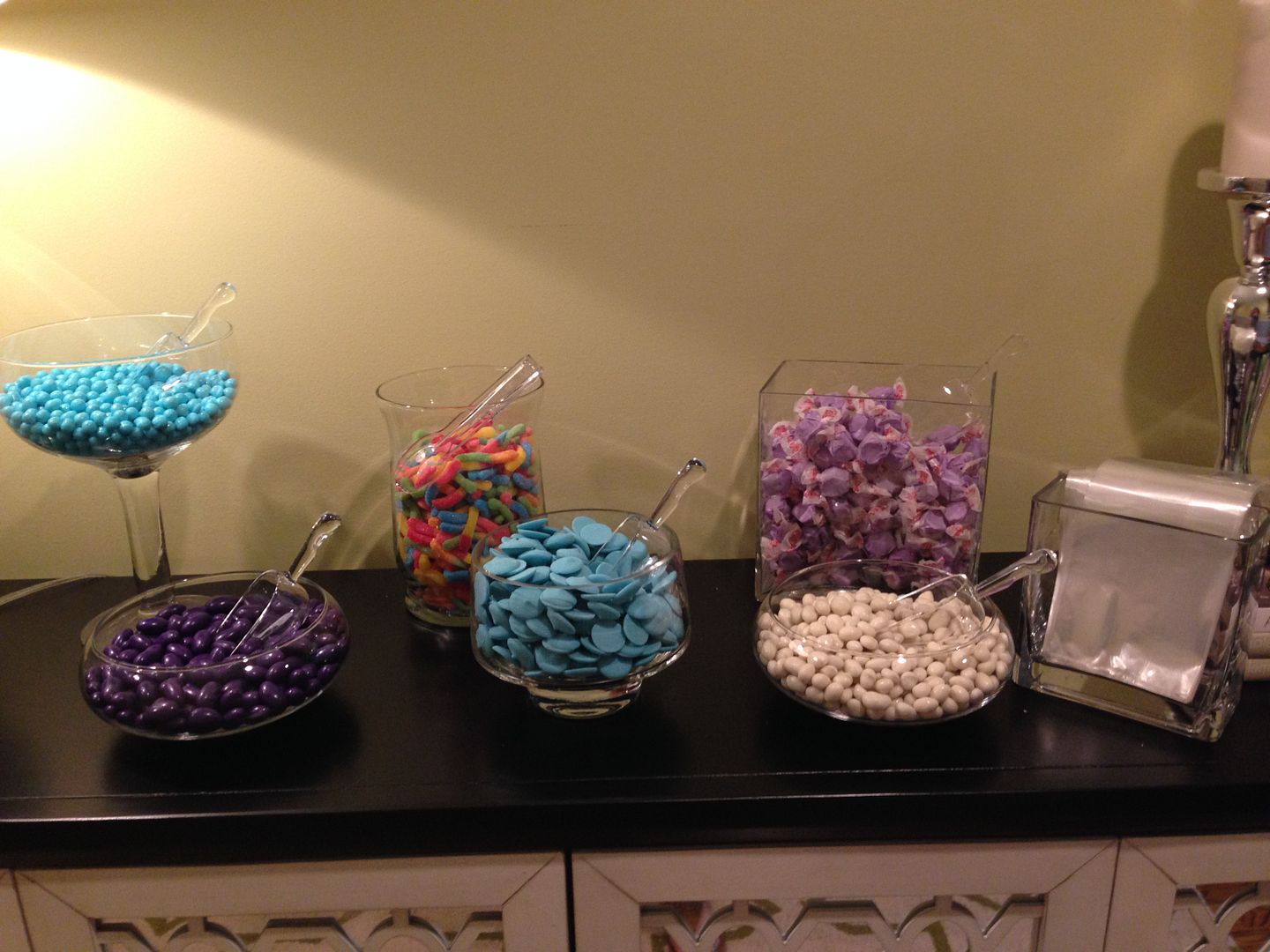 In keeping with the sweets theme, I had a candy bar so guests could make their own party favors. The gummy worms were the biggest hit!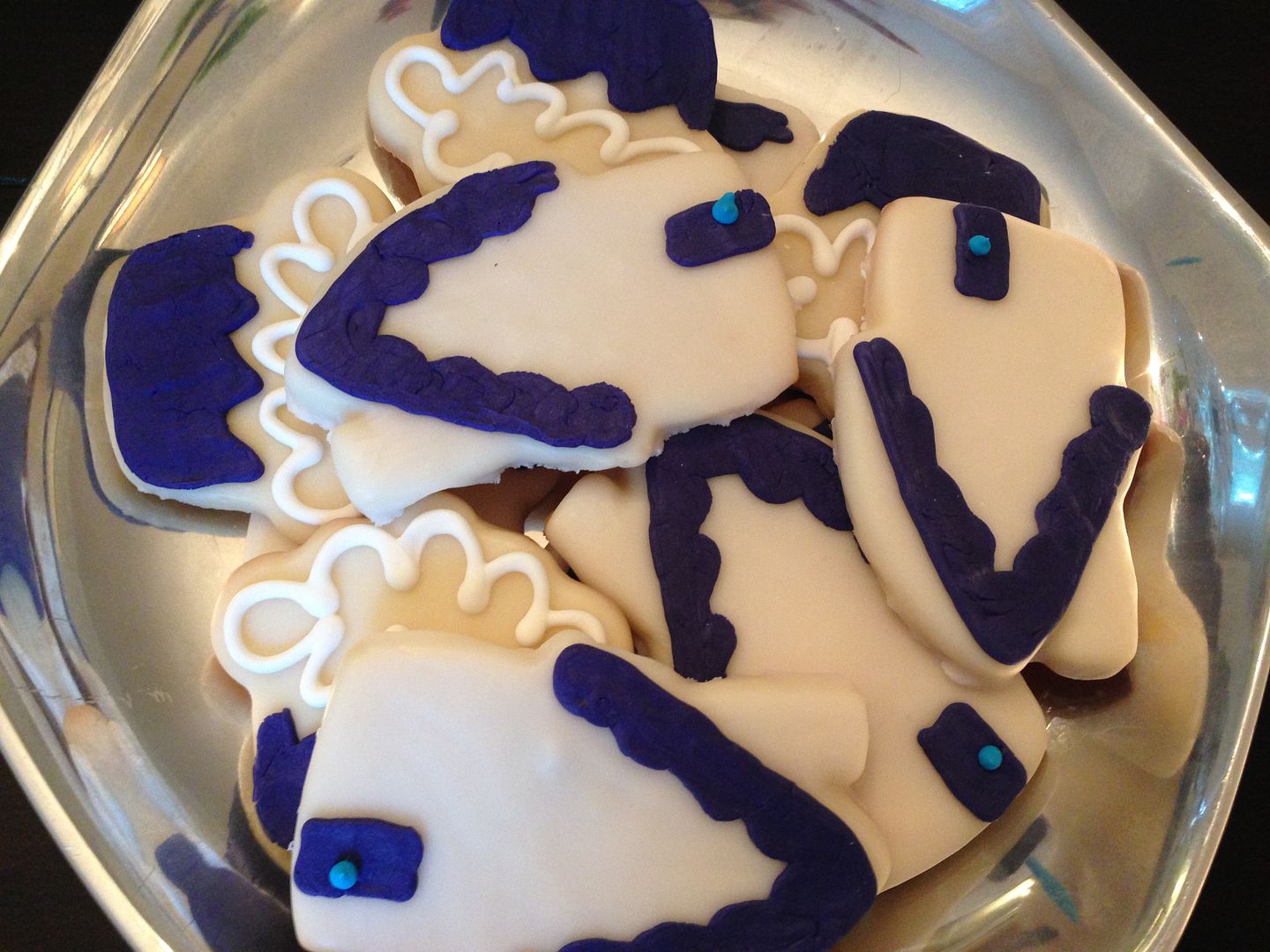 Cookies by Alison, my favorite cookie gal, made these custom cookies to match my purple and teal invitations.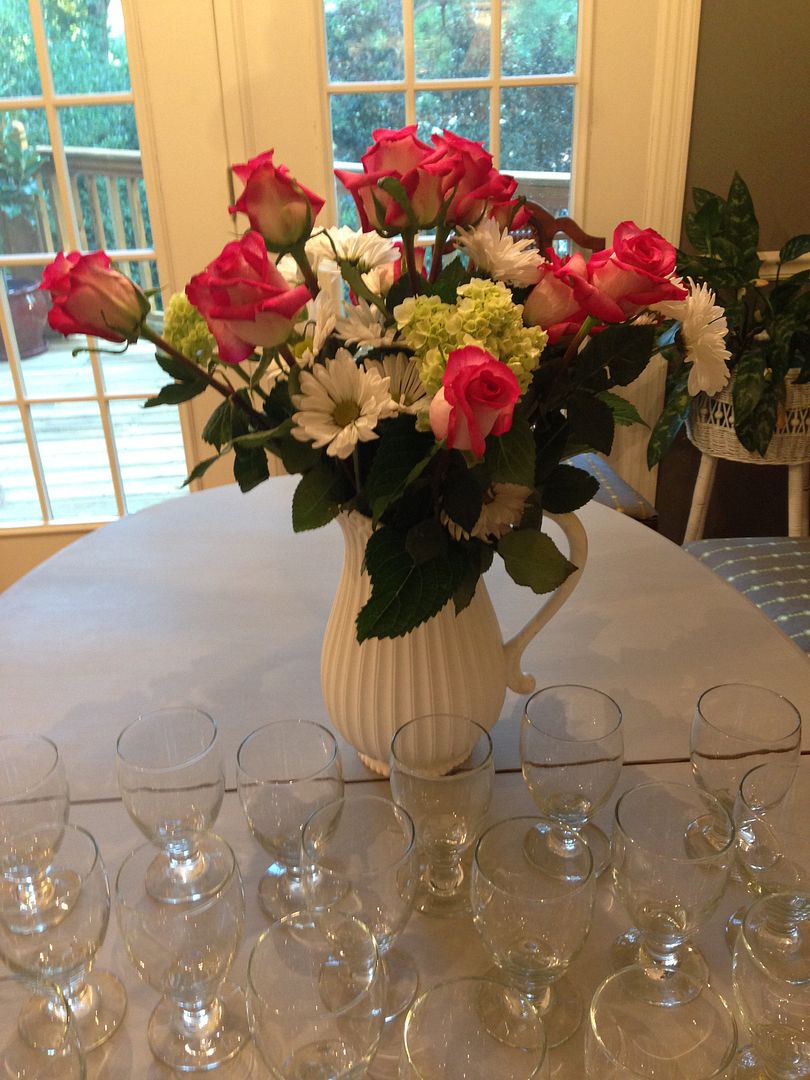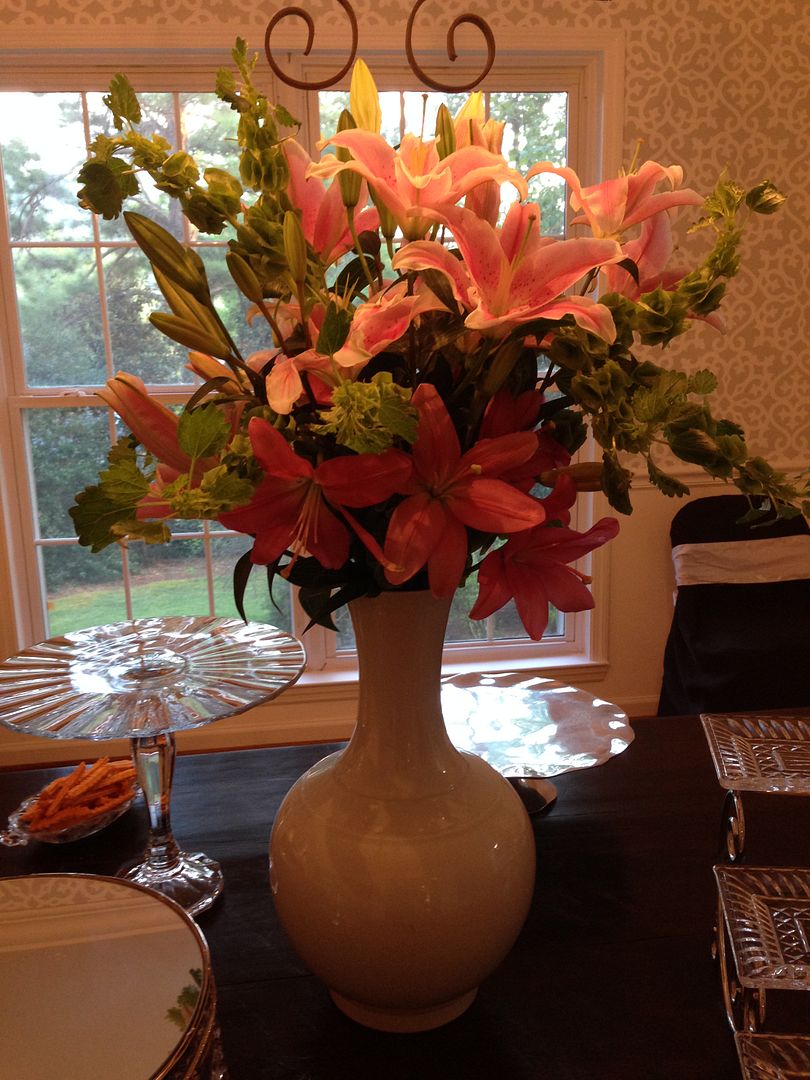 On top of everything else she did for me, my mom was also my florist!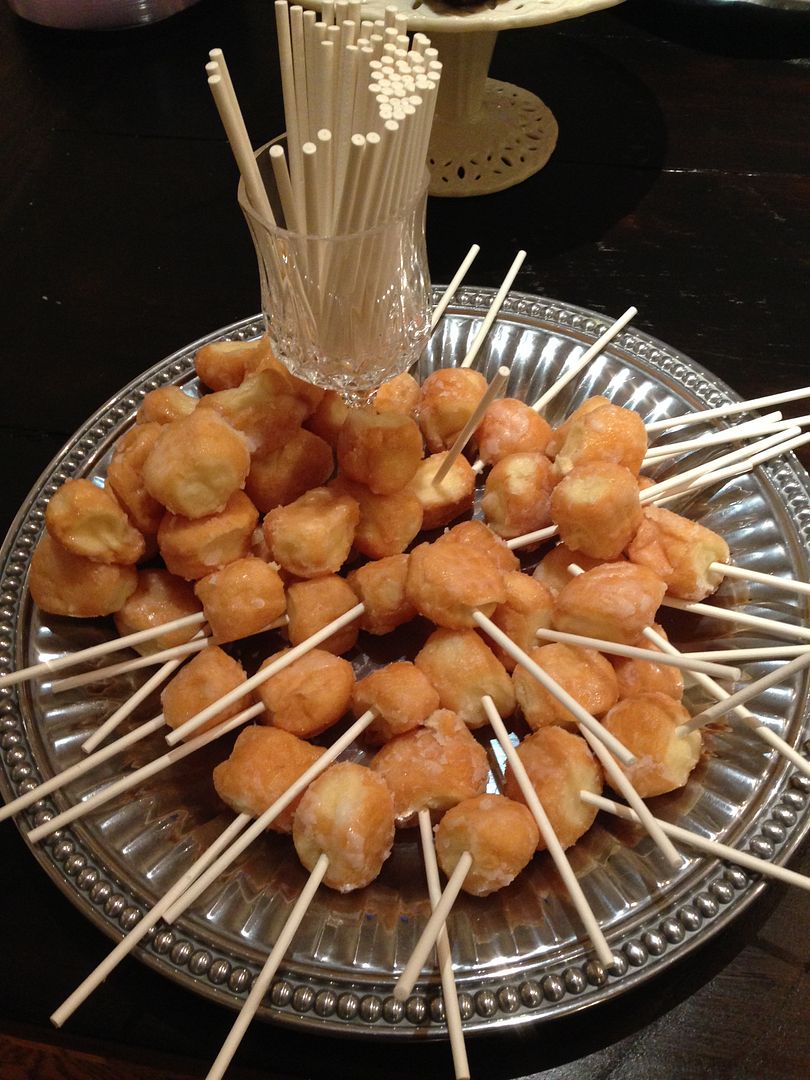 One of my favorite ideas that I found on Pinterest were doughnut hole pops. I had over 100 doughnut holes and I probably had 10 left over.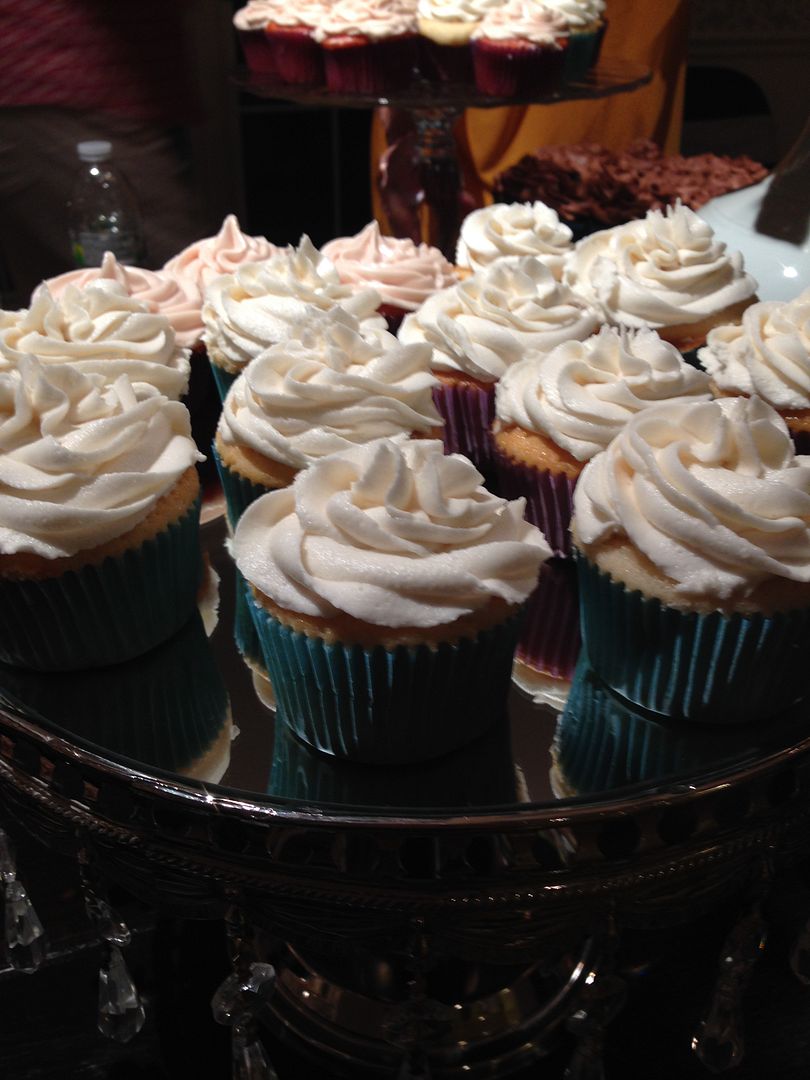 Farrah's sister Holly made me several dozen cupcakes in wrappers that matched the invitations.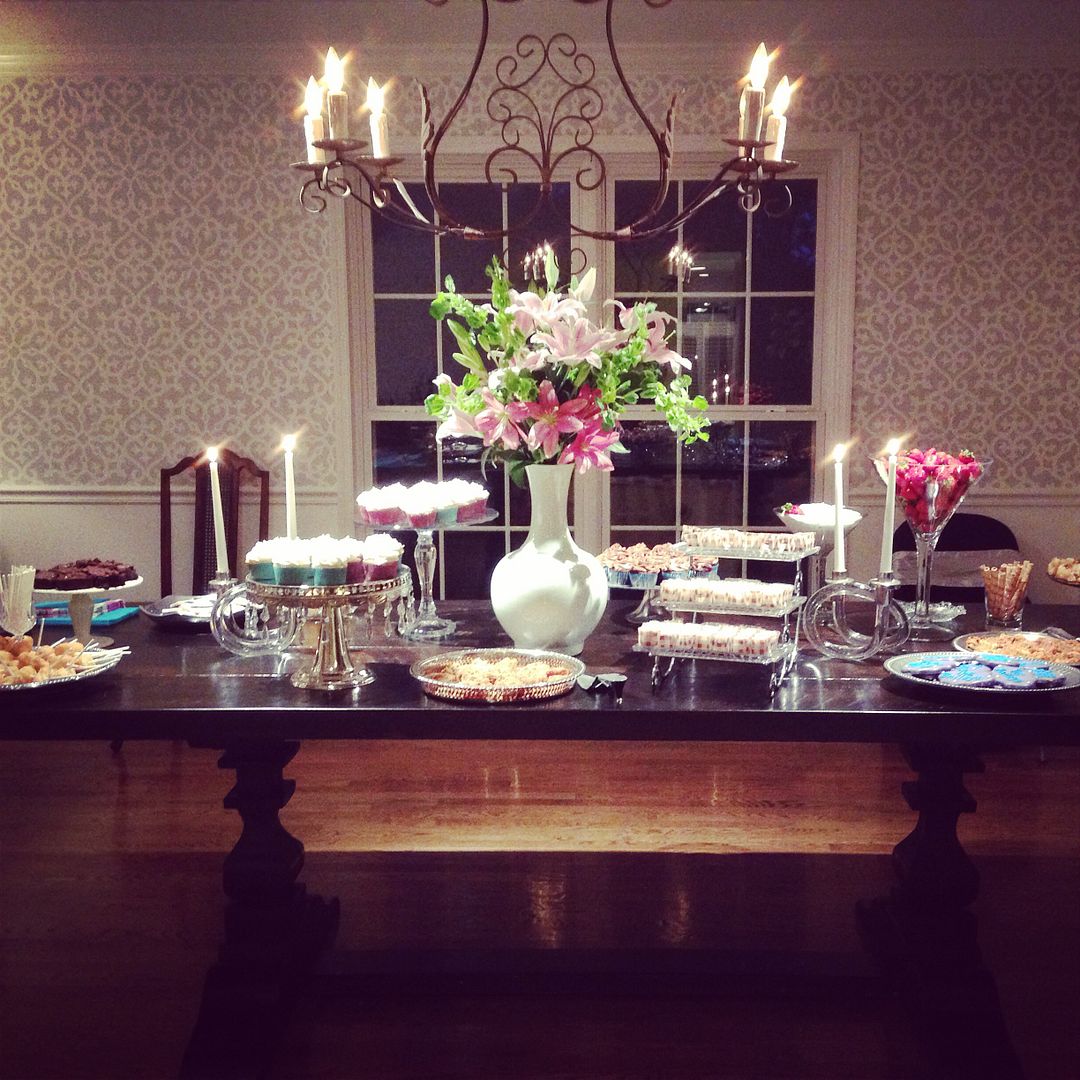 My table! I thought it looked lovely and delicious! My menu included:
--doughnut pops
--brownies
--cupcakes
--
Neiman Marcus Brownies
--cheesecake bites
--sugar cookies
--
Godiva Dip
and strawberries
--Yellow Hammers (my cocktail)
--I also had cheese straws and some lemon squares sprinkled around the house
Here I am with the Wilsons, the previous owners of our home! We were thrilled to have them come back and see what we had done to make the house our own, and even more excited that they approved!
Despite the fact that I was exhausted, I pulled it together for the big night and had a fantastic time. I loved squealing as people entered the front door and loved all the excited faces as they saw how hard we worked to make our house a home. Thanks again to everyone who helped make it all possible!