Telling people you are pregnant is a weird thing, at least it was to me. It's exciting and scary and a little something else I can't put my finger quite on. I wish I was one of those people who planned cute ways to tell big news, but unfortunately I'm neither creative nor good at keeping my mouth shut, so I end up blurting out good news most of the time. Here are some of the most memorable ways I got to tell people we are expecting:
1. Forrest--I was convinced that I wasn't pregnant, so much so that I threw a little pity party for myself the night before I found out. But, on July 1, 2014, the plus sign appeared, and I had news to share. I knew Forrest wouldn't want me to wait (he's still upset I didn't tell him when I dropped his wallet off at his front desk that morning), so I assumed I'd tell him when he got home from work. I'd have all day to look at Pinterest and try to be clever. No such luck. I suppose since I'd had a bad evening the night before, he decided to invite me to lunch that day to make me feel better. I knew I'd never be able to keep my mouth shut, so I ended up telling him in the parking lot of the restaurant. It may not have been glamorous, but it was surreal. Boys get to propose, and girls get to tell husbands they are having their baby. I will never forget the way he looked at me and smiled.....
2. My sister--Auntie M got a video from Ruffles. She is always asking for "Ruffles videos" and they usually involve Ruffles "singing" or "talking" to Auntie M. This time she sang "Auntie M is an AUNT". It was so much fun to hit send and then wait for her to respond!
3. My mom--I don't know why but I was shaking nervous to tell my mom. My dad foiled my plan by insisting we take the whole office to lunch, when I had wanted to tell my mom at her house during lunch. I went after lunch because I just couldn't stand it and told her she was going to be a "real Momsie", the grandmother name she picked out years ago and that Ruffles "calls" her.
4. My dad and brother--we were all going to the lake as a family on July 3rd, which afforded us a great opportunity to tell them and celebrate with just our family. Both of them looked kind of shocked actually.
5. Farrah--Justin and Farrah celebrated their 3 year anniversary and I used it to my advantage. I had a bottle of champagne wrapped and signed the card from "Catherine, Forrest, and BABY Bailey". Chaos ensued.
6. Claire--We'd been at many events with Claire and Jay and Claire caught on to the fact that I wasn't drinking, apparently. When we went to dinner with a group at Canyon Grill, she took me to the bathroom and instructed me to "blink once for no and twice for yes" and then asked if I was pregnant. I of course blinked twice.
7. Randi--I am really good at using friend's situations to my own personal advantage, or so it seems. Randi was having her tonsils out and so I sent her flowers with the same from "Catherine, Forrest, and BABY" card on them. It was hilarious because she couldn't talk to call me. I also had to get the flower lady to write at the bottom of the card that she still had to keep it a secret. Best card ever.
8. Deborah--I was most worked up about telling Deborah because she had gone to great lengths to get to me to tell me when she was expecting. It worked out perfectly that we were going to see each other in ATL for the first Alabama game. When I told her she scream and gave me the biggest hug and then paraded me around the tailgate to tell everyone, including strangers. So much fun.
9. Jenny--Jenny has been on me to have a baby for a while so she always would give me the "eye" when she noticed that I wasn't drinking wine, pregnant or not. She and Farrah and I planned a quick dinner and movie date one random week night and I KNEW she would notice I didn't order a wine so I had to tell her that there was a possibility I was expecting but I wouldn't know until the following week. Well, she text me the following week wanting to know if I knew or not and since I was at dinner with my parents (only my mom knew at the time) and a bunch of their friends I couldn't talk so I just sent back the baby emoji. Yes, I told her via text and by emoji. She called immediately and I answered her screaming phone call and had to calmly say I was busy and couldn't talk, even though I was anything but calm!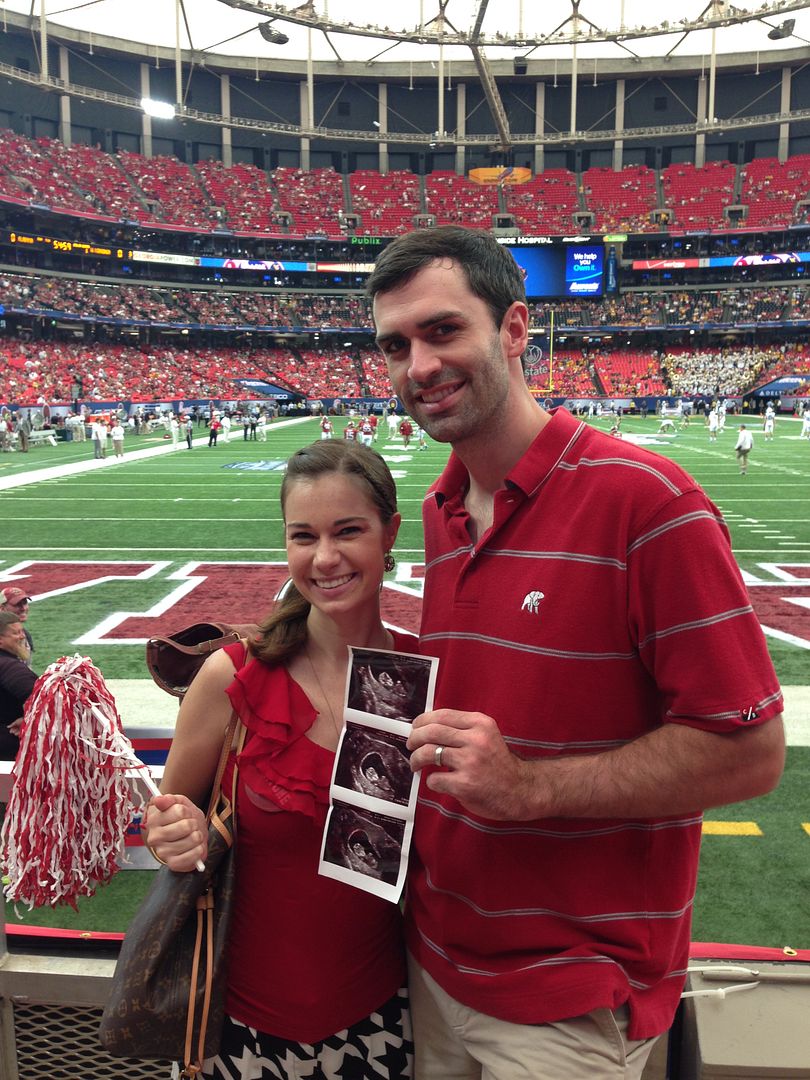 How did you tell that you were expecting??