The updates are coming faster and faster now that I'm going to the doctor every 2 weeks! Here are some stats!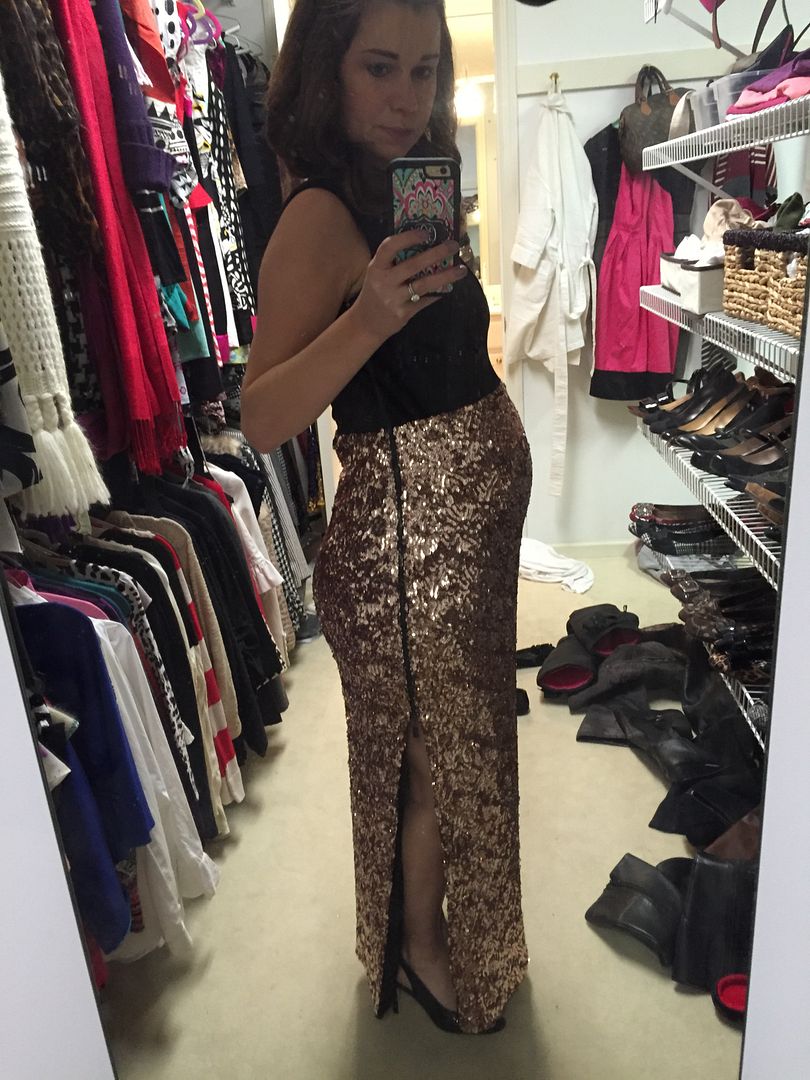 Here we are on the way to the Bal d' Or debutante ball at 28 weeks. I'm 31 today.
Total Weight Gain: 28 lbs!!! That is almost mind boggling to me. Plus I have so many more weeks to go! How much weight can this body hold? I guess we shall see!
Gender: GIRL!!
Maternity Clothes? Oh yes, got my 2nd shipment from Old Navy this week actually. I also ordered some cute dresses from A Pea in the Pod for my showers! (Whoop for showers!)
Stretch Marks? None so far thank goodness but I do have that super attractive line down my belly (this goes away PRONTO right??)
Sleep: I'm still crashing at night. Sometimes I have a hard time going back to sleep when I wake up in the middle of the night because she decides it's time to play or I'm thinking of a million things to order for her nursery the next day.
Movement: This is a girl that is always on the go, just like her mama! She has kicked her little heels into my side so many times that I have a sore spot and on occasion I've been known to yelp a little when she hits it. I'm just glad she is strong!!
Food Cravings: Just let me eat---anything and everything.
Food Aversions: Not so much
Symptoms: Nothing new to report. I do get extra tired some days but it's a physical tired, not like the 1st trimester tired. I'm thinking that's because I'm hauling around 28 extra lbs all day and night. I also have trouble getting up sometimes and one day I got stuck sitting on some stairs. I'm only going to get bigger so this is probably not going to get much better.
Belly Button In or Out? I'd say 90% out? I'm still not over how weird the belly button thing is....
Wedding Rings On or Off? On--and for now I can still wear all of my shoes (my number 1 fear is not being able to fit into my 5 1/2 shoes--I've amassed such a collection)
Miss Anything? Mainly my real clothes....and exercise. I've been thinking about running and yoga so much this past week and I am looking forward to getting back into my workout routine once she comes. That will help me get back into my regular clothes, which I sometimes find myself staring at.
Best Moment This Week: Nursery shopping! FINALLY!! My mom and I met my Aunt Fran to select fabrics for her room and we bought a rug and got a chandelier. We also picked up a glider from the Baileys. Now we just have to get a few things ordered and a few more made and we will be set! Whew--it feels good to have those decisions behind us!
Looking Forward To: Baby showers!!! I love a party and I especially love a party that involves me receiving gifts. I have the best friends and family who are throwing me shower and I can't wait to celebrate with them and see what all baby girl receives!
Ok--that's about it! I'll have another update next week after my appointment! (Which probably means the week after if we are taking my past history into account....)