What a busy and fun weeks we have been having! Every day brings us closer and closer to meeting our little one. I've been going to yoga once or twice a week and have started walking outside again now that it's not 9 degrees anymore in efforts to get into some sort of baby delivery shape. Otherwise, we are pretty much just doing the same old things!
Case in point, birthday dinner in Birmingham with these lovely ladies (and their husbands). Thanks for a great night! Here is an update from my last appointment at 32 weeks. I kind of look squinty and my face looks full in this pic....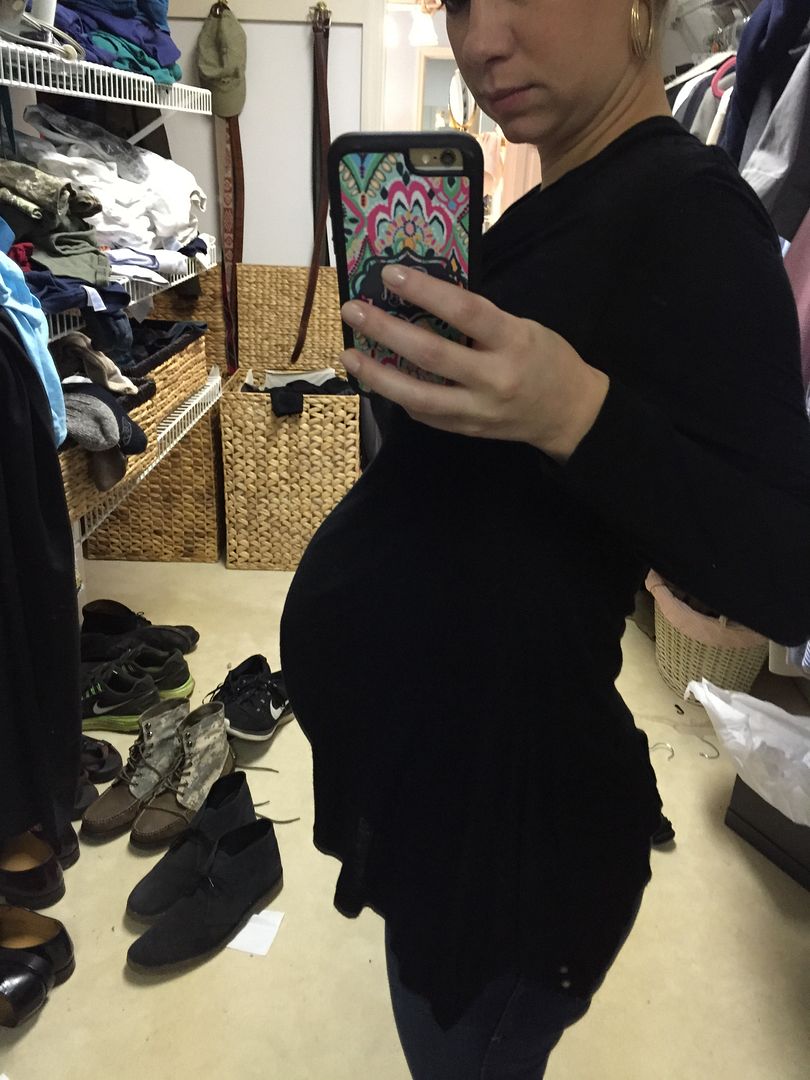 My 32 week belly!
Total Weight Gain: 30 lbs!!! And I still have so long to go. I may not be able to walk by the end!
Gender: GIRL!!
Maternity Clothes? Oh yes---there isn't much point in trying to squeeze into anything but maternity clothes at this point.
Stretch Marks? None. Someone told me if I didn't have them by now I wouldn't get them. They are genetic anyway and since my mom and grandmother didn't have them I'm hoping I'm in the clear.
Sleep: I have to wake up to physically lift my belly when I turn over in bed and I make 1 bathroom trip, sometimes 2, but I always fall right back to sleep. Sometimes in the mornings I will wake up with a mind full of things that I need to do but at this point, I"m thinking my sleep is pretty good.
Movement: My little wiggle worm is still as active as ever. She has recently found my ribs! She also likes to poke what I think is her bottom up under my belly button so I look like a cone sometimes.
Food Cravings: I still want to eat anything--I'm not picky. I have recently been wanting red wine and margaritas--only a few weeks left!
Food Aversions: Not so much, but I have found that I'm not as excited about red meat like steak as I used to be. That's not a bad thing with my high cholesterol, but I had slightly low iron at my last appointment so the meat might help with that. I'm just taking iron pills instead.
Symptoms: A weird one that I have forgotten to mention the entire time is that I can no longer wear big necklaces--they really pull my neck and give me a head ache. I can't figure out why that is---maybe because my body is carrying so much extra stuff it just doesn't want to deal with anything superfluous?
Belly Button In or Out? Pretty much flat and/or poking out. Depends on where she is.
Wedding Rings On or Off? On, although I have noticed on occasion that they are a little tough to get off. I'm not entirely sure that the reason isn't the weather though. My feet aren't swelling either thank goodness. They will get puffy on occasion but that's more like after a long day at work in heels, not so much baby related.
Miss Anything? At this point in the game, I'm missing a lot. Red wine, margaritas, my regular clothes, being able to put my socks on by myself, being able to pick stuff up off the floor (if I drop anything now I just leave it--it's not worth the journey to the floor and back), running, being able to really hug Forrest (I can't get that close to him anymore--we have something between us now). I know that in just a few short weeks I'll get it all back and then some. Sometimes I catch myself planning for the future with my baby AND my belly. For example we were setting up the crib and I loved the highest setting because I didn't have to bend into the crib and I was saying how hard bending over to get her would be since my belly was so big. Then I remembered--my belly won't be so big then! I also was stressing over what in the world I was going to be able to wear to a wedding in June--probably something from my closet since baby will be on the outside WAY before then, but my mind wanted me to plan an outfit with a belly in mind. It's almost time to switch gears!
Best Moment This Week: Registering at 2 local baby boutiques. I have to admit I went slightly nuts. If it was pink, I threw it in my stash!!
Looking Forward To: Getting the nursery ready and stocked. Most of her nursery decor is either ordered or in the process of being made and we will start having showers the beginning of next month so the room will be stocked and ready. I've gotten a few things off of our amazon registry delivered to the house already and THAT makes for a fun surprise!!
People keep asking me if I'm getting nervous about her coming and I have to admit I'm really not. I'm just so busy with work and then getting things ready for her nursery that I haven't had much time to worry about it. She will come when she comes and I have a great doctor who is in charge of the delivery process so I'm trying not to think about it. My type A, list loving self is just focusing on what I can control--setting up the nursery, packing my hospital bag, making a plan for when either labor starts or I go in to have her. I still don't think my mind fully grasps what's about to happen though!!