So seriously MONTHS ago
eShakti
contacted me about reviewing one of their cute dresses. Trouble was, I was pregnant and rapidly expanding! After an agonizingly fun perusal through their many options, I found a dress that I thought would not only look appropriate on my pregnant form but also expand with me as a grew, at least for a while. Of course,
eShakti
is NOT a maternity store but they really did have several great options that a prego could incorporate into their wardrobe and still look cute, professional, and appropriate. The best part about eShakti to me, is that prego or not, they always offer custom sizing. As a short girl, I appreciate being able to choose my skirt length as well as the length of my sleeves. The process to customize is ridiculously easy--you just choose the item you want and all the customization options are directly on that page. Just a few simple choices and clicks and boom--you have yourself a customized dress. I especially like having my clothes tailored and fitted for work so I know that once this bun is out of my oven, I will be back on the eShakti website looking for new goodies for what is hopefully my old body!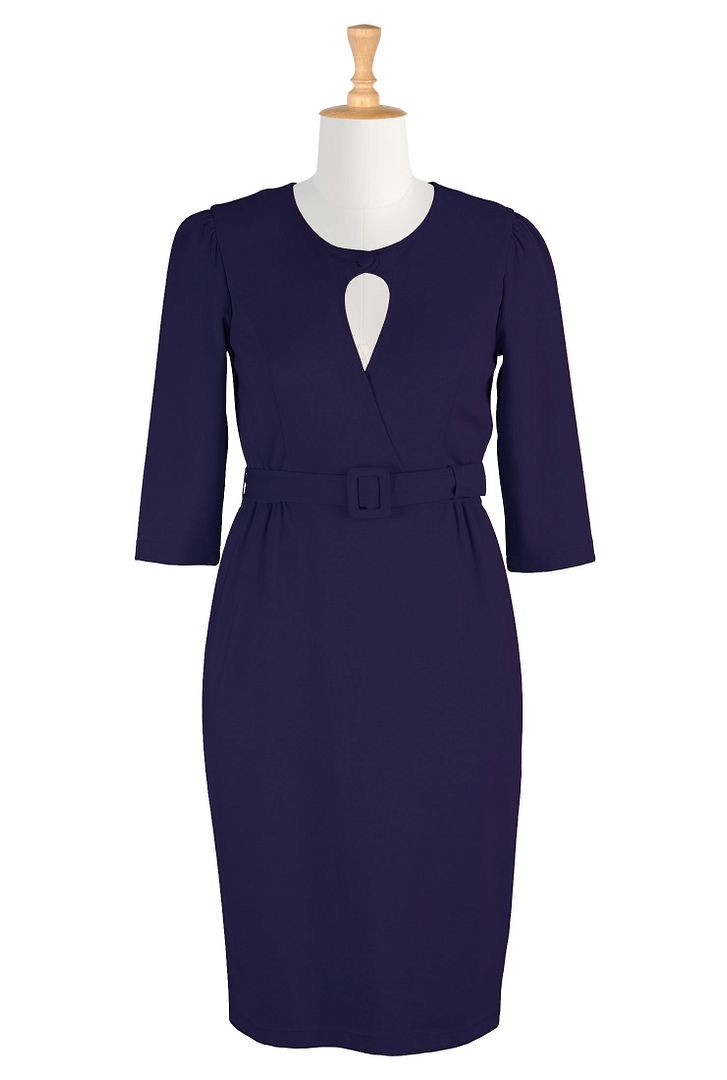 This cute stretchy dress was perfect for work. It had a high waist which let my tummy grow but also was tight and stretchy so it gave me a little shape. The 3/4 sleeves looked very professional and the key hole detail added a little fun! By the time I took this picture though, the key hole ended up being a little scandalous so I just threw a scarf on over it and went on my merry way!
Here is me taking a bump shot in the dress (I wore it all the time when I could still fit into it). See--I got pretty far into my pregnancy in it! Hooray for stretchy!
I was a little concerned that shipping might take forever since the clothes are shipped from India but I was pleasantly surprised with the speed at which my dress was delivered. All in all I was impressed with my
eShakti
experience. Everything from the style options, customization, price (which is perfect) and the shipping was wonderful. Even the nice lady that emailed me was excellent. I apologize that it has taken me this long to get their review up, but seriously, they have found a customer in me! See for yourself! You can find them on
Facebook
,
Pinterest
, and
Twitter
!