How do I get myself into these situations? Oh, it's because I don't like to say no to anything--that's right. So this year my house was featured on the Women's Club tour of homes. That means is that hundreds of people were going to parade through my house to look at the decor and Christmas decorations. Oh yeah and I was also in my 3rd trimester of growing a baby at the time--no biggie. Lucky for me it turned out to be truly "no biggie" because my sweet Aunt Fran took over and did just about everything, nearly killing herself in the process. Honestly I couldn't be that much help because there was so much lifting and standing on chairs and other feats of strength involved that a prego just isn't supposed to do. I actually sat on the couch watching the SEC championship while she and my mom put the finishing touches on everything--that's how much of a slacker I am. I am forever indebted to her, especially since I haven't quite finished with her (the nursery is her next project and I've called her every day for a week about it...sorry Aunt Fran I love you! My house looked absolutely lovely and I was so proud that we were able to be a part of the tour that raises so much money for many worthy causes! Here are so photos: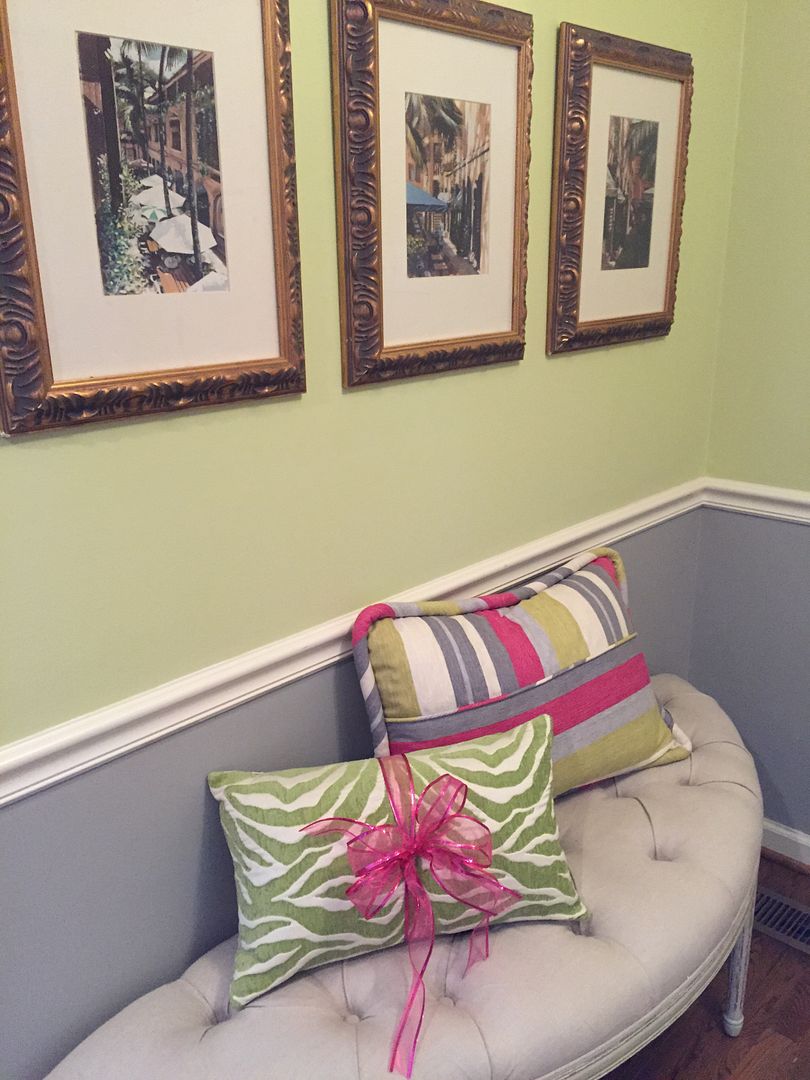 Entry way
Half moon bench topped with pillows. I loved the zebra one tied like a present. The stripe was custom done to match some cushions further down the foyer. The framed photos were purchased from a lady who was selling her house and moving to Mexico. They are of St. Tropez (I'm pretty sure).
Love this part of the foyer! I got the glittery wreath at TJ Maxx! The nativity is Aunt Frans. Notice the ghost chair at the far right with the matching custom cushion to the pillow on the moon bench.
I've always loved this ledge over my sink. We just added the greenery and the ornaments and we changed out the usual green candles with red ones. The red looked great with my green and white wallpaper back splash (which is much less commitment than tile--I just change it when I get over it!)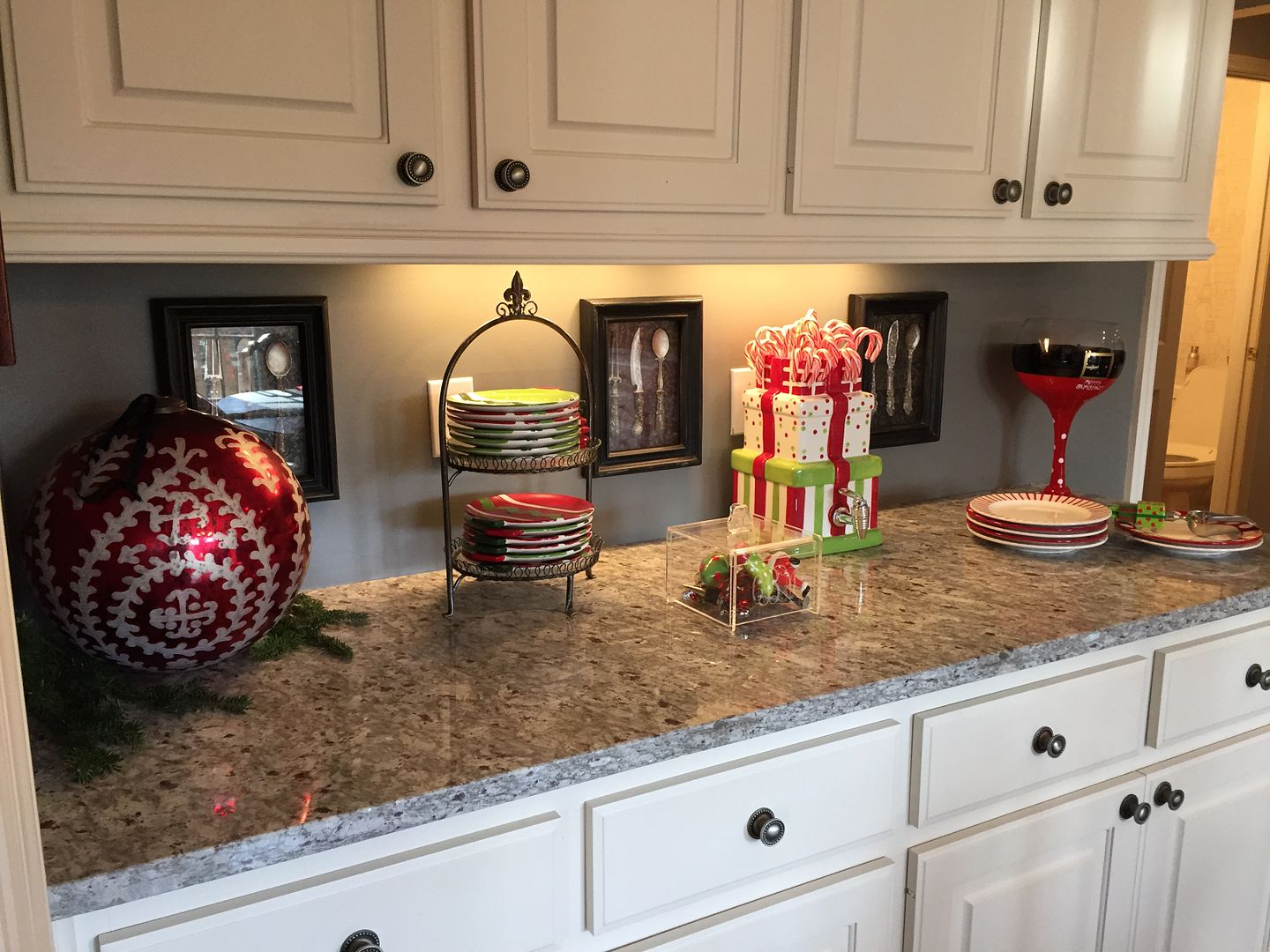 Butlers pantry set up like a serving buffet. I've got tons of Christmas dessert plates and I like to display them even when I'm not using them. I also got the cute present drink dispenser for $5 at TJ Maxx because it was missing a lid, so I just stuck these candy canes in it and I thought it was precious!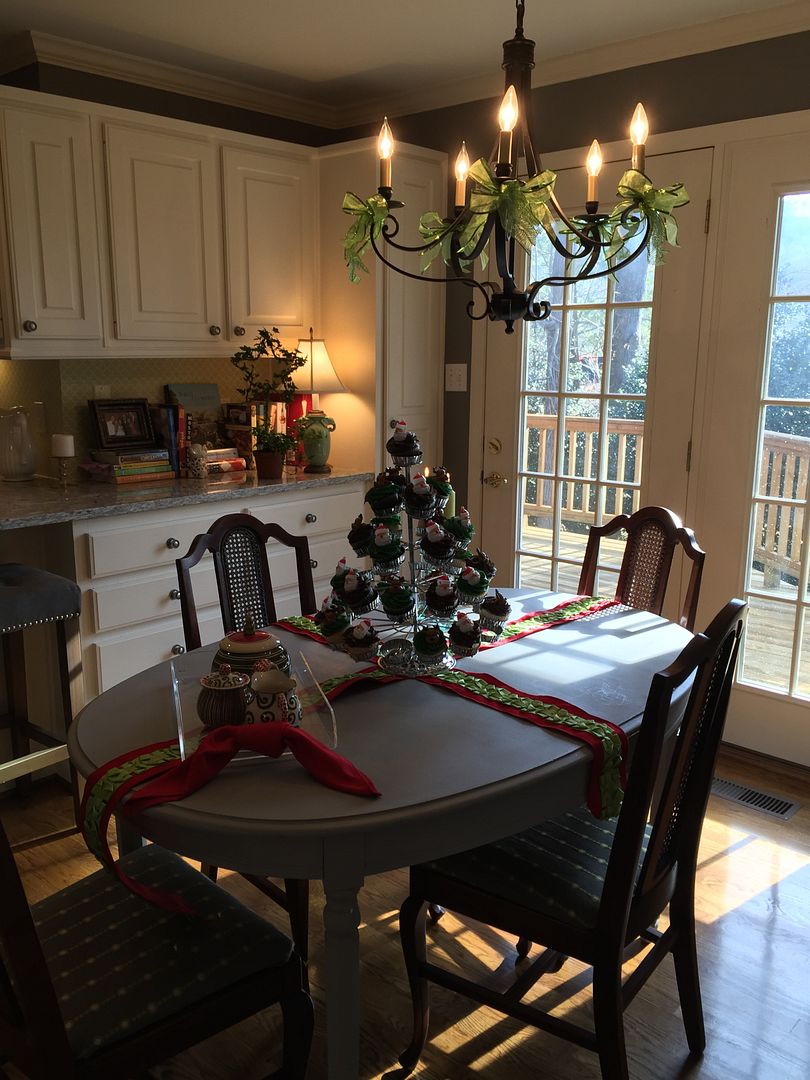 I hate this picture is dark but I had to show it anyway. We simply tied bows on the light fixture and then made the table look like a present with some amazing ribbon. The centerpiece was just a cupcake stand complete with real cupcakes and then I had my Mandy Bagwell teapot and cream and saucer displayed next to it. Aunt Fran also let me borrow these cute candle sticks that you fill with things, so I filled them with holiday M&Ms!
The table was my great Aunt Ro's and I just painted it with chalk paint. The chairs were from a salvage store that I've recovered to match each house they have been in.
LOVE the mantle (actually love it so much it still looks like this). I had the purple and silver strand of ornaments so we just umphed it up with greenery and some extra ornaments. The vase was a present from Aunt Fran one year and I found the lanterns at World Market. The silver candle sticks were actually lamps but we dropped one of the glass globe shades. I just slapped these candles on top until we are able to find a suitable shade, but I think they look great!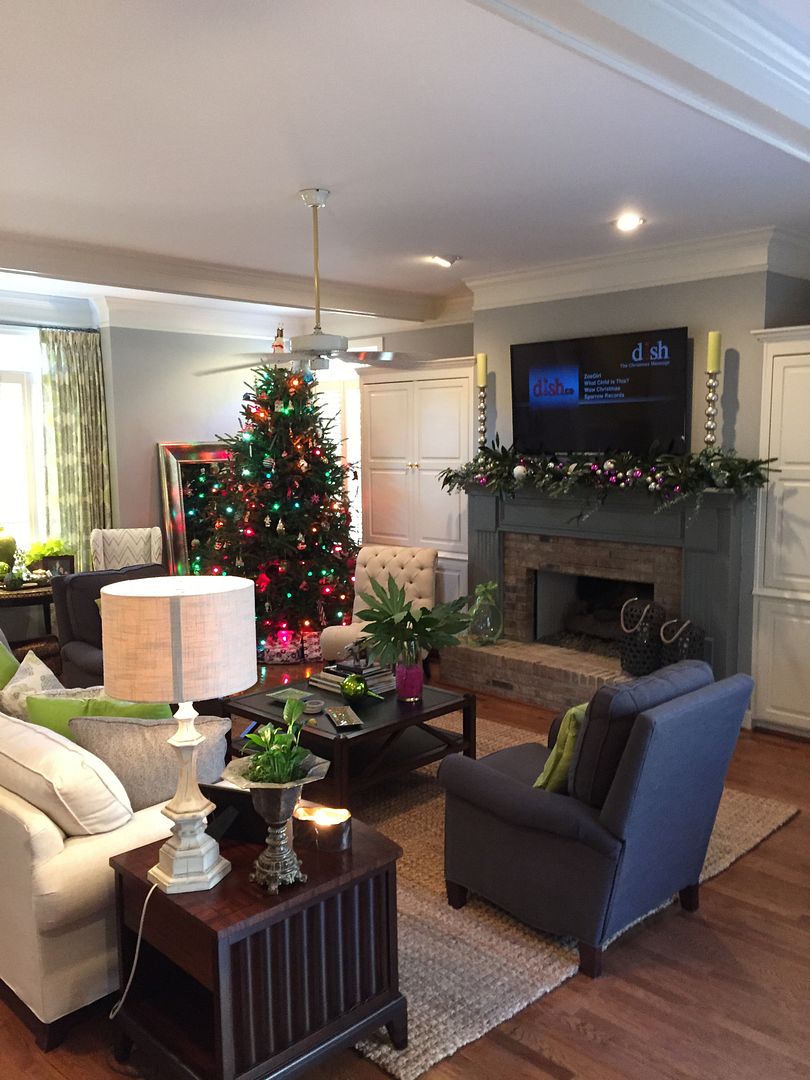 This is our living room. The gray chairs and white couch and the pillows on the couch are from Harmony Landing in Birmingham. The rug was a World Market steal.
LOVE the mantle! Aunt Fran and sweet Mrs. Geri worked on that thing for hours!! I have yet to take it down....
Sweet little sitting room. I liked being able to use my blue decorations from the old house.
My FAVORITE room!! Forrest's table looked amazing in the candlelight. Mrs. Geri hand made the live carnation balls and we set them on top of my glass vases full of water pearls. The able was scattered with little rhinestones. The drapery was finished just in time and I thought they really punched up the gray and white print wall paper. The light fixture is one of a kind, hand made by our friend Chip.
Hope you enjoyed this quick tour of our home during the holidays!!! What were your favorite parts about it???