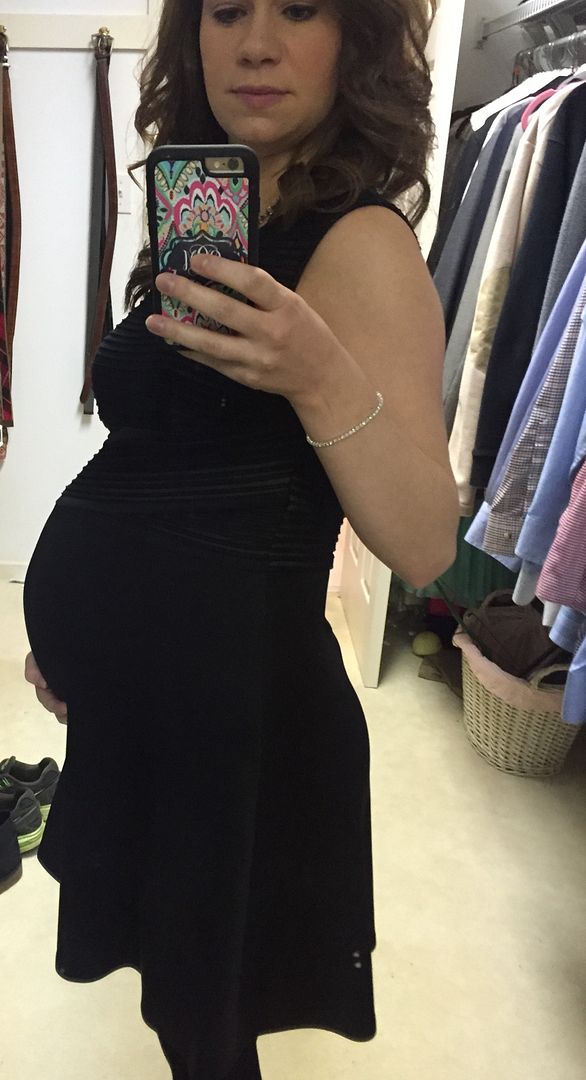 Here we are on the way to the 9 o clock dancing club. Baby girl loves a party!
Of course I'm late on this post--my appointment was Friday and here it is Tuesday. I guess I better get used to being behind! Here are Friday's stats:
Total Weight Gain: 37 lbs!!! Yes, I gained 7 lbs in 2 weeks (more like 18 days but still). The majority of that is swelling though, thank goodness. I can't believe I have put on nearly 40 lbs and I really can't believe I'm telling everyone about it.
Gender: GIRL!!
Maternity Clothes? Exclusively, well or Forrest's clothes
Stretch Marks? None.
Sleep: I still think I sleep pretty well minus the few bathroom trips and the effort it takes to roll over.
Movement: I'm still feeling her a lot and I'm glad. I know they can get squished in there and not move much toward the end and that will make me nervous so I'm happy that she is still rolling around.
Food Cravings: Bring on the food...
Food Aversions: None really!
Symptoms: For a while now I've been dealing with nasal congestion at night--who knew that was a prego thing! I sleep with a humidifier and that seems to help. Also my old friend heart burn is back from the first trimester and he is not welcome. I have also started to get really tired at the end of the day and I'm having cramping in my lower back and belly which I supposed are little practice contractions. The dr says all that is normal so woohoo.
Belly Button In or Out? I don't even think this counts as a belly button any more...
Wedding Rings On or Off? OFF!! I started to swell right after my last post and I haven't stopped. My hands and feet are thankfully small to begin with so I don't look like a giant puffy person, but I can't get my rings on well and my shoes are SO tight! I'm definitely not a fan of this swelling business.
Miss Anything? Along with everything I listed in the last post, I"m missing my energy and the ability to wear my rings and shoes. What am I supposed to wear to court in the upcoming weeks? I can hardly wear my flats! I guess I will have to squeeze my feet in my shoes and hope for the best...
Best Moment This Week: Getting to see her! I had a surprise ultrasound at my appointment because despite gaining 7 lbs, my belly was measuring small. Of course our little one was totally fine--measured ahead even! She is right at 5lbs! I didn't get a good look at her face because she was covering it but I was so pleased to see her progress and to know that she should be safe if she decided to come early. I hope she says in several more weeks though!
Looking Forward To: Showers! I cannot wait to start getting all of her little things and organizing her nursery!! Nothing is cuter than tiny baby items!! (Of course my first shower was actually before the posting of this and it was FAB--details to come!)