Did you say that in Franc's voice from Father of the Bride Part 2? I can't help but think that every time I go to one. This weekend some of my best girl friends threw me the MOST beautiful shower for my little lady. I thought that I might never feel as loved as I did when I walked into my surprise 30th birthday, but I was wrong. There is nothing like the feeling of walking into a room where everyone is there just for you because they already love your unborn child (and have brought her tons of tiny pink gifts). I teared up as soon as I walked in the door but quickly decided it wasn't going to be that kind of a day. It was going to be a squealing, hugging, laughing kind of a day! Jenny was an absolute saint to host the part at her house and the girls went to so much trouble just for me! I didn't want to sit and open gifts the entire time so I got to mingle and socialize with my guests. The best part was watching as a new friend came through the door. There were friends there from all phases of my life, from preschool on up through my college sorority days and now my grown up working girl days. So many people took time out of their days or drove long distances just to honor my little one. Here are some pics snapped from the day!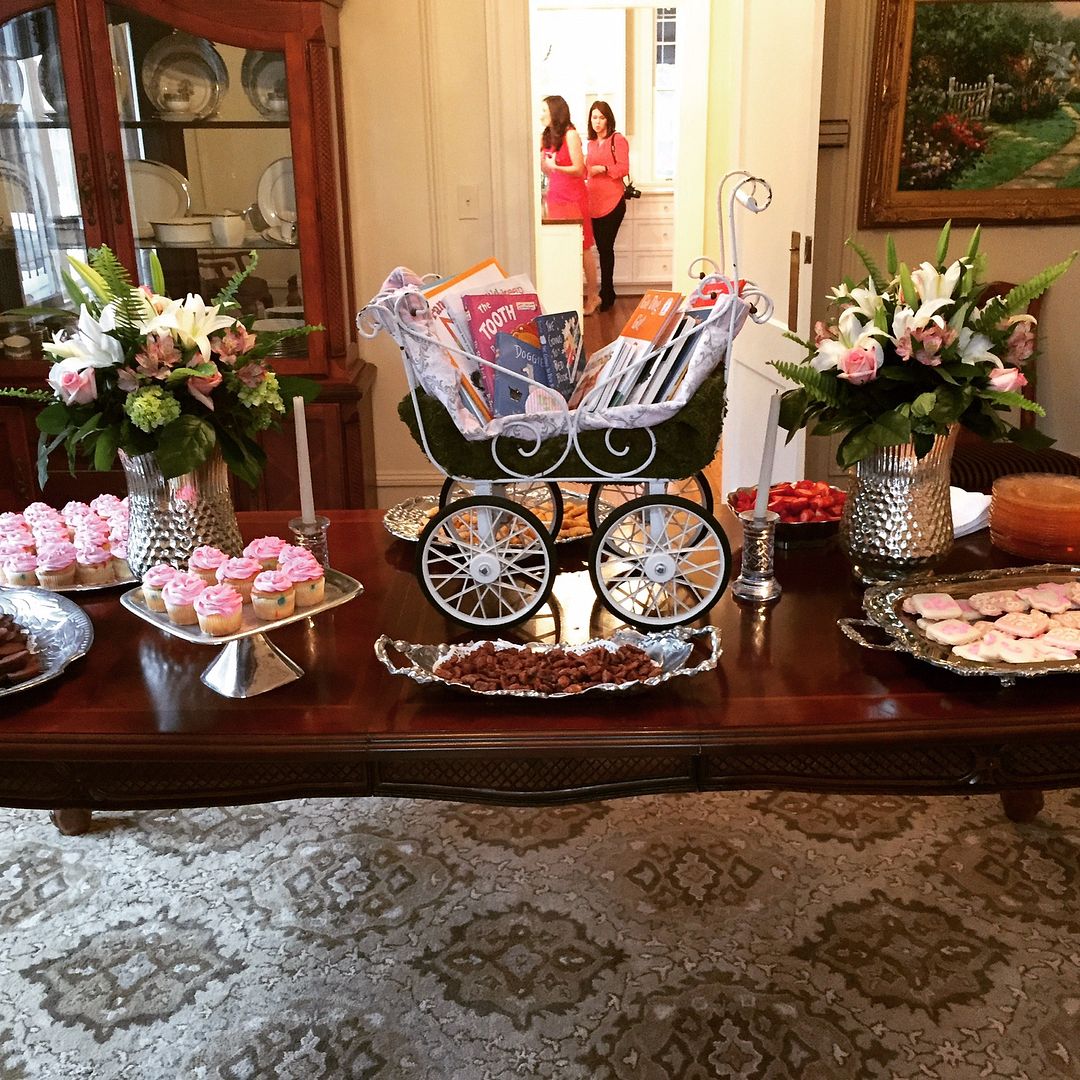 Beautiful food table and flowers. Perfectly pink!
I loved this antique pram. One of the coolest parts of the showers was that guests were asked to bring a book with a note to the baby instead of a card. I can't wait to read her the messages from her well wishes each time we start to read a book. How special!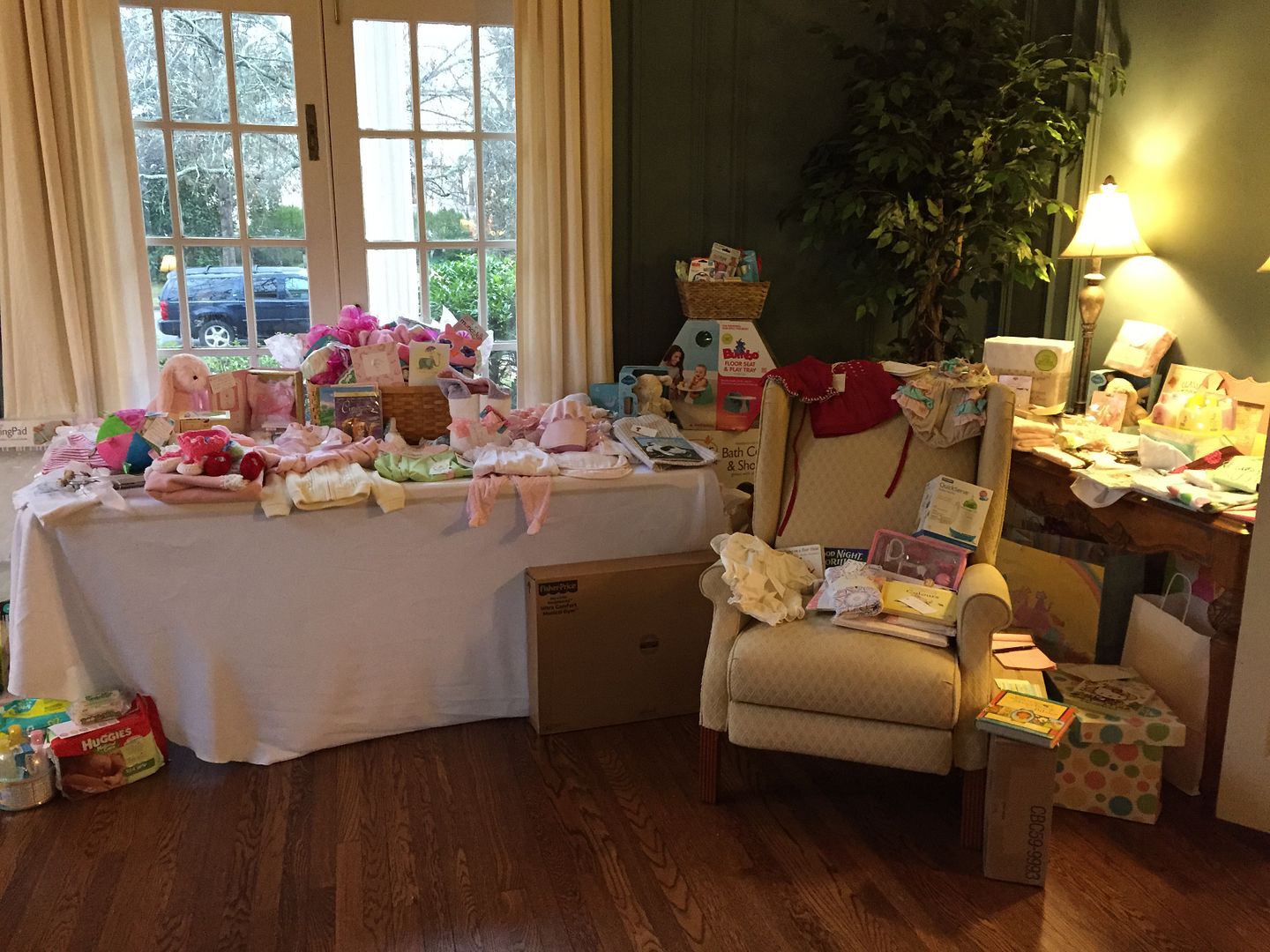 Some of the amazing gifts for little lady! I didn't open them myself and since I was chatting the whole time I really didn't get to see many of them. My mom helped me pack up the car and unload it at home (Forrest was en route from Colorado--he went on one last ski trip with the guys). I know that I will hold the evening that Forrest and I spent unpacking her presents and marveling at her tiny things in my heart forever. It was such a sweet moment for us.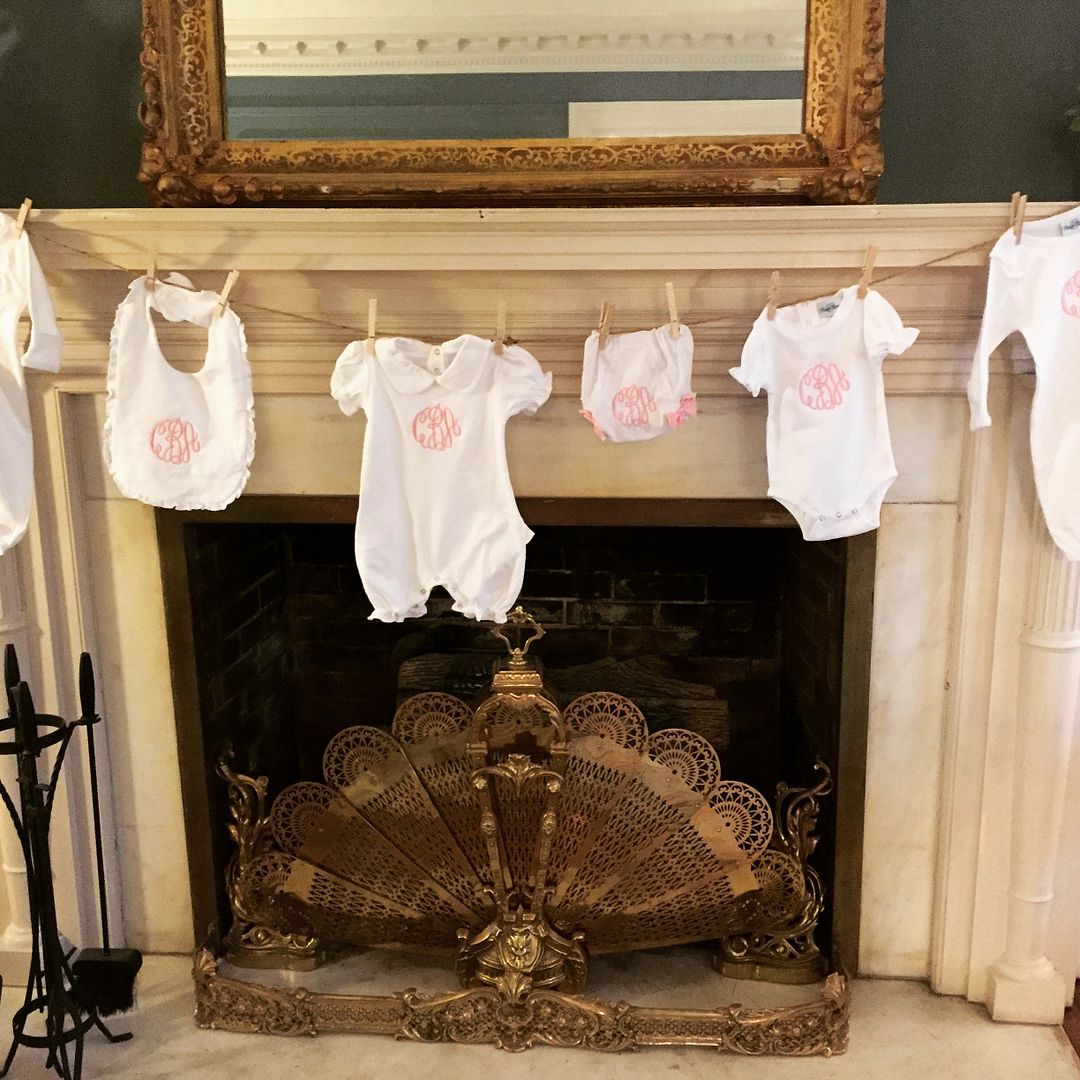 Loved these amazing monogrammed goodies from Jenny. She owns
Blossom Blanks
, a "blanks" distributor, and I am reaping the benefits of all the sweet things she sells!!
The shower was not only an amazing party full of laughter and hugs, it was kind of a signal that the baby is really on her way. It also was a fun milestone for myself. I loved sharing the day with my mom and closet friends. Just like a bridal shower gets you set up to start your new life as a married woman, a baby shower gets you ready to start your new life as a mommy. I tried to cherish and remember every moment. I hope my little one is blessed with friends as wonderful as mine! Thanks again girls for a magical day! (Jenny, Farrah, Kelly, Kelli, Brittney, Lauren, Deborah, Randi, Julie, Mamatha, Kendall, Denise, Claire, and Claire!)