I woke up on Monday morning, 2/23/15, totally over it. We had a very busy weekend and baby girl was keeping me awake during the nights. When I woke up that day I felt like I had actually slept well but that I could sleep for several more hours. Luckily I only had one case set on the docket and it wasn't high priority, so I text my brother in law to ask him to handle it for me until I could get there and went back to sleep. I got to the courthouse around 11 and everyone was asking me how I was and was I ready. I distinctly remember telling one friend that I would smoke the baby out if I could because I was feeling terrible. After lunch I was at the office, ready to see clients back to back every half hour until 5, when I realized I hadn't felt her move all day long. That wasn't unusual, as she typically slept late in the mornings, but after I ate she was busy most afternoons. I tried to wiggle her, lay on each side (on the couch in my dad's office), bounce around, etc. But nothing. I text the doctor (thank goodness I'm friends with her) and she said I should come in. My dad's secretary drove me to the doctor's office and I anxiously called Forrest, who was at work. He actually had my dad in the chair putting in crowns and he basically left him toothless in the chair (haha). Lindsay, the doctor, found her heart beat right away, thank goodness, but ultrasound showed that she had hardly grown since the last check up 3 weeks prior. I knew when Lindsay said for us to come chat with her after the ultrasound, that the news wasn't good. She indicated that her size was a concern and I needed to walk over to the hospital for monitoring. It was probably nothing but we needed to be sure. She said we probably should prepare ourselves for an induction in a week or so.
So over to the hospital we went. I was put into a gown and had a fetal monitor strapped on. I loved being able to track baby's heart rate on the monitor---I told Forrest I was never leaving the hospital because I felt safe with her being constantly monitored. The doctor on call came in to check the numbers and showed me that baby's heart rate was strong but not varying. Apparently they like to see it going up and down and her's was sitting around the same spot. He said we might just need to induce that night. Forrest and I both were like "oh no, Lindsay said next week" and the doctor just smiled and said well ok let's see how it goes. Later we found out that he left our room and went and reserved the last available labor and delivery and post partum rooms for me. About 2 hours later Lindsay came and looked at everything and told us the news--we were having a baby! She said that she looked "ok" but not "perfect" and we weren't going to settle for anything less than perfect. Forrest and I were in shock--we had so much left to do and we were really not mentally prepared for the news. Fear, excitement, confusion, were all emotions we felt as I left the monitoring area and got set up in my labor and delivery room. Lindsay let me eat dinner (bless her) and call family in before we started the induction. My last meal was chicken fingers and fries and 2 ice cream bars. I had given up sweets for Lent until the baby came and I didn't even last a week.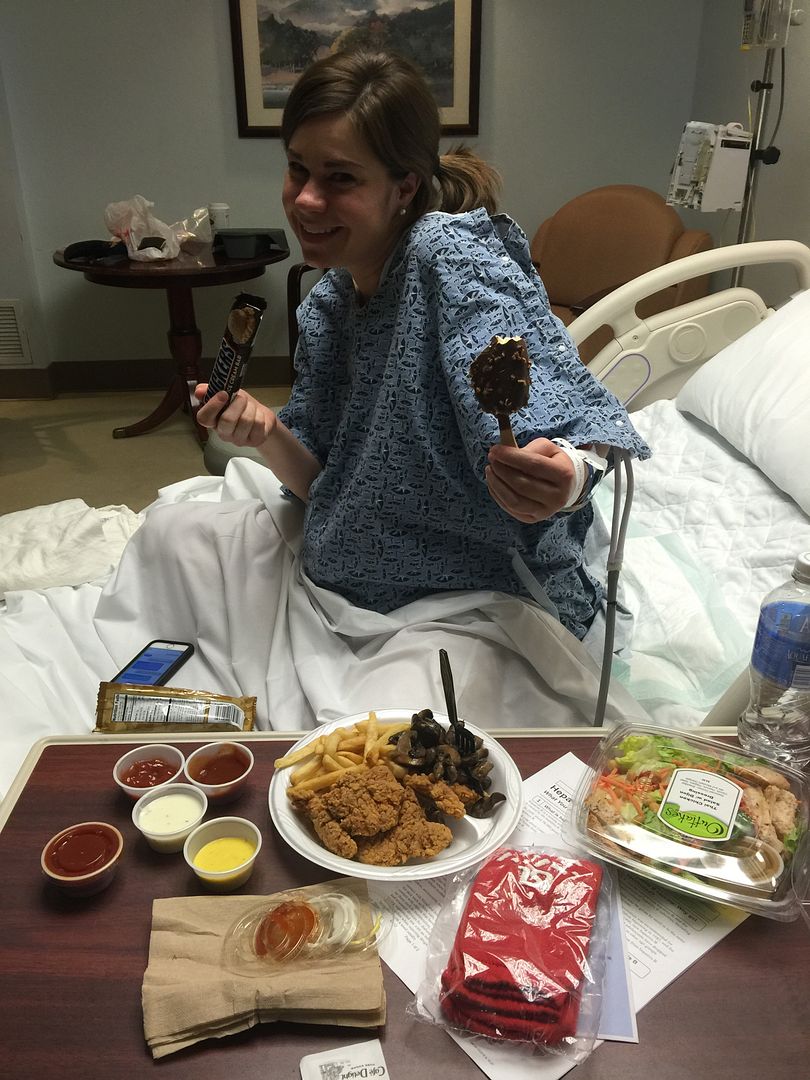 My mom and dad went to my house and picked up my suitcase which was half way packed. I had thrown my new hospital jammies in the wash and they took them home to dry, and they also picked up the dogs. I was rigged up to more monitors, an IV, and a blood pressure cuff that went off every 15 minutes. At 9:33 pm, they started my pitocin. I did not want any pain medicines other than the epidural and they said I could ask for it at any time once I started to feel the contractions. I lasted until about 3:30 am. I had a strong contraction and felt a weird pop. I got Forrest to check my monitors and he said nothing was different and then I called the nurse to take me to the bathroom because they wouldn't let me go on my own. When she helped me up, I realized that the pop was in fact my water breaking! We were on our way to a baby!! After that the contractions were really getting strong so we called the epidural guy. I really started to freak out at that point. I was shaking so badly because I was afraid of the needle. The guy was so nice and let Forrest watch him do it and I have to admit it did not really hurt much. It was SO weird going numb. I didn't like the feeling of not being able to move my legs but I did like not being able to feel contractions.
I dilated very slowly but was 80% effaced when I got there so they thought I might take a while. Every 2 hours I progressed about 1 cm. When they checked me at 8 I was at 5 and when Lindsay arrived a little before 10 for another check, I was at 10 and ready to push. Again, Forrest and I were like, um, no, we are at a 6 thank you!! I started freaking out because I wasn't ready. My mom wasn't there and my sister was on her way in from Nashville. I didn't even have my friend Rachel there to be the photographer as planned! Luckily they said I had time and they would start when I was ready. Once we made the calls and Rachel arrived I started pushing. That was a weird weird thing. I couldn't feel anything so I had no idea if I was doing it right. Deep breath in, push for 10 seconds (the slowest count of 10 I have ever heard), do that 4 times in a row. Over and over and over. I was exhausted. I kept asking Forrest if it was working and he said it was. I was surprised that the whole thing was going down with only 1 nurse in the room--I thought there would be hoopla. Over and over I pushed and they kept saying "I see her head!" "She has hair." At one point I remember saying just pull her out by her hair because I was so frustrated. I even made Rachel look to make sure they weren't lying about my progress. Lindsay arrived at some point and she told me I knew I was getting close when she got dressed in her gown. Ok--I had a goal. Forrest was an amazing coach. He was so encouraging and was saying things like if I climbed that mountain in Peru then I could surely do this. He also used some Nick Saban football motivation on me. However, I'm pretty sure the best motivation was when he said that as soon as I got her out they would let me eat again. Boom--challenge accepted. I remember feeling very tired and like I wanted to quit but I was determined NOT to have a C section after I had been through all of that so I was going to get her out. All of a sudden I started to feel again in my left leg. I had already had an epidural booster because I was having pain in the same place but they didn't seem to listen when I told them. Lindsay just kept saying "Oh it's ok! Use that pain to push!!" I remember thinking that I was not too thrilled with that answer but figured the quicker I got her out the quicker the pain went away. Game on--I was ready. Turns out that the nurse turned my epidural off so I could push better. At least that makes since now. Before I knew it Lindsay was getting dressed. Hooray! My nurse also called the nursery nurses to come in, which made the room much busier. I got really nervous when the anesthesia guy came in the room and asked over and over why he was there. I knew it wasn't for me but was afraid it was for the baby, that something was wrong. (He was there in case she needed to be intubated but I didn't learn that until afterwards when I asked). I remember pushing with all my might and kind of screaming a little and next thing I knew they were flopping my sweet girl on my chest. I wasn't even aware that she had been born so I was in shock to be holding her. Forrest and I got to hold her and pet her sweet skin for an entire hour before they even tried to weigh her or check her out. (From pics I know they did listen to her heart and a few other things but all that happened with her lying on my chest.) My baby was there...in my arms.. and she was totally perfect. I had been waiting 37 weeks to hold her and love her and now it was all over.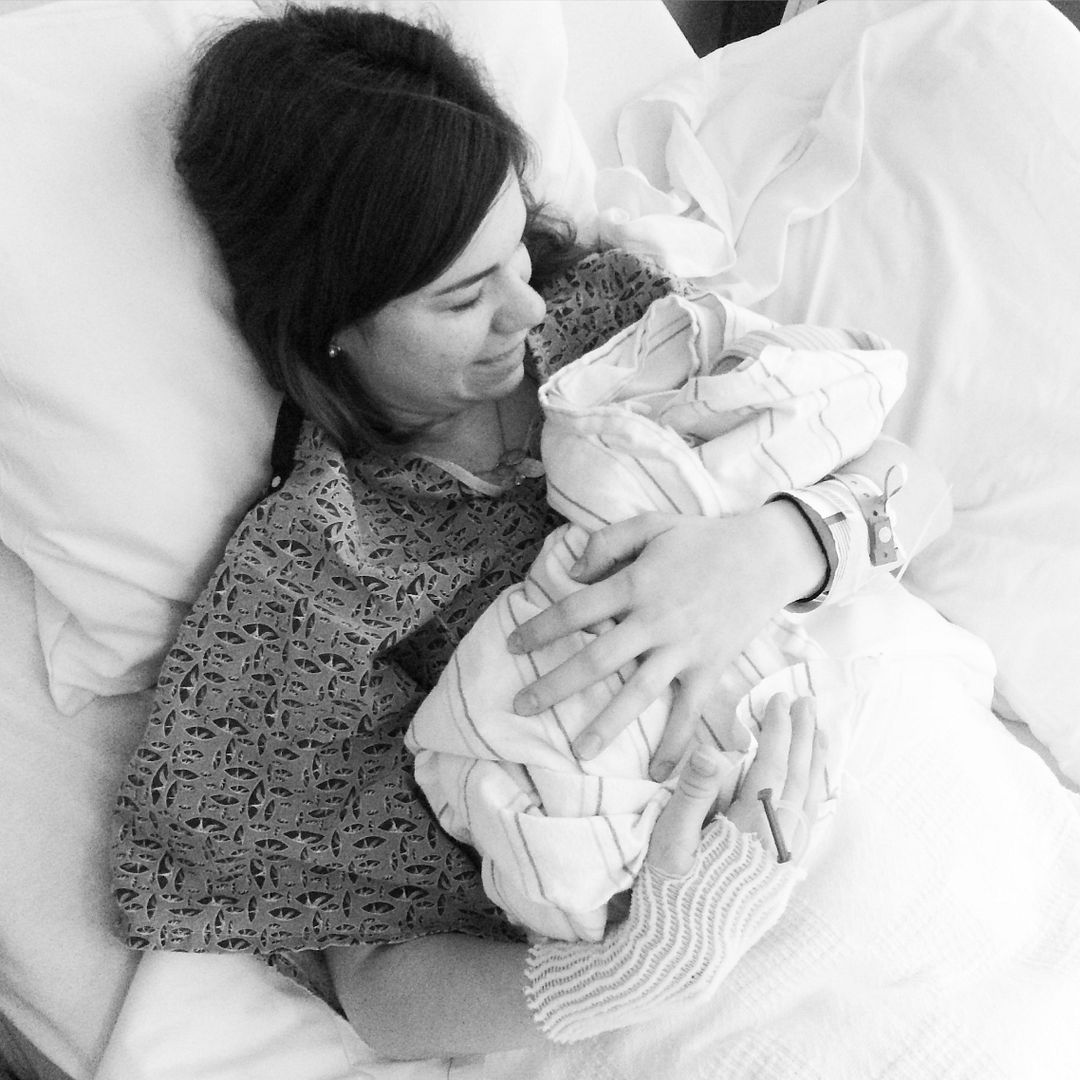 We were a family, just like that, with one giant push. It took an hour after I had her before they let anyone come see her since she was learning how to nurse. I didn't mind--I will always be glad we had that special time together. Soon though they needed to check her out so they let in family from the waiting room. My mom and dad, sister, Aunt Fran and Aunt Sue, and my grandmother--they all rushed to greet her. I felt so so proud. I also felt amazing because they were letting me eat again! Yay! After her bath they loaded us up and took us to the post partum room where we would stay for the next 2 nights. I hope I never ever forget a single moment of that day, of the fear, the anticipation, the excitement.The day I became a mother is the day I was forever changed by the tiniest of little lives, yet I honestly have no idea how I ever lived a single moment without her. I am truly blessed to be her mother and I hope that every day I can endeavor to deserve the honor.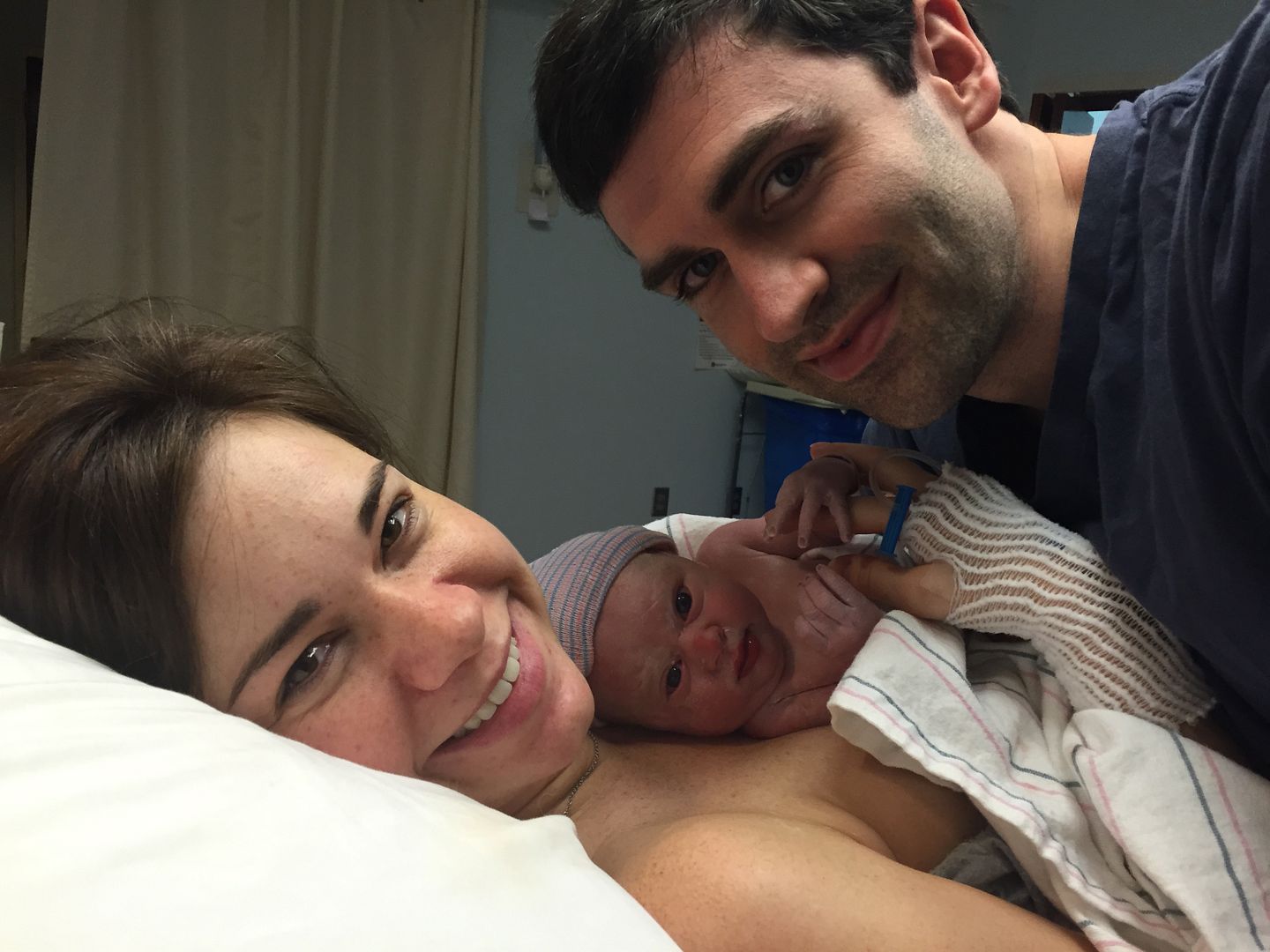 Our first family photo.
Meet Charlotte Ann Bailey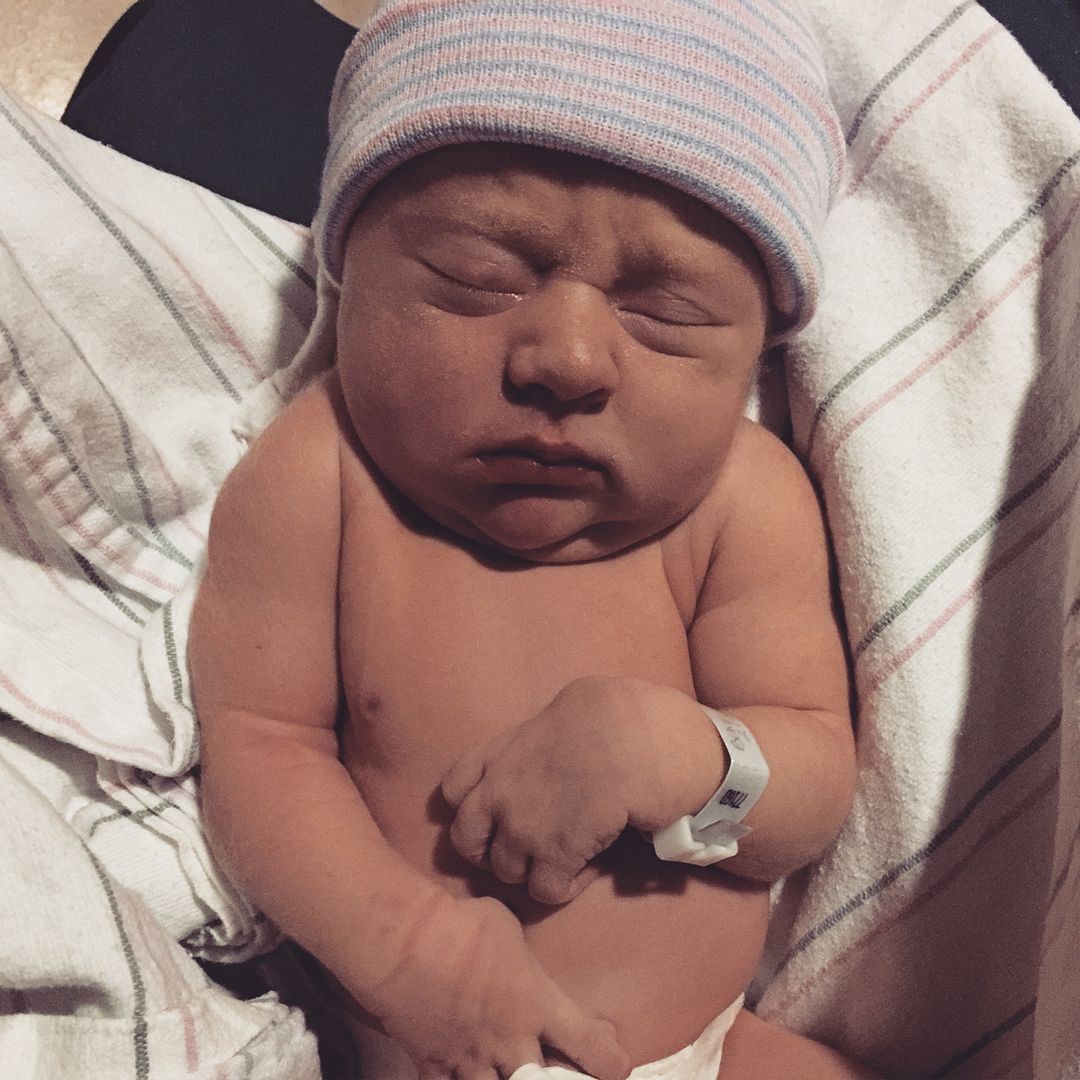 6 pounds 8 ounces
20 1/2 inches long
Born on 2/24/15 at 12:13 pm.