Charlotte has had much excitement in her few days in this world. The day after she was born, a snow storm hit, dropping nearly 10 inches of snow outside our cozy hospital window. Yes, 10 inches of snow fell in one day in Alabama. What a special way to welcome our sweet one. I like to sing "My Favorite Things" to her from The Sound of Music and one of the lines is "silver white winters that melt into spring", and I know I'll always think of her birth when I hear that line from now on. She had many many visitors and got so many presents!! We were exhausted but it was lovely to see how many people loved our new little love.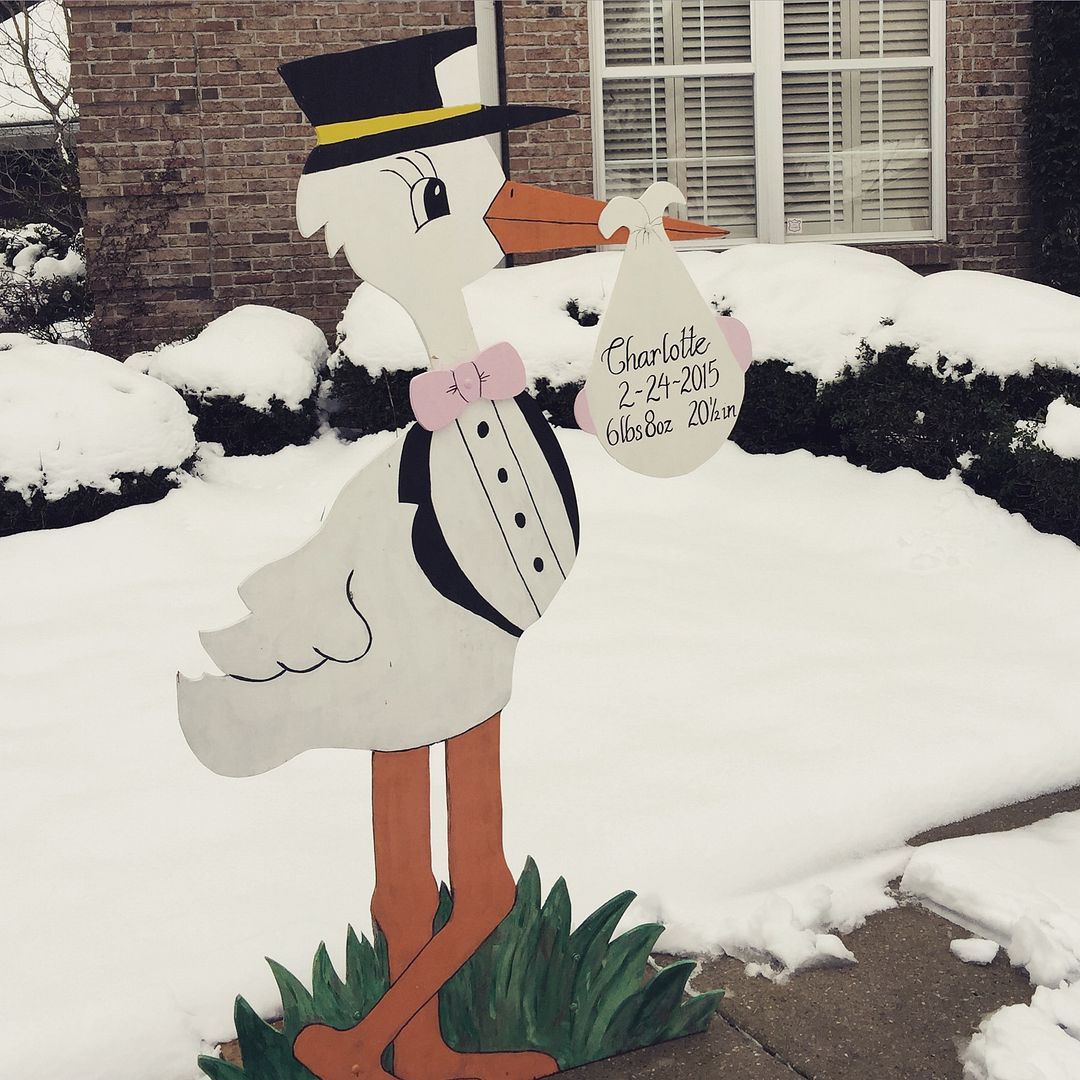 Before we could leave she had to have her hearing tested, which required 3 different attempts but thankfully she passed. Mama was beside herself with nerves!
It was so special for me to dress her in her coming home outfit. Her dress was the one I wore home from the hospital but even cooler than that, my dad wore it home too. Her bonnet was handmade by Forrest's grandmother for him.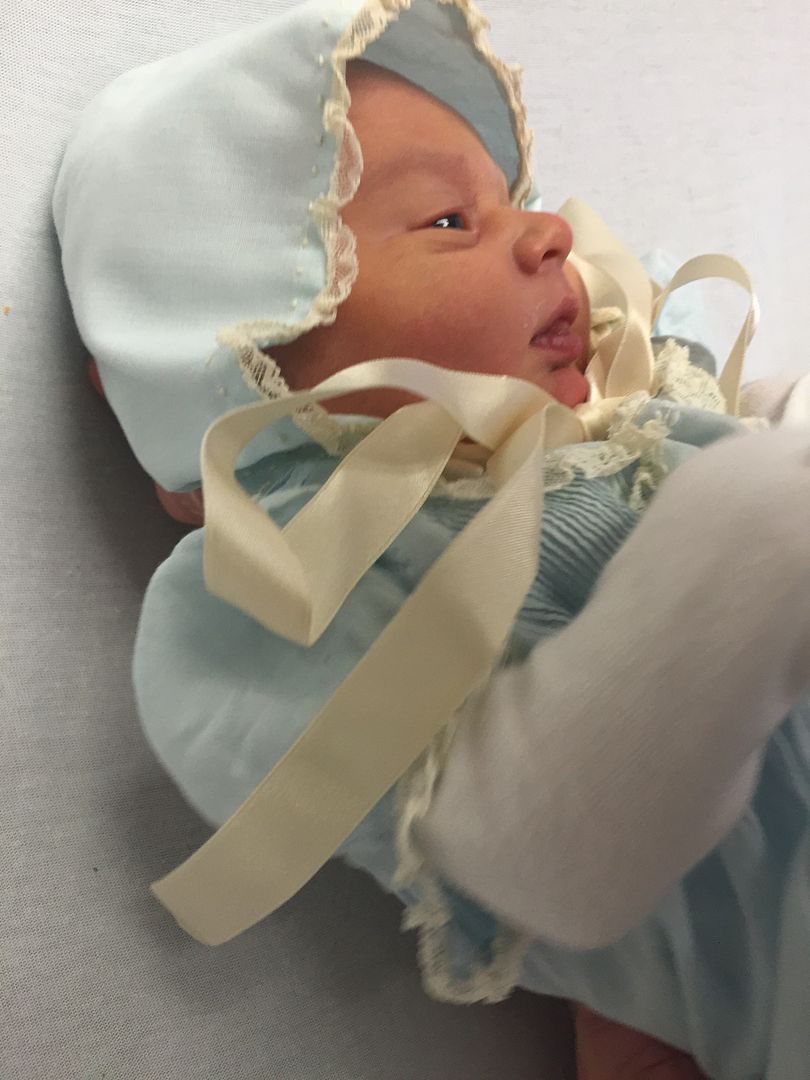 I was beaming as the nurse wheeled me to the door, clutching tightly to Charlotte's car seat. Forrest snapped her in and we drove her home, while the snow was still covering the ground.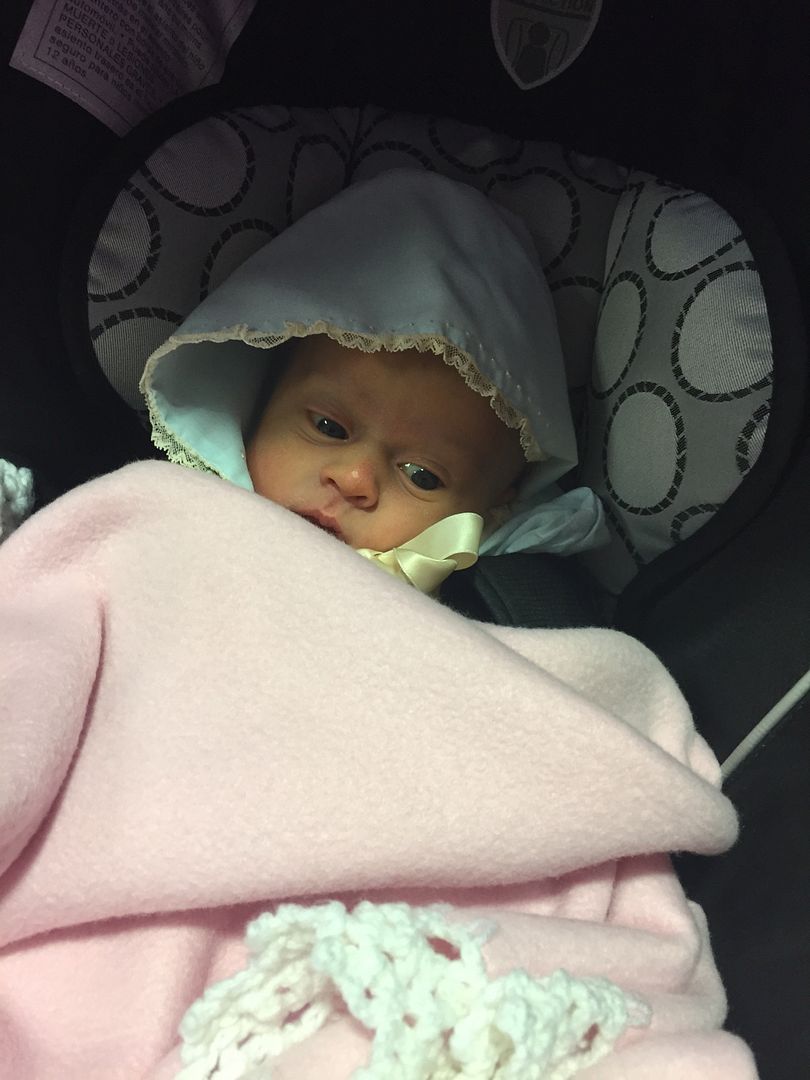 We were so happy to be home together, our new little family of three. We were really worried though when Charlotte didn't eat very well at all nor did she settle for much sleep. The next day we took her for her first doctor's appointment and we learned she had lost a lot of weight (down to 5.13 lbs) and her bilirubin levels were high. If it was too high we were going to have to admit her to the hospital so the doctor told us we needed to feed her as much as we could and get her to poop the bad stuff out. We are lucky to be friends with our pediatrician too so I knew that Claire would tell it to me straight. I had my friend Casey. who is a lactation consultant, come over and help me with pumping and feeding. (Yes, I'm friends with my ob, pediatrician, and a lactation consultant--it's good to be me sometimes). I was really encouraged and determined to fatten my baby up. However, while she was there, Claire called Forrest to say we had to admit Charlotte and we had to keep her under the bili lights and on a bili blanket for a day or so. I was crushed. I cried all the way to the hospital and most of the time I was there. I couldn't bare to see them stick her baby heel or to see her squirm in her bed.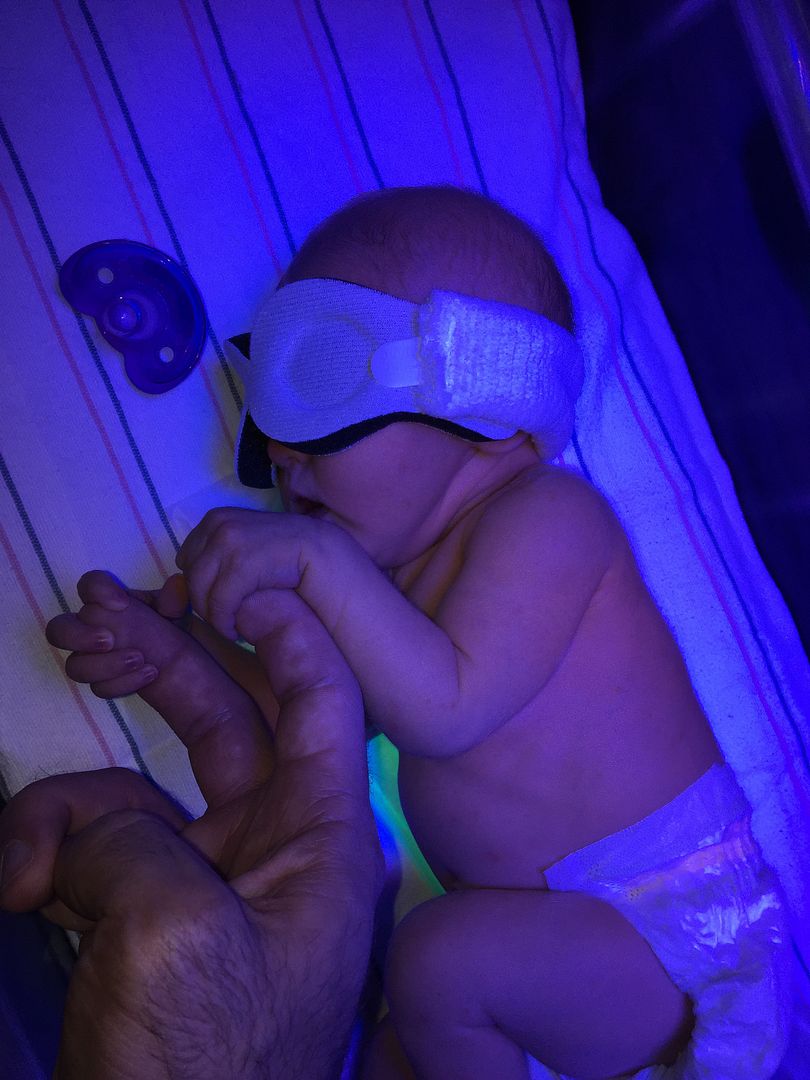 A lactation consultant hooked me up to the hospital grade pump and we fed my milk to her via syringe after attempting nursing every 3 hours.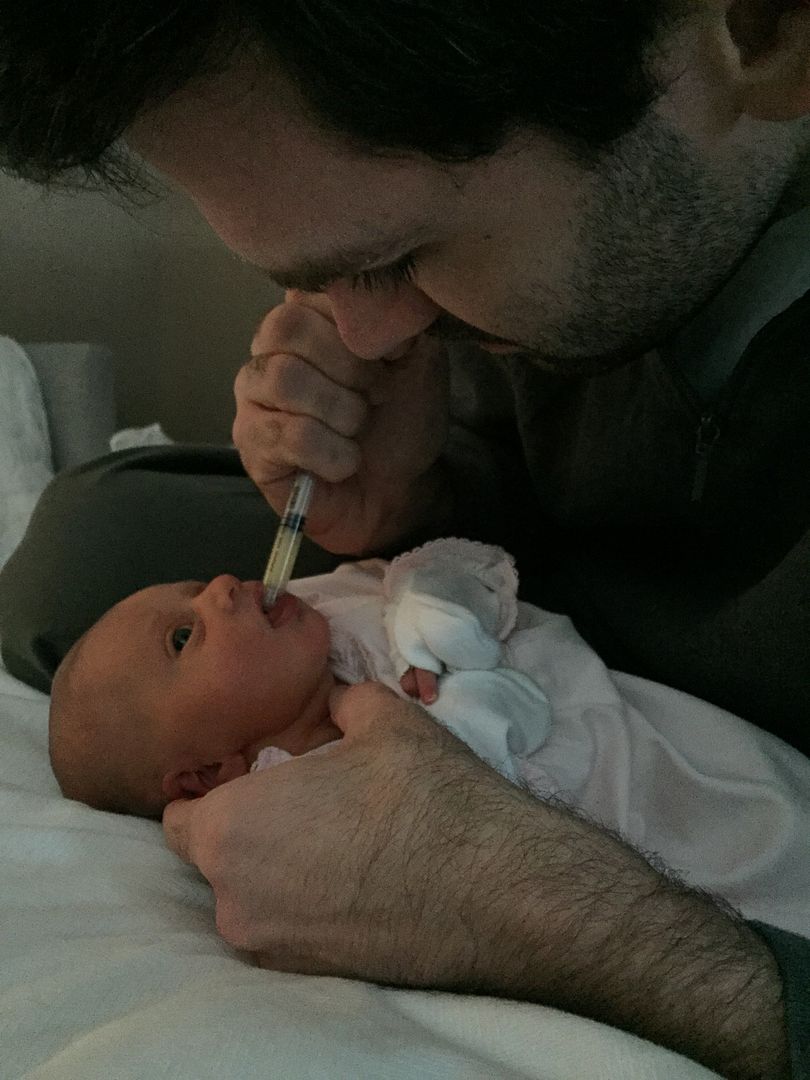 She really got the hang of it after a while. One of the consultants told me to look for "rhythmic nutritive sucking" and we like to use that term now. We were released around 6 pm the next night when her levels were back down and had stayed down for 6 hours on their own. It was the hardest day of my life but we got through it. It was again fantastic to have our little one home, and we were armed with a plan of feeding and pumping that was sure to get her rolly and chubby in no time.
On Sunday my mom came to help us. She has been so fantastic. She does dishes, laundry, fixes our meals, and helps me feed her during the nights since Forrest has had to start back to work. Charlotte is lucky to have such a great Momsie!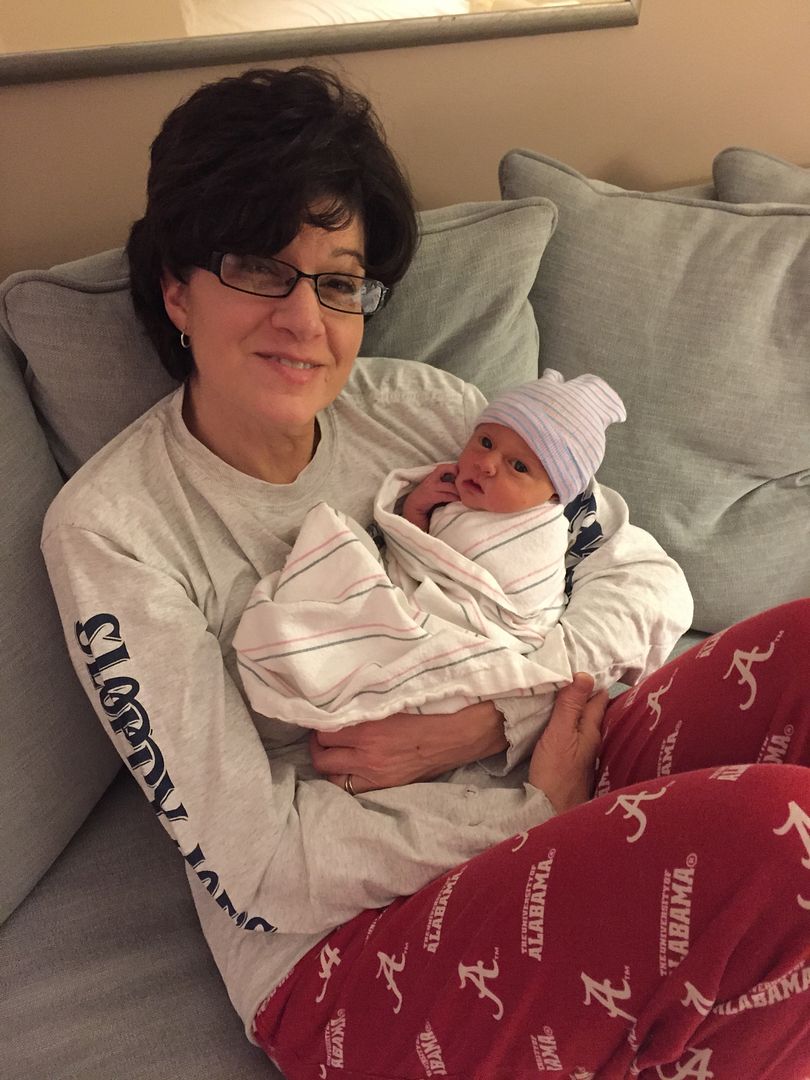 On Monday morning we loaded her up for her follow up appointment with the doctor. She had gained back up to 6.4 lbs! Success!! Unfortunately her red blood cell count was high and we had to take her to the hospital to have blood drawn from her veins instead of her heels. I cried all the way from the doctor's office (literally the office, not the parking lot) to the hospital and most of the time I was there. I couldn't stand thinking of them hurting her. The nurses were so kind to her and to me and made us feel very at ease. Again, she passed and we were able to bring our girl home. Forrest went straight to work and I went straight to sleep. We are now just trying to get her settled at home, since every time she gets here we have to leave for a while.
She really is the sweetest most precious little baby. She sleeps really well and now she is starting to eat well too. She loves to be snuggled and swaddled but she also sleeps great in her pack n play by herself. She has started to stay awake a little bit during the day and I love looking at her and holding her and wondering what in the world I did without her.I look forward to seeing her grow and change but don't want to rush a single minute of it. We are so in love.