Charlotte hadn't been around for very long when I started thinking about her first birthday party. I think that's just something that moms do! Even while I was pregnant we referred to Charlotte as our little bunny so I knew a bunny birthday party was in order. I was resolved not to make myself crazy over this party--she's one--but I wanted to make it sweet and special. I luckily found a "some bunny is one" party pack from etsy and that got the ball rolling. Here is a look at my bunny's special day!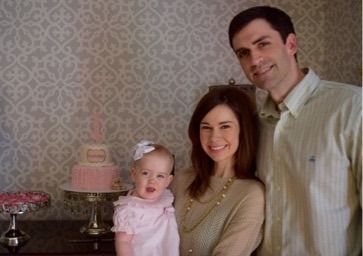 We had a sit down lunch so the party would work around Charlotte's nap schedule. She actually woke up at 445 that morning and threatened to throw the whole timeline off but hey--it's her party and she can sleep if she wants to! Luckily it all worked out and she napped right up until party time.
I set the table with my grandmother McCord's china mixed in with my own. I felt it was special to have a part of her there with us! My mom did the flowers and I thought they were so sweet!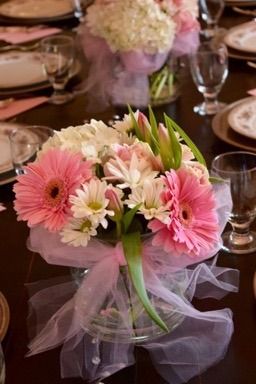 On the foyer table I had a basket of bunny ears for guests to wear. I wanted everyone to wear them instead of party hats and they were all so sweet to do so! I also had custom cookies by Alison Hathcock for party favors.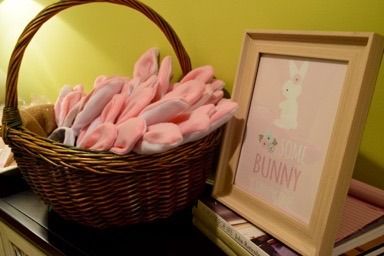 Showing off our ears!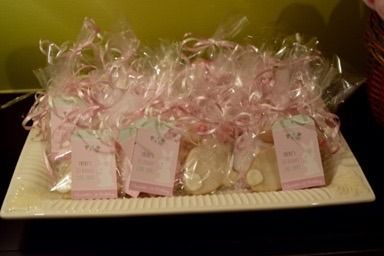 Bunny cookies and custom "thank you" tags.
My favorite element of the party was Charlotte's high chair. I found a chair tutu at hobby lobby and had pink balloons tied to the back. I also displayed her custom party hat (compete with bunny ears) and custom bib displayed along with her own special pair of ears. What would I do without etsy!?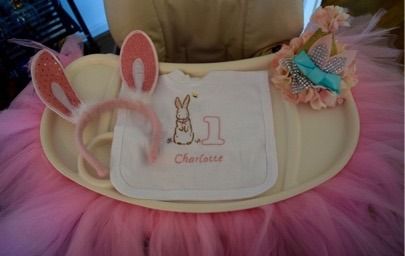 I found a cake on Pinterest that I was dead set on having and luckily my local bakery was up for the task. I love the fondant bunny and little plaque with her name. The bakery gives first birthday babies a free smash cake so I chose pink with white frosting!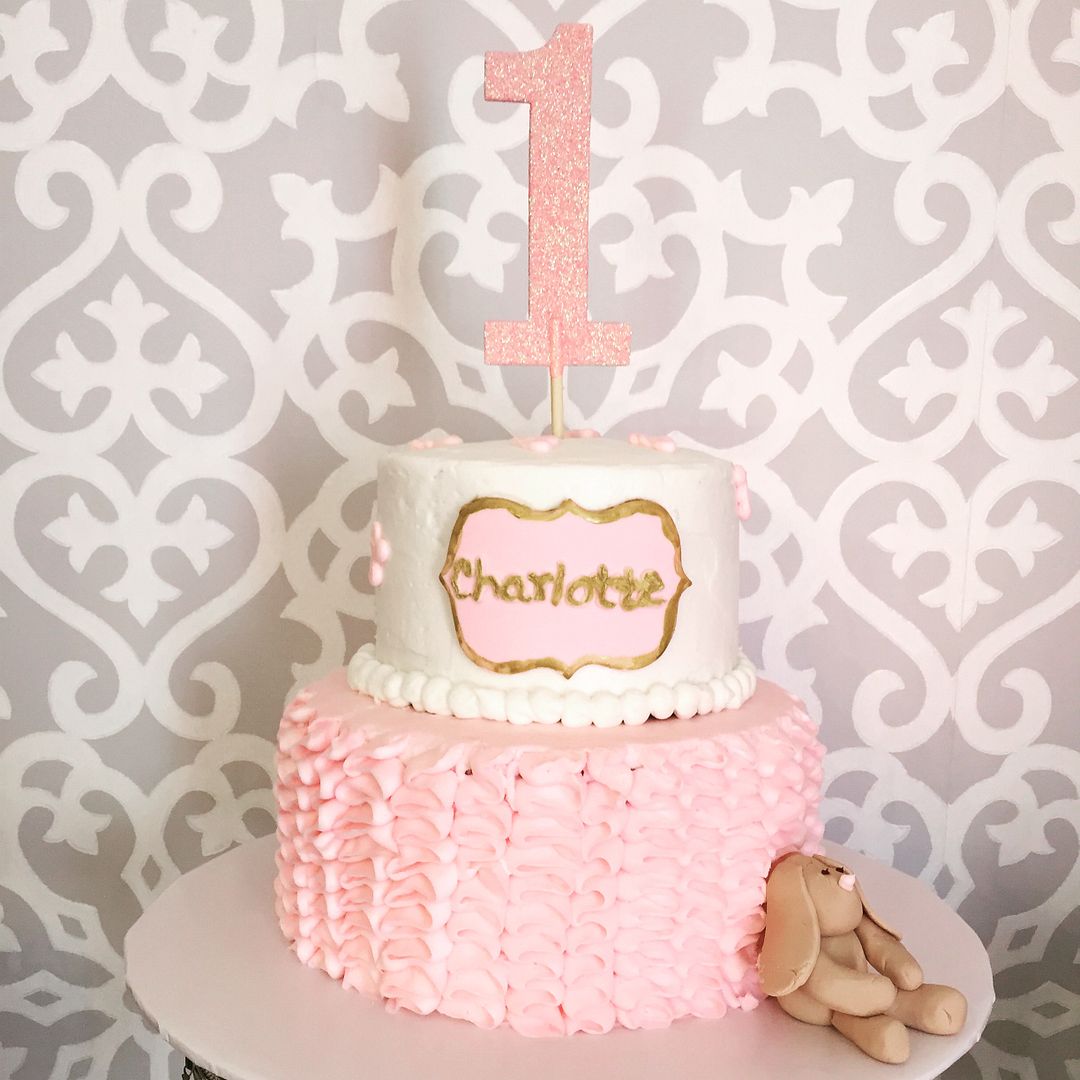 I also had these cute napkins made and we used my friend Kelly's pink depression glass plates for cake.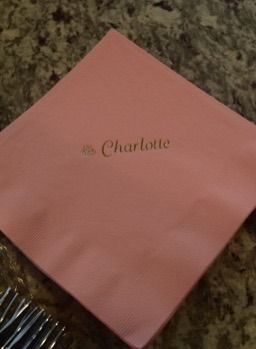 Charlotte's dress was bought for her by my parents but of course I picked it out. I wanted her to look traditional and classic and I think this proper peony dress was perfect.
The highlight of the day in my opinion was when we sang happy birthday to her. We had practiced during the week and for some reason she cried so I was afraid with all of the people there she would get really upset. Forrest held her so she wouldn't be scared and she ended up being mesmerized by the candle and not at all afraid of the singing. I was so emotional during the song--my little baby was one year old! So much happened in that year and in that moment I felt it all. All her milestones, her sweet little smiles, the long nights, the cuddles--every part of that year was wrapped up in that song for me.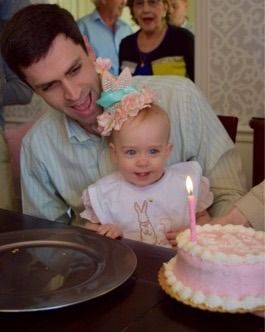 Charlotte loved the cake--she had practiced with cake earlier in the week and even learned how to scream "CAKE". She wouldn't get really messy with it but she wanted to lick as much icing as possible!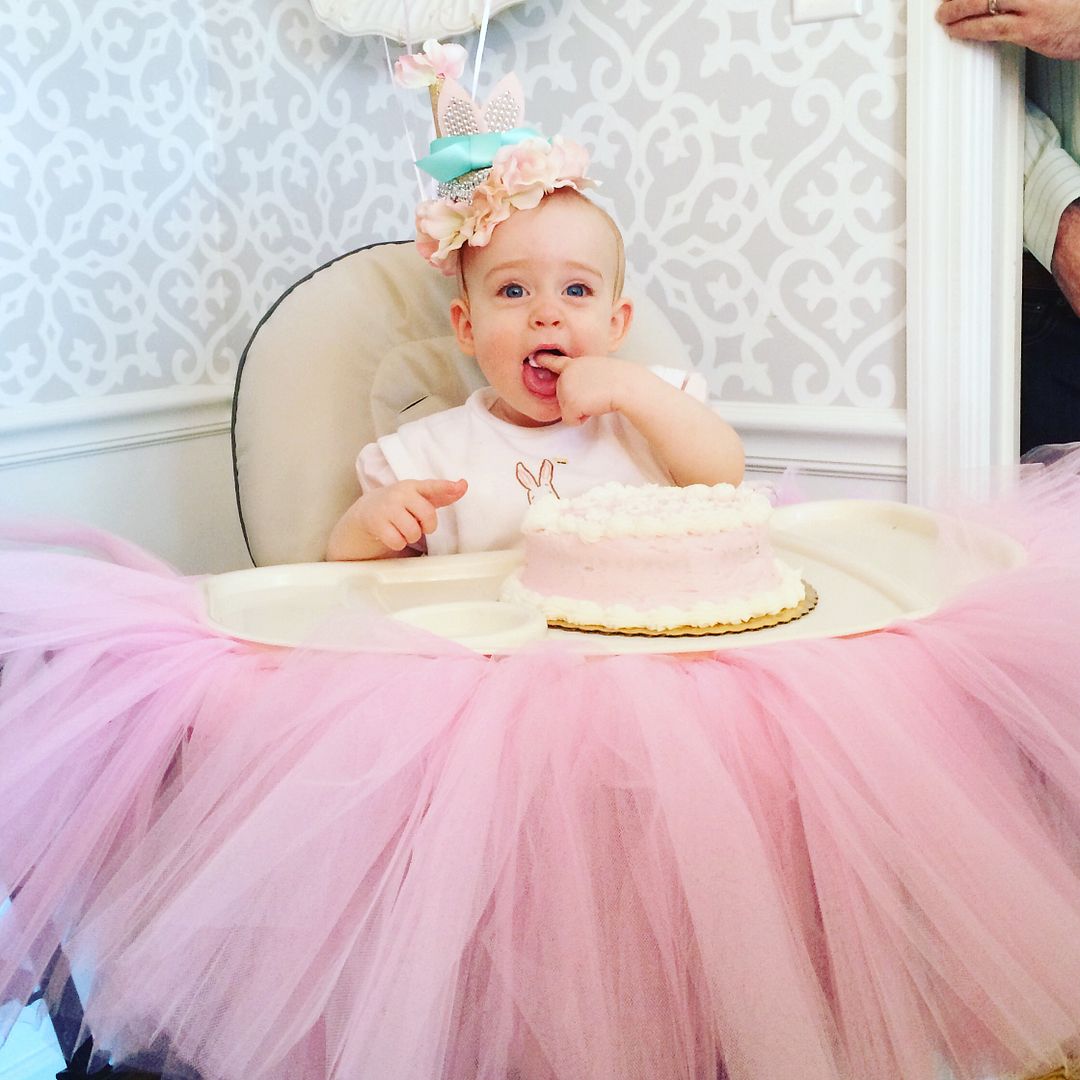 Her guests got her the sweetest gifts!! Thank you all!
When the day was over all 3 of us were exhausted and we each took 3 hour naps. I told Forrest that it had been my favorite day since she was born. She was surrounded by so many who adored and loved her. I couldn't believe that we had come to that point so quickly. We are so lucky to have her as our daughter and I was thrilled that her day had been so special. Even though I know she really didn't understand what the day was about, she had so much fun and hopefully felt so loved.